Canon has designed a technology to combat subject shake – the amount of blur in a photograph caused not by erratic camera movement, but by movement of the subject itself.
The new "image blur correction device" makes use of computational photography – a system powered by (artificially) intelligent, potentially machine-learned algorithms that can determine whether the blur in an image is caused by camera shake or subject shake. This could be, for example, when taking a photograph of a friend and they move suddenly while you are taking the exposure.
• Read more: What is an AI camera?
According to the Canon patent, spotted by Asobinet (hat tip to Canon Watch), the aim of the technology is, "To provide an image blur correction device capable of obtaining an image blur correction effect desired by a user.
"Since the amount of shake (direction and magnitude of shake) is generally different between 'camera shake' and 'subject shake', it is not possible to completely correct both. Therefore, for example, Patent Document 1 discloses a technique for correcting 'subject shake' when a subject's face is detected and correcting 'camera shake' when a subject's face is not detected."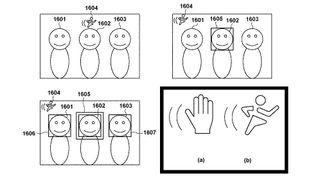 So, how does this system differentiate between the two kinds of shake, and determine which kind of correction to apply?
"It is considered that which of 'camera shake' and 'subject shake' should be corrected depends on the intention of the user (target of interest) in the shooting scene. For example, when the user pays attention to the background, it is desirable that the 'camera shake', which is the shake of the entire screen, is corrected.
"On the other hand, when the user is paying attention to the main subject, it is desirable that the 'subject shake' is corrected. Therefore, it is necessary to appropriately control the shake correction target according to the user's intention that changes with the shooting scene."
Camera shake can, of course, be remedied by the use of in-body image stabilization, which Canon has recently begun incorporating in the Canon EOS R5 and Canon EOS R6. The addition of a means to remedy subject shake is definitely the next frontier of blur-free photography, so it will be fascinating to see if it makes it to market – and whether it will accommodate Canon's remarkable new animal AF, as well as human subjects.
Read more:
Canon EOS R5
Canon EOS R6
Canon EOS R5 vs R6
What are the differences between the PASM exposure modes on your camera?
Could we see the Canon EOS 5D Mark V in 2020?