Elinchrom has just launched a new battery-powered strobe, for on-the-go flash photography.
The Elinchrom THREE is a new battery-powered off-camera flash, adding to the already established Elinchrom ONE and Elinchrom FIVE. The THREE's addition to the lineup provides complimentary features and price points to these flashes and delivers more options for multi-light photographers.
The Elinchrom THREE is designed to be easily portable weighing only 1.6kg, yet still packing a punch by providing 261Ws of power, and powered by its integrated Li-Ion battery, it enables up to 525 full-power flashes from a single charge. This makes it ideal for full-day shoots on the go, such as weddings and on-location fashion.
With fashion photography in mind, the THREE offers a very fast recycle time of just 1.2 seconds at full power, guaranteeing you don't miss that next killer pose during a high-paced shoot!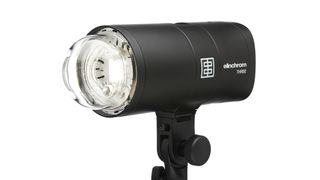 However, if the need for more power does come, perhaps from a particularly extensive shoot, the THREE can connect to a USB-C power source to continue shooting regardless of the battery's power level. You can also carry on shooting while charging the THREE depending on your power input, enabling more versatility so you're ready to go faster. You can also immediately extend shooting with an additional battery pack if you need to remain mobile.
Elinchrom offers a wide range of light modifiers for their lights, meaning flexibility and versatility in any situation, and this is extended further with the THREE as it offers modifiers from other brands. The THREE has a mount that can support Elinchrom OCF, Profoto bayonet, and traditional Elinchrom light shapers, enabling beautiful light quality whatever the occasion.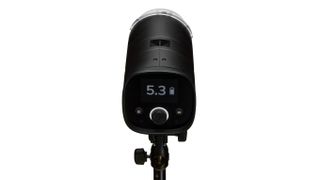 In my experience in teaching lighting workshops, the main turn-off for beginners navigating settings. Elinchrom has removed this worry with a touchscreen interface and quick menu, which it hopes will guarantee 'an opportunity to capture the moment is never missed'.
The ease of control is further added to by the Elinchrom's THREE built-in Bridge. The Bridge is a companion app that allows you to control all features of the THREE and other Elinchrom units from a smartphone or computer. This can be a lifesaver, especially when you have limited time to set up.
Being able to place lights in position and not have to keep bringing them down to change the settings can save precious time, and save you from boring a model and slowing the pace of the shoot. Instead, the app allows setting changes on the fly - a tool to take advantage of!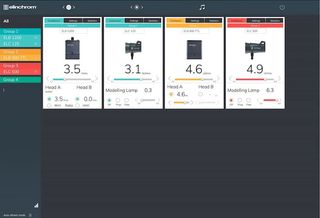 The Elinchrom THREE hopes to continue Elinchrom's dedication to user experience, designing a powerful strobe that can be operated with ease. With a wide target audience, this light is suitable for both established photographers and for beginners looking to try their first off-camera flash. Coupled with Elinchrom's renowned lineup of light modifiers, it should be a fantastic shooting experience we are looking forward to trying out.
The Elinchrom THREE is now available for pre-order at the price of $999 / £979 / AU$1870* (*converted from £GBP) for the single-light kit. A twin-head kit is also available.
For more on lighting see our articles on the best flash triggers, the best light stands, and the off-camera flash cheat sheet.