The Panasonic GH5s is one of the most popular video cameras currently available on the market. Able to shoot 4K video at 50p/60p in both ordinary video aspect ratio and the slightly wider Cinema 4K format, the GH5s also offers unlimited video recording (compared to many cameras that have a frustrating 30 minute limit).
Its ability to record Cinema4K video in 4:2:2 10-Bit, and dual native ISO that allows for greater low light sensitivity, make this a firm favorite amongst serious filmmakers. And now there is a great Easter deal on this camera, that not only gets you the camera body at a decent price - but comes with a free gift of a Panasonic 25mm f/1.7 Lumix G ASPH prime lens. Thanks to the 2x crop factor of the Micro Four Thirds sensor, this gives you the equivalent focal length of a traditional 'nifty fifty' standard lens.
Read more: Best Panasonic cameras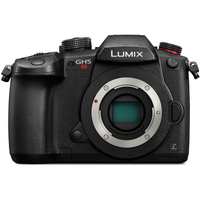 Panasonic Lumix DC-GH5s with free 25mm f/1.7 lens
£1699
With high-end 4K video, dual native ISO and 10-bit 4:2:2 recording, the Panasonic GH5s is a fantastic camera perfect for videographers - and now you can get it with a really useful fast prime lens thrown in for free!
UK deal
With a 10.2MP sensor, dual native ISO, twin card slots and a vari-angle LCD touchscreen, the Panasonic GH5s is a welcome addition to any videographer's kitbag. Plus, its 660g weight makes this small camera pleasingly weighty in the hand without being overly heavy.
With die-cast magnesium alloy front and rear frames and a rugged construction, the GH5s is protected against dust, splashes of water and temperatures down to -10ºC.
The Panasonic GH5s also records at higher quality levels for color depth and compression than most cameras. This is because it records video at 10bits rather than 8bits, which amounts to four times the color data. This results in smoother gradations of tone and less risk of unsightly banding.
Panasonic's V-logL mode is included as standard on the GH5s, which means that you can capture 'flat' video with high dynamic range. This will give you plenty of flexibility when it comes time to grade your video later.
• Other Wex Photo Easter Sale offers
Read more
Panasonic GH5s review
The best Micro Four Thirds lenses in 2020
The best 4K camera for filmmaking
The best camera for film students