Leica luxury is now available for a fraction of the price, as the brilliant Leica CL with Leica Elmarit-TL 18mm f/2.8 ASPH bundle offers a huge saving of $1,495!
We rank the CL as one of the best Leica cameras, and this incredible discount only makes it even more appealing. To purchase the body and lens separately would cost you $4,490, but with this bundle you can buy the Leica CL with 18mm f/2.8 lens for only $2,995!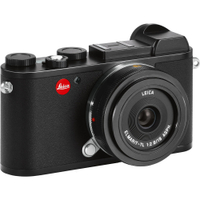 The Leica CL (review here) is one of our favorite cameras from the manufacturer, pairing a 24.2MP APS-C sensor with the Leica L mount, three-inch touchscreen, 4K video, Wi-Fi and 10fps burst shooting.
The L mount means it can accept both full-frame L lenses as well as Leica's TL lenses – including the brilliant Leica Elmarit-TL 18mm f/2.8 ASPH pancake prime, a wide-angle 27mm lens that's just 0.8 inches thick!
Read more:
Leica CL review
The best Leica cameras in 2020: from classic rangefinders to modern mirrorless
THIS is why Leica is so expensive