DJI have today announced two new products to accompany their Avata FPV drone. The first is a new version of the FPV goggles called 'Goggles Integra,' which incorporates the battery into the headband for convenience. The second is the DJI RC Motion 2, the second version of the floating joystick which can be used to control the DJI Avata.
The Goggles Integra are based on two 1080P micro-LED OLED displays which offer 700 nits (more than enough considering they're inside goggles). The 100 Hz refresh rate and O3+ video transmission tech means their latency is just 30 ms, while the in-built GPS means a smartphone isn't essential to flying.
The big improvement, though, is the battery position. The original version saw the battery on a cable long enough to tuck the battery in your pocket. This revision seems inspired by the FPV community, who commonly tuck the batteries for their goggles into the head elastic. This will shift the weight a little, but be tidier to use and is already a popular solution with FPV pilots.
The Goggles Integra will sell for $499 / £579 / AU$869 alone.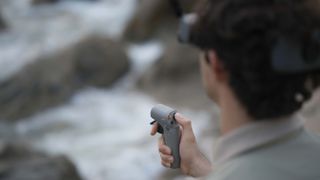 The new controller, the RC Motion 2, again builds on the original design, refining the joystick by introducing a reverse function. This should make landing easier, without dramatically changing the unique experience. A function dial is ideal for photographers looking to adjust settings like ISO or aperture on the fly.
It will sell for $239 / £159 / AU$279.
Together these refinements can also be seen as showing the success of the range, and FPV in general, for DJI – interesting in itself given some were predicting they'd leave the space only months after the original DJI FPV came out.
Both go on sale today, and will also be offered in revised bundles with the Avata. You can see what we thought of it in our DJI Avata review.
The Avata Explorer Combo with the DJI Avata drone, Goggles Integra, and RC Motion 2 will cost $1,099 / £1,099 / AU$1,809
Best DJI drones
Best FPV drones
Best camera drones
Best drone accessories