The winner of the Comedy Wildlife Photo Awards (CWPA) 2022 has been awarded to Texas-based photographer Jennifer Hadley for her image Not so cat-like reflexes. Taken in the Serengeti in Tanzania, Jennifer just happened to be in the right place at the right time when a young lion cub made an ungraceful descent from a tree. Cats falling from trees is unusual, but luckily, Jennifer her had a camera at the ready to capture the moment.
Jennifer's prize for winning will take her back on safari for a once-in-a-lifetime trip to the Masai Mara, Kenya and she will also receive a unique handmade trophy from the Wonder Workshop in Tanzania, as well as a Think Tank camera bag. Reflecting on coming first, Jennifer said:
"I think part of what makes this contest great is that most of these photos probably happen by complete accident and that was certainly the case with the lion cub falling out of the tree… No one expected this to happen and of course, we were concerned for his safety, but happily, as cats do, he righted himself just in time and landed on all fours and ran off with his siblings. A happy ending for a hapless kitty who didn't quite know how to get down from a tree."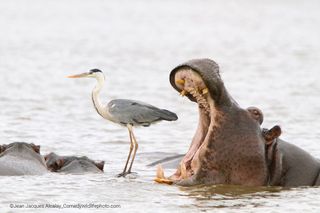 Now in its seventh year, the CWPA was founded by Paul Joynson-Hicks and Tom Sullam who wanted to run a light-hearted competition that would bring a smile to people's faces. This year, more than 5,000 images from 85 countries were entered making it one of the most popular competitions yet, and we ran the shortlist earlier this year!
As well as an overall winner there was a category winner for each of the five categories. Arturo Telle Thiemann took home the Underwater Category award for his image Say Cheeeese which captured a smiling grey triggerfish. Jia Chen took home the Amazing Internet Portfolio Award for the series Football Dream which included four photos of a skillful Coopers Hawk playing with a football in Alaska while Arshdeep Singh's fantastic shot of a winking owl resting in a pipe won the Think Tank Photo Junior Category Prize.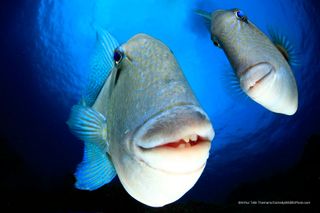 Jennifer Hadley also impressed the public with the Affinity Photo 2 People's Choice Award for her image Talk to the Fin which features two stroppy penguins looking as if they're having an argument. Finally, the Creatures of the Air category winner went to Jean Jacque Alcalay for his photo titled Misleading African Viewpoints 2 which uses clever composition to make a hippo yawning look like it's about to scoff a heron whole.
While the Comedy Wildlife Photo Awards offers photographers the opportunity to enter silly photos into a photography competition and viewers the chance for a giggle, it also has some seriously positive impacts on wildlife. Partnered with the Whitley Fund for Nature, the Comedy Wildlife Photo Awards donates 10% of its net revenue to one of the UK's leading conservation charities each year. For the last 20 years, WFN has donated more than £20 million to over 200 conservation projects in 80 countries – that's a lot of wildlife that has benefitted!
More often than not, photography competitions have a serious edge to them, so it's refreshing to see a successful competition that looks to the lighter side of life. We love all the winning and highly commended images but we've just picked a few of our favorites to share. To see the full gallery head to the CWPA website where you can also find out all the information you need to enter next year's competition.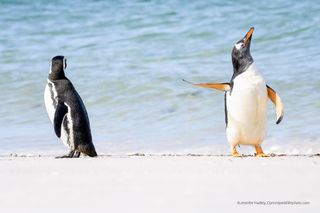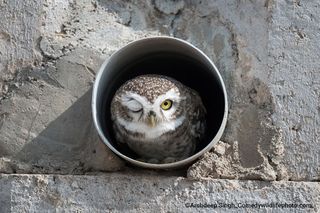 Check out the best cameras for wildlife photography or discover our top 10 pro tips for wildlife photography.