It's always been surprising to us how many DSLRs and mirrorless cameras don't feature a double exposure function, given that a number of Polaroid and Instax cameras possess the feature.
While the best instant cameras are capable of double exposures, though, they do so by exposing the entire frame twice. However, an enterprising photographer from California has created a brilliant add-on for the Fujifilm Instax Mini 90 Neo Classic that enables you to exposure each side of the film separately.
This means that you can create some brilliant in-camera magic, such as creating a clone of your subject within the same frame.
The Instax Mini 90 Splitzer Lens Kit, designed by Guillermo Hernandez (spotted by Petapixel), works by covering half of the camera lens. Used in conjunction with the camera's double exposure mode, you can cover one half of the lens to expose one side of the film, then rotate the Splitzer 180° to cover the other the other half and expose the opposite side.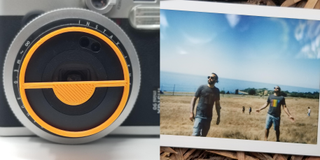 It's a brilliant concept, albeit one that's interpolated from the existing accessory for Lomo instant cameras – the Lomography Lomo'Instant Mini Splitzer. Which, in turn, was interpolated from industrious Lomo photographers simply sticking a piece of electrical tape over half the lens to do the same thing.
Either way, a roll of black tape will cost you about ten bucks and the Lomography Splitzer retails for $16.90. Hernandez' version, which he 3D prints himself, costs just $5 (plus shipping) – and comes in a choice of black, white, grey, magenta, cyan, mint green, purple, yellow or orange.
If you don't have an Instax Mini 90, though, don't worry – we can show you how to shoot a double exposure in-camera, how to create a double exposure in Photoshop Elements and how to create a double exposure effect in Affinity Photo. So you can cause double trouble whatever you're shooting on!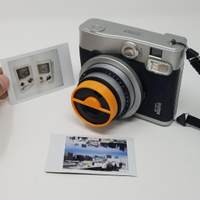 Instax Mini 90 Splitzer Lens Kit: $5.00
Designed for Fujifilm Instax Mini 90 Neo Classic instant cameras, the Splitzer Lens Kit enables you to shoot split double exposures and create instant in-camera clones!
Read more:
The best instant cameras – from best instax to best Polaroid cameras
Best digital instant cameras: hybrid cameras and instant printers
Cheap Instax film deals – great buys on print packs in an instant!