On paper, choosing the color of my new iPhone 15 Pro Max should have been one of the easiest decisions I have made in my life. But in the end it was actually pretty tough trying to pick between the four color options of the latest Apple flagship smartphone.
Natural Titanium, Blue Titanium, White Titanium, or Black Titanium – that was the question. And it was the one piece in the buying process that proved tough.
I had decided even before the full details of the iPhone 15 range were announced that I was going to upgrade. I bought my current iPhone 11 Pro as a treat for myself during the first Covid lockdown. Given that means I have held onto my current phone since spring 2020, my phone has lasted three-and-a-half years – making it my longest-lasting handset ever.
I also knew that I was going to go large this time. The Pro's screen had done me fine. But I increasingly use the phone to look at, and even edit, spreadsheets - or to make corrections on the CMS we use to create this website - so a Max-sized 6.7in Retina screen would be a boon. At the same time, my eyesight is gradually demanding stronger and stronger reading glasses - so a bigger display would also make sense even for normal mobile tasks.
And I also knew that I would be perfectly happy with the base-level storage option. I chose 256GB for my iPhone 11 Pro - and I haven't ever come close to using all of this. So I felt no need to pay extra for 512GB or 1TB of memory. So 256GB would be fine once again.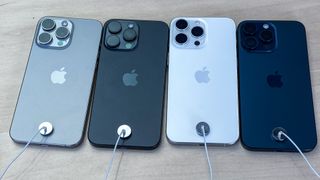 The color choice was not a given though. Blue is my favorite color – and I have owned grey, black and white phones in the past. So I couldn't eliminate any color due to personal taste.
Very wisely, as it turned out, I waited until I had a chance this weekend to see the new titanium iPhones in the flesh. And I am glad they did - as to be frank, the colors look noticeably different than they do on the website and in the press photos.
The photos I took in my local Apple Store (above) I think give a better idea of the actually color of each of the phones. The Natural Titanium is a space grey color that I know well from other Apple products, the Black Titanium is a jet black, the White Titanium is the iconic Apple white, and the Blue Titanium is a dark, dark blue.
Up close, and viewed side by side, I was disappointed by the blue - and the grey of the Natural Titanium looked rather boring option. So that left the white and the black options - both of which I liked.
Inevitably, of course, the decision might well be slightly academic - as I would definitely ensure that I used a bespoke iPhone 15 Pro Max case, to keep my new investment protected (and would buy this from Mous, as this is the brand I use for my current iPhone).
With a case in place, the only bit of the colored back panel that would actually be seen was in the small island surrounding the three camera lenses.
So how did I make my choice in the end? Apple made the choice easier, as if I chose White Titanium I would have a seven-week wait until my new phone arrive - which seems like ages. Opting for Black Titanium means that my Max will be with me in four weeks' time - which felt a long-enough delay after all my procrastination over choosing the color!