At the recent Canon Reimagine global launch event, which saw the full unveiling of the new super-specced EOS R5 and R6 full-frame mirrorless cameras, Canon made the admission that it didn't actually intend to create a mirrorless system when developing the EOS R family.
Eyes around the world were watching the 'new normal' event to get their first full look at the Canon EOS R5 and Canon EOS R6, which are obviously two of the most eagerly anticipated mirrorless cameras ever released. So the admission was something of a surprising one.
• Hands on: Canon EOS R5 review
"Photographers and filmmakers are always trying to capture something that hasn't been shot before," said Richard Shepherd, senior manager of Professional Product Marketing at Canon Europe, about the new cameras. "That's why it's our primary goal when we develop a new product to enable something that has been previously impossible.
"We based the R system around three core pillars: the large diameter mount, short flange back and a high-speed communication system between camera and lens. The R system's new RF lens mount gives us much greater flexibility in lens design."
So far, so normal. Here's where things got interesting, though. "We are setting new standards of video capture, astonishing autofocus, blistering speed, and ground-breaking image stabilization," he continued, before revealing, "We didn't set out to make a mirrorless system, particularly – we were looking to develop the system for the next 25 years."
Either way, we're glad that Canon did choose to make these amazing mirrorless cameras! The 45MP R5 is a powerful new flagship for the EOS R System, and the 20MP R6 is no slouch either, with both cameras equipped to shoot at 20fps via their electronic shutters, with the former capable of shooting uncropped 8K video and the latter uncropped 4K.
Both the R5 and R6 are loaded with a market-leading 8 stops of maximum in-body image stabilization, and the latest generation of intelligent autofocus for tracking people's heads – and now locking on to the eyes of animals, even lions on safari in the dark!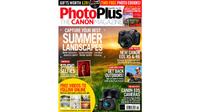 PhotoPlus: The Canon Magazine is the world's only monthly newsstand title that's 100% devoted to Canon, so you can be sure the magazine is completely relevant to your system.
Read more
The best Canon RF lenses