Canon has designed a new, touchpad replacement for the traditional shutter button – something that could be the biggest revolution for cameras since the advent of the LCD screen or removal of the reflex mirror.
In a new design patent, filed last week, Canon describes a "front touch operation member" (panel) located where the shutter button traditionally sits. This panel is able to detect both the duration and the pressure applied to it – meaning it would be able, for example, to detect a prolonged half-press to find focus, and then a firm full-press for taking a shot.
• Read more: Best Canon cameras
Because a touch panel can be completely enclosed within the camera shell, it does not need the moving parts or perforations in the camera body required by a shutter button. In turn, this means that both the weather sealing and ergonomics of a camera body can be improved.
"The present invention relates to an electronic apparatus and a method of controlling the same, and more particularly, to a technique for performing control according to a pressing force of a touch operation," reads the Japanese patent (JP-020-201756), as spotted by Canon News.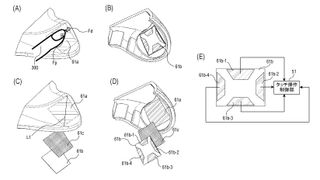 Point 61 of the diagram refers to the touch panel. "The front touch operation member is an operation member configured such that a part of an external casing of the digital camera can be touched, and includes a touch operable portion.
"As described above, since the front touch operation member is constituted by the outer casing, it is not necessary to provide a hole or the like for the button installation in the outer casing, and thus it is possible to improve the degree of freedom of the dust-proof and drip-proof performance and the appearance design.
"Further, by providing the front touch operation member at a position where the index finger is naturally placed when the user holds the digital camera, it is possible to always maintain a stable grip state even when changing the camera setting. As a result, it is possible to provide a digital camera which is good in operability and is difficult to pick up a critical moment."
Of course, this isn't the first time that Canon has designed a touch-sensitive input. The Canon EOS R (in)famously features the M-Fn touchbar, which proved incredibly divisive and was ultimately removed from all future EOS R cameras. And obviously the best camera phones use touch input to operate their shutters.
So, is this the future of shutter buttons? It's one possible future. However, Canon files hundreds more patents than it ever brings to market. There's no guarantee that this will ever see the light of day, but we'd be very intrigued to see it become reality.
Read more: