Canon has launched a new large-format printer, but one with a key difference. Where most large-format printers are gargantuan, intimidating beasts aimed squarely at professional users, the new imagePROGRAF TC-20 is a more approachable device designed to bridge the gap between novice and professional requirements.
Measuring a (relatively) compact 96.8 x 52.5 x 24.5cm, the imagePROGRAF TC-20 can print paper sizes ranging from A4 up to 24"/A1+ roll. Like typical large-format printers, the iPF TC-20 can be used on a dedicated stand, but it can also be placed on a desk, or even a shelf.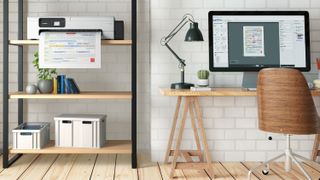 The latter is made possible by front-accessed paper loading and ink refilling. Canon has designed the paper roll holder to be "axisless", further simplifying the paper load process, especially in small spaces. When not printing large-format work, the iPF TC-20 supports continuous printing of up to 100 A4 or up to 50 A3 sheets.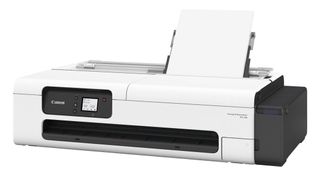 The iPF TC-20's target audience is said to be architectural, engineering and construction offices, educational institutions and the hospitality industry. Consequently, Canon has envisaged the print output to be drawings, diagrams and plans, rather than gallery-quality photographic prints. Top that end, the imagePROGRAF TC-20's uses only four 70ml pigment ink bottles - black, cyan, magenta and yellow - which makes for simplified, cost-effective printing, with pigment ink better suited to outdoor display and reproducing graphics and typography. But don't expect photo print quality to rival the standard set by Canon's more photography-orientated printers like the imagePROGRAF PRO-300 and PRO-1000, with their 10+ ink tank designs.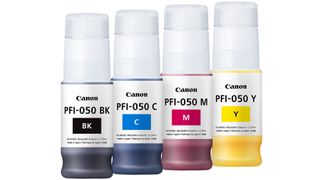 The printer is supplied with Canon's free Direct Print Plus printing software. Compatible with both PC and Mac, this utility has been designed with simplicity and easy of use in mind. It can be used to check the layout of multiple files in different file formats such as PDF, JPEG and TIFF, while the printer's on-screen preview lets you print directly without the need to load another application. With the aid of the Canon Print Inkjet/SELPHY2 smartphone app, it's possible to remotely monitor paper and ink levels, as well as apply printer firmware updates.
The Canon imagePROGRAF TC-20 is available to order now from Canon USA, priced at $795 and including a full 280ml compliment of ink; in the UK retails for £839.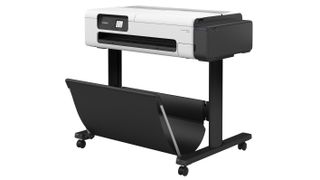 Read more:
Best portable printers
Best all-in-one printer
Best large format printer
Best inkjet printers
Best photo paperfor inkjet printers
Best online photo printing services
Best wireless printer
Best 3D printers
Best laser printers