Those filmmakers looking for a small but powerful production camera that they can take anywhere which shoots 8K video and can fit in a small camera bag certainly are limited to only a number number of the best 8K cameras on the market.
But today one of those select few stand out from the crowd as the Canon EOS R5 C - the video-first version of the standard EOS R5 has now been approved for Netflix and joins the ranks of super high-end cinema cameras like the Canon EOS C300 Mark III, RED, and ARRI.
The Canon EOS R5 C might not be the first mirrorless camera to feature or even compete with the list of best Netflix-approved cameras, but it is the very first professional mirrorless camera that can shoot native 8K video, and in 12-bit 60p no less!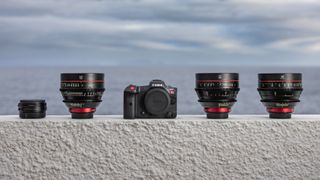 While the Canon EOS R5 C is, at its core, very similar to the standard Canon EOS R5, it is specifically a Cinema EOS product. Therefore, you can unleash the camera's full video potential, including the ability to shoot internal full-frame 8K video up to 60p in 12-bit Cinema Raw Light, optimized for HDR footage – though the camera must be connected to an external power source (including new Canon mains adapter, or a power bank) to shoot 8K 60p. Internally, it also shoots Super 35 up to 5.9K 60p and Super 16 up to 2.9K 60p, giving professional and amateur filmmakers alike a lot of production options for any size shoot.
In addition to its 12-bit Raw, this new video format enables you to shoot configurations including Raw HQ, Raw ST, Raw LT, HDMI Raw, XF-AVC YCC 4:2:2 10-bit, MP4 / HEVC YCC 4:2:2 10-bit, MP4 / HPEC YCC 4:2:0 10-bit, and MP4 / H.264 YCC 4:2:0 8-bit.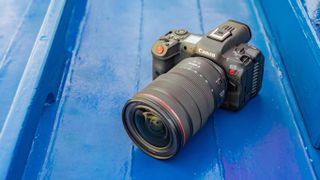 It can also capture 4K 120p – in DCI / UHD in 4:2:2 10-bit (Long GOP and Intra) – with audio recording, where the sound can be captured as a separate audio file, relieving the need to record audio independently. Proxy recording is also offered, which is not possible on the base R5.
Overall the Canon EOS R5 C is a true professional Cinema EOS product, that also has the benefit of being able to take 45MP stills when you need them, and now that it is officially approved by the streaming giant, I can see the Canon EOS R5 C being a great B-cam to bigger cinema cameras, or even being the main A-cam recording your next block-busting documentary or indie film for the streaming giant.
If this has been helpful you might want to check out our best cines lenses to make your productions look a million dollars, or better yet take a look at our best cinema camera guide to help you pick your next rig to film your next masterpiece, and while you're at it why not check out the best Canon RF lenses to pair with your Canon EOS R5 C.