Canon has confirmed that we will see its excellent eye control autofocus in more cameras going forward, but unfortunately, it doesn't sound like any of these cameras will be out anytime soon.
Eye control autofocus is one of the best features of the Canon EOS R3, although it debuted way back in the 90s, while Canon was still making 35mm film cameras, in the Canon EOS 5. Although naturally, it has got a little more sophisticated since then.
For the uninitiated, eye control autofocus works by tracking the pupil as it is held up to the electronic viewfinder, this can then be mapped to where the pupil is looking on the viewfinder image, and use those pixels for autofocus.
Eye control autofocus separates the EOS R3 from the pack, not just in offering something different, but also offering an autofocus system that just works so well. Canon has near perfected its autofocus in all its latest cameras with the incredible Dual Pixel Autofocus system, although when more precise autofocus is needed, it still relies on user input via the joystick or touch screen on the rear of the camera. When shooting high-speed action including sports or wildlife, this wastes precious seconds, meaning you might miss the shot. Eye autofocus is much faster and gives a real edge on focusing speed.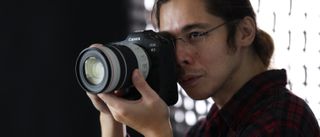 In a recent interview with DPReview, the Canon executive leadership team discussed the future of eye autofocus in Canon cameras, giving an explicit confirmation that Canon intends to deploy eye-controlled autofocus in future cameras.
"It's our mission as a camera manufacturer to figure out ways to make any camera system easier and more comfortable to operate. So, in terms of the eye control system, or eye-controlled focus, we intend to deploy this to various other models as well. At the same time, we'd like to improve the performance and usability."
However, don't get too excited just get, as Canon also has some cold water to pour, revealing that even though these cameras might be coming, they won't be coming soon. The execs state that the biggest thing holding back a wider deployment of eye autofocus is cost, with the system just being so expensive to develop and manufacture.
"However, the eye control system is something that takes a long time to develop. It's also a costly device to develop and manufacture, so we don't wish for customers to have overexcited expectations for immediate deployment to other models."
Still, this is not going to stop the internet (Digital Camera World included) from speculating on what Canon cameras we might see next utilizing eye autofocus. We would be absolutely shocked if the upcoming Canon EOS R1 did not include eye detect autofocus, as that camera will be a sports camera and Canon's flagship. The eventual release of a Canon R5 Mark II would also be a good candidate for eye autofocus as its reason to upgrade.
Follow all the latest Canon speculation in our Canon rumors hub. For Canon's current lineup, you can read our guides to the best Canon cameras and the best Canon lenses.