Fujifilm camera cashback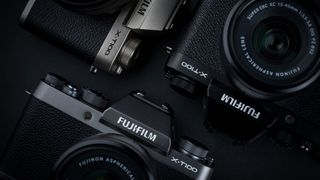 Fujifilm had a plethora of offers on the go at the time of writing under the tagline of 'carry more for less', including not just the usual camera cashbacks with up to £250 to be had for those customers based in the UK, but also money saving offers on accessories when bought with various bodies and lenses. It is also running additional trade in deals that will also save you a few pounds when looking for new kit to replace an existing set up or investment.
Details of the full range of Fuji offers can be found via the link below:
https://www.fujifilm.eu/uk/products/digital-cameras/promotions
The main cashback offer was due to end on January 10th 2019, so get your skates on!
At the time of writing, Jessops was highlighting the broad range of Fuji cameras covered by the current cashback. Click here for the saving to be had on an X-T20, for example, on top of Jessops' own current discounting: https://www.jessops.com/p/fujifilm/fujifilm-x-t20-mirrorless-camera-in-silver-with-xc15-45mm-lens-and-xc50-230mm-f-4-5-6-7-ois-ii-lens-151490
In the meantime, to save you time in naming your choices, we've picked out a few product highlights below from those currently on offer.
Fujifilm UK - mirrorless camera cashback deals
Fujifilm UK – compact camera cashback deals
Fujifilm UK – lens cashback deals
Fujifilm XF series lenses
Also covered by the cashback are the following lenses – a whopping 21 optics in all, making for a broad range of choice for anyone looking to add some extra 'glass' to their camera bag and boost their fledgling Fuji X system.
XF14mm f/2.8 R – £135 cashback
XF16mm f/1.4 R WR – £135 cashback
XF18mm f/2 R – £45 cashback
XF23mm f/1.4 R – £90 cashback
XF23mm f/2 R WR – £45 cashback
XF27mm f/2.8 – £45 cashback
XF35mm f/1.4 R – £45 cashback
XF35mm f/2 R WR – £45 cashback
XF50mm f/2 R WR – £45 cashback
XF56mm f/1.2R – £90 cashback
XF56mm f/1.2 R APD – £135 cashback
XF60mm f/2.4R Macro – £45 cashback
XF80mm f/2.8 R LM OIS WR – £135 cashback
XF90mm f/2 R LM WR – £135 cashback
XF10-24mm f/4 R OIS – £135 cashback
XF16-55mm f/2.8 R LM WR – £180 cashback
XF18-55mm f/2.8-4 R LM OIS – £90 cashback
XF18-135mm f/3.5-5.6 R LM OIS – £90 cashback
XF50-140mm f/2.8 R LM OIS WR – £180 cashback
XF55-200mm f/3.5-4.8 R LM OIS – £90 cashback
XF100-400mm f/4.5-5.6 R LM OIS – £270 cashback
More cashback deals
Canon camera cashback deals
Nikon camera cashback deals
Sony camera cashback deals
Olympus camera cashback deals
Panasonic camera cashback deals