Blackmagic Design has announced a new edition to its super-high-resolution cinema camera lineup with its new Ursa Mini Pro 12K camera - which now adds an Optical Low Pass Filter (OLPF) as part of its design to give better rendition and tonality to your workflows required at this high level of production.
This new Ursa Mini Pro 12K OLPF was also recently added to the best Netflix-Approved Camera list, so that Blackmagic Design now has four of its cinema lineup approved for the streaming giant. The original Ursa Mini Pro 12K had not been approved.
Officially titled "Cameras and Image Capture: Requirements and Best Practices", the Netflix list highlights the capture requirements necessary to be qualified as an approved camera by the streamer, including dynamic range, resolution, codec, and workflow compatibility, Netflix also requires 90% of a program's final total runtime to be captured on approved cameras.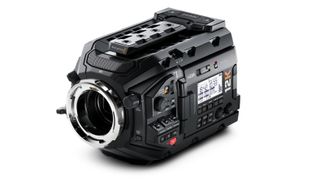 Apart from adding the Optical Low Pass Filter to the 12K Ursa the general design and output of the camera will remain the same. With the combination of 80 megapixels per frame and a recording size of 12,288 x 6480 the 12K Ursa is the leading cinema camera in the market championing this ultimate resolution.
As well as new color science and the flexibility of Blackmagic RAW makes working with 12K a reality for many. You also have the ability to oversample from 12K giving you the best 8K and 4K images with the subtle skin tones and extraordinary detail of high-end still cameras.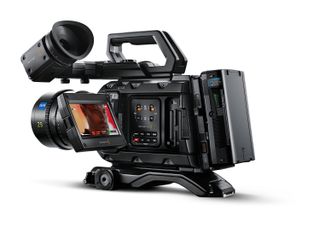 You can shoot at 60 fps in 12K, 120 fps in 8K, and up to an impressive 240 fps in 4K Super 16. The Ursa Mini Pro 12K OLPF features an interchangeable lens PL mount, as well as built-in ND filters, dual CFast and UHS-II SD card recorders – and SuperSpeed USB-C expansion ports to help fit into any workflow from a single operator to Hollywood production.
The cost of the new Blackmagic Ursa Pro 12K OLPF is priced at $6,385 body-only, the same price as the original 12K Ursa, if I was in the market for a 12K camera I would certainly pick the OLPF version over the original due to the better handling of detail and color control, after all, if you have the funds available to buy the best - you might as well have the best of the best.
Pre-order at B&H Photo |US
Pre-order at Adorama |US
If this article has been of interest then we would recommend taking a look at the best cinema cameras on the market, best cine lenses to use on your next big shoot, or take a look at the best on-board video monitors to help you composure award-winning shots.