When Blackmagic Design dazzled the world with its new L-Mount 6K camera, it also quietly announced two new cameras in its studio lineup. The studio lineup is more suited to broadcasting, be it for television or live-streaming.
While we were all distracted by the Blackmagic Cinema Camera 6K, the two stealth announcements were the Blackmagic Studio Camera 4K Plus G2, and the Blackmagic Micro Studio Camera 4K G2. Both are new generations of older products within the broadcasting lineup, and these cameras show that Micro Four Thirds (MFT) is still a popular choice in the broadcasting and live streaming market – and because they feature MFT sensors, they also have appealing prices.
Blackmagic Studio Camera 4K Plus G2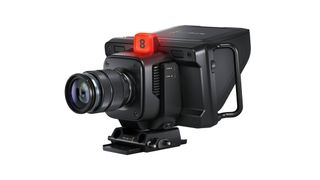 The Studio Camera 4K Plus G2 from Blackmagic Design adds a powerful studio camera to your 4K broadcast when using an ATEM Mini or DaVinci Studio. Updated from the HDMI Studio Camera 4K Plus, this new compact and lightweight broadcast camera now features a 12G-SDI input, 12G-SDI output, and HDMI 2.0 output for even more compatibility with SDI switchers.
This camera also has all the same features as the Studio Camera 4K Plus, including an active MFT lens mount, ISO25,600, 13 stops of dynamic range, a tally light, dual USB-C ports for recording and control, built-in dual microphones, and a massive 7-inch HDR LCD screen that even comes with a sun hood. It all goes to show that this really is built for the studio; no matter how big or small this camera is ready to go, whatever your setup.
Blackmagic Micro Studio Camera 4K G2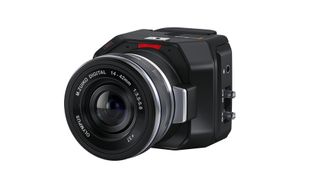 If space is at a premium in your studio, or you're a streamer that goes live in your spare room or bedroom, then you know every inch of spare space is a godsend. This is where this new Micro Studio camera comes into its own.
East to install anywhere in your studio or on location, this tiny UHD 4K studio camera is designed for live productions – and has been updated to feature the same image sensor found in Blackmagic's Studio Camera 4K Plus G2 above, which supports 3840 x 2160 60p.
The camera is equipped with an active MFT mount that can accept native Micro Four Thirds lenses or be adapted to a wide range of other modern and vintage lenses. It outputs 10-bit 4:2:2 video via 12G-SDI signal and can be remotely controlled from an ATEM switcher using SDI control protocol.
This camera packs many professional studio features into a compact form factor, including a built-in color corrector, program return, talkback, and tally indicator, making it the ideal solution for anyone wanting a quality camera to go live but that doesn't break the bank.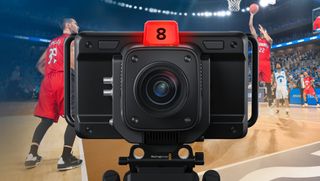 See how the best Blackmagic cameras compare with the best cinema cameras and the best cameras for video from other manufacturers.