Hundreds of Black Friday deals on cameras, lenses and photography equipment are just around the corner. Black Friday 2018 is just six weeks away – and although the event officially launches on 23 November, we're expecting to see Black Friday camera deals starting to drop before that.
Black Friday camera deals: jump straight to...
If you're in the market for some new photography gear, this is one of the best times of year to invest: some serious savings are possible. But with so many offers flying around it can be tricky to know which are genuinely good – and which just aren't.
That's why we'll be curating the very best Black Friday camera deals here on this page. Whether you're after a DLSR, mirrorless or compact camera deal – or a Black Friday camera phone deal – we'll have you covered. We'll also be bringing you the biggest bargains on everything from lenses and tripods to memory cards, monitors, photo-editing software, printers and more, throughout the month of November.
Yep, you read that right: Black Friday is no longer a one-day, or even one-week event. Major retailers like Amazon will be dropping huge deals throughout the month leading up to Black Friday 2018, as well as during and after the event.
And with online outfits like B&H, Wex Photo, Park Cameras and John Lewis all competing to provide the best camera deal on Black Friday, we're expecting some decent discounts on all manner of cameras, lenses and accessories.
Of course, we're a few weeks off yet. But there are a few things you can do now to improve your chances of pocketing a proper bargain this year, and not a dud. Here's everything you need to know now about where and how to find the best Black Friday camera deals this year.
When is Black Friday 2018?
First, the basics: Black Friday 2018 officially falls on 23 November – it's always the first Friday after Thanksgiving – with Cyber Monday following three days later.
Black Friday camera deals: what we expect to see
We think some of the best Black Friday camera deals in 2018 will come via the big-name brands. We're expecting to see a selection of decent Black Friday DSLR deals from Canon and Nikon, in particular, throughout November.
The newly launched Nikon D3500, for example, should lead to some discounts on the Nikon D3400. Meanwhile, Canon has recently offered cashback on a number of models – including the Canon EOS 5D Mark IV, Canon EOS 6D Mark II and Canon EOS 80D – giving a strong indication of the models it's prepared to discount. We'd put our money on Black Friday camera deals on the EOS M5 and some PowerShot models too.
However, in 2017 the best Black Friday camera deal by far came courtesy of Sony and Amazon, with the full-frame mirrorless Sony A7 and 28-70mm lens kit slashed to £799 after cashback. We've since seen that price drop even further: over Prime Day, Amazon cut the cost of the Sony A7 and FE 28-70mm f/3.5-5.6 OSS lens kit to just £569 after cashback.
The camera has been superseded by two additional models, but these discounts make it a fantastic bargain for anyone wanting a full-frame or mirrorless camera on a budget – and we would hope to see equally good offers on the A7 this Black Friday.
We also think Sony's Alpha A7 II and A7S II will be heavily discounted. And we'd expect to see savings on Sony's compact cameras – including both point-and-shoot models like the Cyber-shot WX220, as well as more advanced models like the Cyber-shot RX100 III and RX10 III.
Finally, we predict that some of the most popular Black Friday camera deals will come from GoPro. Sure, the new GoPro Hero 7 Black won't see a notable price cut – but the older and excellent GoPro Hero 6 Black is now ripe for a discount.
Black Friday DSLR deals: predictions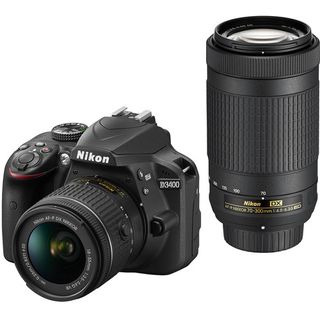 The best Black Friday DSLR deals in 2018 will come from...
Amazon US, Amazon UK, eBay US, eBay UK and B&H Photo. We're expecting to see a good selection of Black Friday DSLR deals on Canon and Nikon DSLRs from Amazon and B&H particularly, throughout November. B&H is already offering a Nikon D3400 bundle with 18-55mm and 70-300mm lenses for $545.96 (down from $846.95). But eBay, NewEgg, Walmart, Best Buy and Costco will all have discounted DSLRs this year.
Black Friday mirrorless camera deals: predictions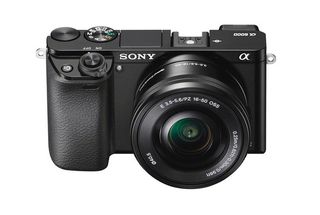 The best Black Friday mirrorless camera deals in 2018 will come from... If the last 12 months are anything to go by, some of Black Friday's biggest photography savings will be seen on mirrorless cameras like the Sony A7 and Fujifilm X-A5 – and they'll come from AmazonUS / Amazon UK and eBay US / eBay UK. (Amazon UK slashed the X-A5 plus an XC 15-45 lens to just £367.56 over Prime Day.) Again, B&H Photo, NewEgg and Walmart will also be good bets for great Black Friday mirrorless camera deals this year.
Black Friday point-and-shoot camera deals: predictions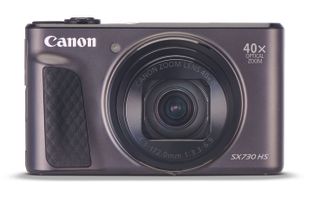 The best Black Friday point-and-shoot deals will come from...
Amazon US / Amazon UK, eBay US / eBay UK, and B&H Photo will once again be your best bets for hot deals. We expect to see a number of heavily discounted point-and-shoot cameras over Black November, with savings typically between $50-$150 / £50-£150. You can already grab the excellent Canon PowerShot SX730 from Amazon for $379 / £277 (down from $399.99/£379.99).
How to get the best Black Friday camera deals
We'll have all the best Black Friday camera, lens and accessory deals right here – so you can be sure you're making a sound investment, and not buying a poorly specced model that your smartphone could beat hands down.
But even with the best black Friday camera deals, photography gear can still cost a lot of money. So it's important you choose a model that's right for your skill level and the sort of photography you want to do, not just your budget.
Here are some pro tips to help you make an informed decision over Black Friday.
1. Know the type of camera you want
The most important question to ask yourself – apart from how much money you're prepared to spend – is what do you want your camera for? Are you looking to do landscape photography? Sports? Portraits? Do you want lots of lenses? Is image quality more important or do you need an ultra portable model you can take on your holidays? Does it need to be waterproof?
These questions will help determine what type of camera you need. A compact camera, for example, is ideal for anyone after something small and easy to use. Manufactures have had to fight back against the rise of the smartphone, and the market is rife with premium models that offer excellent image quality, longer zoom lenses and more control – as well as a wide range of auto modes.
If you're looking to step up your photography, a DSLR or mirrorless camera – with their interchangeable lenses and advanced controls – will make a better choice. There are advantages and disadvantages to both formats (you can find out more about DSLRs vs mirrorless cameras elsewhere on the site), with Nikon and Canon ruling the DSLR roost; and Sony, Panasonic and Olympus all producing excellent mirrorless cameras.
2. Know the specs you need
Image quality depends on sensor size. That's why DSLR and mirrorless cameras – which have much larger sensors – can produce far better quality images (especially in low light) than compact cameras, even though the resolution might be the same. Brush up on the specs you need for the sort of photography you're intending to do, so that you can make the best decision on the day.
3. Look at what lenses are available
If you're thinking about buying a DSLR or mirrorless camera, take a close look at the lens system. The likes of Canon and Nikon have a wide range of lenses at different price points for you to buy into, but not all systems have the same variety.
4. Do you want 4K video?
While 4K video is rapidly becoming the norm, you still see a lot of DSLRs that can only shoot Full HD (1080p) footage – and we expect to see Black Friday camera deals on many of these models.
But before you disregard a Full HD model, first consider that a DSLR or mirrorless camera will probably capture better Full HD video footage than a compact camera with a smaller sensor shooting 4K. Also, just because a camera has 4K, it might be only up to 15p – making it jerky; you want at least 24/30p – while some DSLR and mirrorless cameras only offer cropped 4K, which makes shooting wide-angle footage tricky.
5. Do your homework on price
The best way to avoid falling for a bad deal is to know the value of what you're buying – and its normal retail price. We know retailers sometimes inflate prices before Black Friday to make discounts look bigger, but if you know the normal price, you can make a sound judgement on how good a deal really is. Online price-comparison shopping sites like PriceGrabber.com can help here.
6. Make a list
It's easy to become carried away in the shopping frenzy and make impulse purchases. A good way to stay focused is to create a list of items you might want to buy on Black Friday. Read the reviews, and educate yourself on the specs – that way you'll be better placed to tell the difference between good and bad deals (and good and bad versions of that product, too).
7. Check whether you can get cashback
A lot of debit and credit cards offer cashback on purchases, so take a look at the fine print on yours. Many credit cards also come with benefits like free warranties, return protection and sale price protection – which are worth thinking about.
8. Sign up for Amazon Prime
There are a lot of advantages to having an Amazon Prime membership over Black Friday – not least an exclusive 30-minute access period to all Amazon Lightening Deals. An Amazon Prime subscription will set you back £79/$99 per year, but if you're not sold on committing to Prime up, don't worry. You can also get access to the same Black Friday benefits by signing up for a 30-day free trial. You can cancel any time before the 30 days with no strings attached.
9. Keep the receipts
If for any reason you're not happy with your new camera, make sure you've got the receipts to hand so you can return it easily. It's a good idea to check the refund policies of any retailer before you part with your cash, too – one stinger to watch out for is free returns not being offered.
Black Friday camera deals: quick links
We've highlighted the retailers that we think will launch the biggest camera, lens and accessory deals over Black November above. However, most major retailers will be fiercely competing for a slice of your wallet, so it's worth looking around.
We'll be curating the offers from all the big players and presenting the best ones on this page – but if you want to keep an eye on the big players in the run up to and during Black Friday (and, indeed, Christmas), here are the links you need:
The best Black Friday photography deals US: Adobe | Adorama | Amazon| B&H Photo | Beach Camera | Cameta Camera | Canon | Costco deals | eBay Black Friday | Focus Camera | GoPro | Jet | Kohl's | Newegg | Olympus | Panasonic | QVC | Ritz Camera | Serif | Target Black Friday | Walmart Black Friday | Wex Black Friday
The best Black Friday photography deals UK: Amazon Black Friday | eBay Black Friday | John Lewis | Currys | Argos | Tesco | AO.com | Carphone Warehouse | Mobiles.co.uk | ASOS
The best pre-Black Friday camera deals
Not everyone has the luxury of being able to wait for a Black Friday bargain, of course. If you need to buy some photography hardware or software now, we've still got you covered. Here are today's best prices on our favourite cameras, lenses and accessories…
Photography magazine subscription deals
Digital Camera is the definitive guide to digital photography. Bursting with pro insight and advice, in-depth tutorials, free gifts and inspirational images, Digital Camera will help you become a better photographer. You can save up to 42% off the regular price right now. No code needed.
PhotoPlus: The Canon Magazine is the only monthly newsstand magazine on the planet that's completed devoted to Canon, so you can be sure it's full of great insight for getting more out of your system. You get a disc of video tutorials each month too. Save up to 47% off the regular price right now. No code needed.
N-Photo is an independent magazine that focuses 100 per cent on Nikon. So if you've got a Nikon camera, you'll find the best buying advice, reviews, tips, tricks and inspiration for your craft in this title. And the good news is you can get up to 42% off the normal price right now. No code needed.
Digital Photographer will inspire and challenge you to take better photos, whether you're an enthusiast or professional photographer. As a subscriber, you can get your hands on hundreds of creative resources via FileSilo – all for free. And you can save up to 52% off the regular price right now. No code needed.
Photography Week – from the makers of Digital Camera World – is the world's number one digital-only weekly photography magazine. It's packed with everything you need to become a better photographer, from video guides to the latest techniques and pro advice for taking your photos up a level. You can get a massive 74% saving on the normal price right now. No code needed.
Practical Photoshop is the planet's leading digital-only Photoshop magazine, bursting with the best Photoshop techniques, tips and tricks, plus tutorials, video lessons and inspiration to take you to the top of your game. You can save up to 27% off the regular price right now. No code needed.
Also read: