Looking for a big portable hard drive to keep your photographs and videos backed up, at home and when out on location? How about a big data deal that makes that a bit easier on the wallet? We have just spotted this great offer at B&H which is ideal if you want to archive your images, or ensure they are safely copied and stored when travelling.
This offer is on the G-Technology 4TB G-DRIVE USB 3.0 mobile hard drive - and with $35 knocked off the price is now an appealing $94.95.
The drive measures a pocketable 4.4 x 3.2 x 0.8 inches (11.2 x 8.1 x 2.0 cm) and weighs just 0.5 lb / 0.2 kg.
It uses USB 3.1 Gen 1 connectivity offering transfer speeds of up to 130MB/s using either the USB-C or USB-A cables that are supplied with this SATA drive.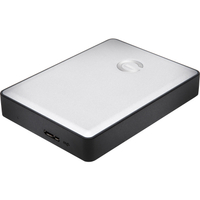 G-Technology 4TB G-DRIVE USB 3.0 Hard Drive: now $94.95
Save $35 Measuring just over 4x3 inches, this is the perfect drive to carry around in your gadget bag for backing up and archiving images and video. But despite its size, this hard drive offers a whopping four terabytes of storage.
US deal
This is such a good deal that you might even want to buy two, so you can keep a mirrored back-up in a separate location, for extra security against losing your images and files!
Read more:
The best portable hard drives for photographers
Best external hard drives for photographers
The 50 best camera accessories