Autel Robotics has announced its new enterprise drone the EVO MAX 4T at CES 2023 in Las Vegas. The drone features a multi-camera hybrid zoom camera with 10x optical and 160x digital, 4K video and a thermal camera. It also includes a laser range finder, autonomous flight tech, omnidirectional obstacle avoidance, and technology to supress radio interference.
Known for its high-vis color scheme, Autel Robotics has always lent to commercial operations and this drone clearly targets that market. The orange is more subtle in Autel's latest, but it's there on the fold-out arms of the 1500g airframe (with an 8070mAh hot-swappable battery inside). It looks like DJI's new Mavic 3 Enterprise series already has something to worry about.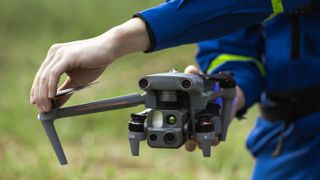 The camera array is made up of a 48MP half-inch CMOS sensor, a 50MP wide-angle camera with 1/1.28-inch CMOS, and a 640x512 resolution thermal imaging camera with up to 16x digital zoom on offer. The zoom camera – with up to 10x optical zoom – has an 8K sensor. Images from the cameras can be seen on a multi-channel display, so optical and thermal video appears next to a map view.
Inspectors will be able to use the laser rangefinder to take measurements up to 1.2km (3/4 mile) with an accuracy of ±1m (3ft), and the up-to 160x hybrid zoom to record images. The transmission range is up to 20km (12.4 miles), and it has a flight time of 42 minutes. Autel SkyLink 3.0 offers 1080p 60fps live footage.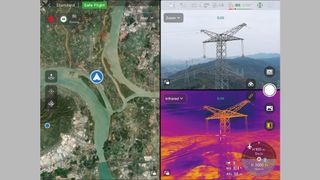 The drone heralds new obstacle avoidance (Autel is calling it "720˚") with re-routing (similar to that we've seen on DJI drones) and a return-to-home which doesn't depend on GPS. As well as binocular vision sensors the autonomy engine can call upon millimetre-wave radar, which works better in low-light and rain. The drone also sports an IP43 rating, meaning it can handle water falling on it.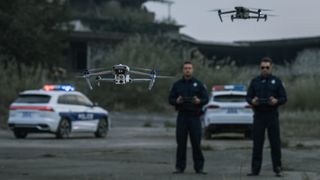 Master of the airwaves
The EVO 4T Max is also introducing an industry-first – A-Mesh 1.0 – Autel Robotic's new mesh networking technology. This enables the drone to communicate with others in the vicinity and enables drones to relay data if one should power down unexpectedly. This opens up the possibility of one pilot operating a fleet of drones and (with suitable permissions) uses beyond the line of the pilot's sight (BVLOS).
As well as on drones, communications nodes could be placed on hills or elevated places to improve the coverage of an area. There is also the option of 4G LTE integration. In fact, Autel also highlighted the Dragonfish and EVO NEST infrastructure; an automated takeoff, landing and charging system for eVTOL which, they tell us, could operate with up to 75 miles between bases. (We recently covered a Skydio announcement in a similar vein).
The Max 4T also includes new control modules and algorithms specifically designed to counter RFI, EMI and GPS spoofing, which they say "enables the EVO Max 4T to fly confidently near power lines, critical structures, and in complex areas."
Data security was also a key part of Autel's announcement, noting the AES 256 encryption on controllers and optional cloud servers and SkyCommand operations software.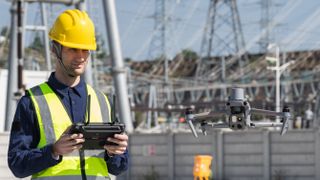 New app platform
Commercial mission operators will get access to a newly rebuilt Autel Enterprise App which enables 2D and 3D mapping, waypoint missions, spiral search-and-rescue missions and more. These can be operated from the Autel Smart Controller V3 which has a 2000-nit 7.9-inch display and up to 4.5 hours battery.
Where does this fit?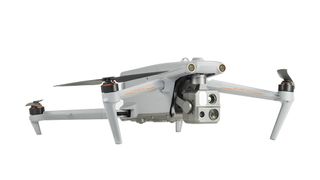 When we looked ahead with our predictions for drones in 2023 we expected something from Autel at CES. We hand in mind an EVO III, but here we see that Autel is putting enterprise needs first – definitely on trend and a wise move considering DJI's woes with US government blacklists. Autel has had some delays between CES announcements and availability in the past – we'll keep you posted.
Also read:
Best thermal drones
Best camera drones
Best travel drones
Best budget drones