There is a lot in the latest State of the Photography Industry Report by Zenfolio, but the stats on AI jump off the page in times of heated AI debate. The report says half of working photographers are now happy to include AI in their workflow, with just 11% seeing it as a negative.
This fourth edition of this Zenfolio report is packed with insider insights and valuable information on industry trends from the viewpoint of professional photographers and their businesses. It comes hot on the heels of AI controversy at the Sony Awards, but pros seem to have a different take.
The report was based on a survey of skilled photographers who specialize in portrait, landscape, wedding, sports, and family photography. The respondents were mainly self-employed with more than a decade of experience in the field. This 2023 report covers a range of topics, including marketing, pricing, trends, technology, and the use of artificial intelligence (AI) - which might surprise a lot of you!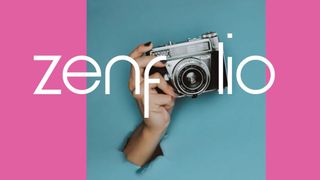 So, what were the other highlights of the report? Well, nearly 20% of photographers reported a boost in their businesses from the previous year. However, many are still grappling with the effects of the pandemic and rising inflation. Over two-thirds of photographers reported either slow business or performance that met expectations.
Good news for high-earning photographers though, as those making $100K and above saw an increase in revenue. It seems 40% reported a decrease in revenue, but this is still an improvement from the previous year, where 76.2% reported a negative impact.
Marketing strategies have shifted towards non-paid or organic social media, with photographers relying less on paid ads.
Mirrorless cameras are also challenging traditional DSLRs, with 41% of photographers now choosing this newer option. That's a significant increase of 50.7% compared to the previous survey. And with 41% of photographers saying they want to spend less time editing, AI may just be the solution they've been searching for.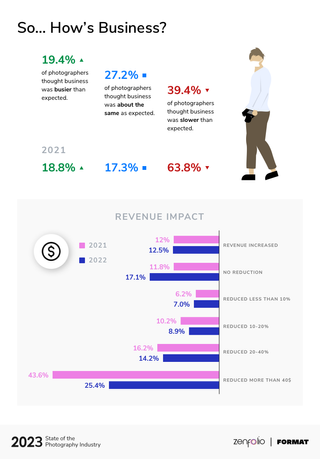 "We're thrilled to share the findings of our 2023 State of the Photography Industry report. Our goal is to help photographers make informed decisions about their businesses, and this report is full of valuable insights and information that can help them do just that" said Jason Egnal, Zenfolio's CMO.
If you're a photographer looking to stay ahead of the curve and succeed in your business or just want to see what other photographers like yourself are doing in their workflows and how they are finding the industry we recommend heading over to Zenfolio.com/SOPI to read the full 2023 State of the Photography Industry report and you can also access the previous editions if you're wanting a bit of a year-to-year perspective.
If you want to follow the AI trend and don't know where to start, check our guide to the best AI image generators for photographers.