The Photography Show is just around the corner, and the excitement is really starting to ramp up. Not only are there plenty of exciting talks and demos on the official The Photography Show and The Video Show stands, there will also be some fantastic talks taking place on the exhibitor stands as well.
With over 300 brands exhibiting at the show, there will be plenty to explore over the four days from 14 - 17 March. Not only will attendees be able to try out the latest cutting-edge camera technology, they'll also be able to listen to a wide variety of talks and demos from the stands of some of the photography industry's biggest names.
• Read more: The Photography Show
We're rounding up five of the most exciting exhibitor talks that you'll be able to find at The Photography Show and The Video Show 2020.
The Photography Show 01: Nikon
The Nikon stand has some exciting talks scheduled, including an introduction to the D6 from Rob MacNeice. However, the talk we're most looking forward to will be from Helen Sloan, the principal stills photographer for Game of Thrones.
Helen will be lifting the lid on what it's like to photograph one of the biggest productions in the world. Unlike other talks that will be repeated, Helen's talk will only be on Saturday 14th from 12:10 - 12:55, so don't miss out!
If you're still not ready to think about the last season of Game of Thrones, then you might want to check out Ricci Chera's talk on Sunday 15th from 11:20 - 12:05. He'll be discussing his love for both landscape and wildlife photography. He'll be talking through the cameras, lenses, settings and accessories he uses for both genres to make sure he doesn't miss a thing.
Discover more details about the Nikon talks here.
The Photography Show 02: Canon
The Canon Spotlight Stage will be buzzing with activity for the entire four days. With appearances from esteemed industry figures such as nature photographer and TV presenter Chris Packham and fine art photographer Linda Blacker, there's plenty to look forward to.
However, we're particularly excited for the talk from Eddie Keogh, a sports photographer with over 30 years of experience. He's worked with prestigious names such as Rolex, Rolls Royce, O2 and Barclays. Eddie will be sharing stories about his time behind the lens with the England football team.
As a man who owns two Canon EOS-1D X Mark IIIs, we're betting he'll have plenty of interesting insights on Canon's mind-blowing flagship too. This is one to look forward to. Find all the Canon talks at the Canon stand, situated at E131-D141 in Hall 5.
The Photography Show 03: Panasonic Lumix
The Panasonic Lumix stand also has a wide range of speakers covering topics such as documentary filmmaking, optimizing your photography for social media and adventure travel photography. They'll be focusing on their S series cameras, with speakers covering how the S1R and S1H have supported them in their work.
One of the most exciting talks will come from Paul Hackett, who will be discussing his adventures photographing birds of prey with his Lumix equipment. He'll be taking attendees through his adventures where he's been up close and personal with these amazing birds. He'll also be including rare footage gained over the last few years and demonstrating how he uses his Lumix equipment to highlight their behavior, presence and feather detail.
Discover more details about the Panasonic Lumix talks here.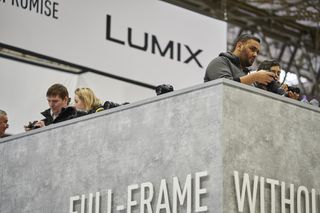 The Photography Show 04: Wex Photo Video
Wex Photo Video is one of our favorite manufacturers, and their line-up for their talks and demos looks particularly good. With talks covering topics such as working as a content producer at Somersault Creative Agency, using the Canon EOS-1D X as a filmmaking camera and shooting Pro Res RAW on the Panasonic S1H and Atomos Ninja V, there's plenty to look forward to.
If you're a fan of celebrity portraiture, then you'll definitely want to check out Rory Lewis' live portrait masterclass. He'll be leading a practical lighting masterclass featuring a live model. He'll offer a range of pro tips, covering studio setup, portrait lighting, model direction and more.
Discover more details about the Wex Photo Video talks here.
The Photography Show 05: Samyang
And last but certainly not least, Samyang's stand will also be offering a fun array of demos that photography enthusiasts can look forward to. There are three different demos that you can look forward to, including one on how to shoot food and another on portraits and lighting.
We're particularly looking forward to the Bridal Portraits session on 16 March at 11:30 - 12:00 and 15:00 - 15:30. Wedding photographer Craig Clewlow from New Road Photography will be sharing his best advice on how to capture the most flattering wedding portraits possible.
Discover more details about the Samyang talks here.
Read more
Chris Packham talks cameras, campaigns and creativity
TPS 2020: Five quick questions with pro photographer Juno Calypso
Canon EOS R5 to make public debut at The Photography Show!