THE MISSION
Photograph the beach out of season for atmospheric wintry scenes
Time needed: 2 hours
Skill level: Intermediate
Kit needed: Tripod, Lens cloth, Warm clothing
We tend to think of a beach as a place for sunshine and swimming, but when it's cold and blustery it can be just as exciting for photography. You might be met with a brooding sky, delicate frost, thick fog, even a full-on snowstorm. All these things can add to the atmosphere of your photos. It's one of those things that sets us photographers apart from the happy snappers – everyone gets their cameras out on a fine day, but only a dedicated photographer would head to the beach in the snow. Conditions such as these can imbue your photos with a different kind of mood and substance.
There are other benefits. You're likely to be the only one there – on our beach the only other people were a couple of fellow photographers – so the views are likely to be less cluttered and the sand (or snow) more pristine. What's more, in winter the sun stays lower in the sky for longer, which means more interesting, directional light throughout the day. Then there's the later sunrise and earlier sunset, convenient for those who don't fancy getting up too early or staying out too late. Even the early onset of twilight can be used to your advantage.
In this project we'll explore some of the opportunities you're likely to find along the wintry coast. From brooding seascapes to snow-covered shorelines and long exposures at twilight, there are many delights to discover on your typical out-of-season beach. It's quite enough to send a shiver down the spine…
TOP TIPS: Chilly coastal photography
Watch the sand and seas and learn how to control your exposure length for beautiful blur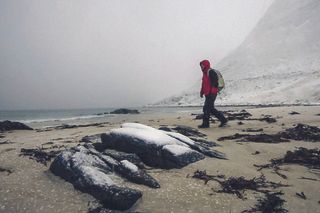 01 TREAD CAREFULLY
Check the forecast and tide times beforehand, and spare a thought for where you tread when you arrive at the beach. You don't want to walk over the pristine sand or snow if that's where the best shot might be.

• Best gloves for photographers
• Best waterproof jackets for photographers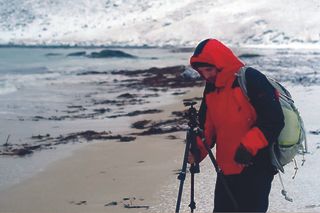 QUICK TIP!
Wash your tripod legs in fresh water after a trip to the beach, as the salt and sand can cause havoc if left too long
02 BRING YOUR TRIPOD
No self-respecting landscape photographer would be without their tripod at the beach; in winter the light levels are lower, and less light makes one essential so you can slow your shutter and capture beautiful blur.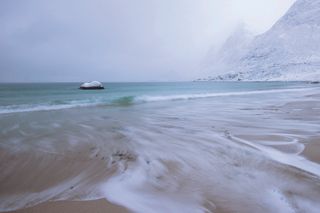 03 WATCH THE WAVES
Study the patterns of waves; they'll often form small channels and streams as the water recedes from the beach. Use these lines and swirls in your compositions to lead the eye out towards distant points of interest.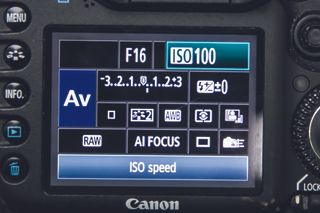 04 SLOW YOUR SHUTTER
Shoot in twilight to create motion blur in the water and clouds. Set Aperture Priority, f/16 and ISO100. In weak light the shutter speed will probably be a second or so. If you want to go slower use an ND filter.
TOP KIT: Winter gear tips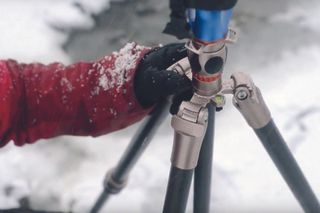 01 PADDED TRIPOD LEGS
Tripods, particularly those that come with metal legs, can get very cold and uncomfortable to hold. Some have a padded leg to make it more comfortable. If not, perhaps it's time to treat yourself to a carbon fibre model?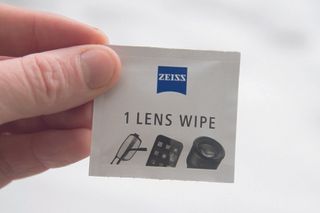 02 DISPOSABLE WIPES
All that sea spray, rain and snow can cause havoc with your lenses and quickly render them useless. A set of disposable lens wipes, like this, comes in very handy for when your lens cloth inevitably gets wet.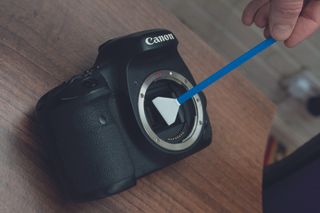 03 A CLEAN SENSOR
It's a good idea to give your sensor a clean before a photography trip, especially when shooting seascapes, as the expanse of sky and beach will show up any annoying sensor marks, especially at narrow apertures.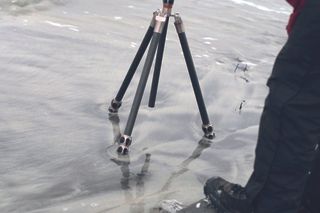 04 WATERPROOF BOOTS
Warm, waterproof clothes are a must in cold and wet conditions, as well as waterproof boots for those times that you're so caught up in taking the shot that you don't notice the waves sweeping in over your ankles.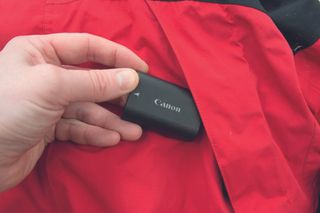 05 SPARE BATTERY
Seeing your composition in Live View is very useful in these kind of conditions, but such heavy use of the screen is a real drain on the battery. Keep a spare in an inside pocket to keep it warm, as batteries really don't like the cold.
TOP TIPS: Wintry seascapes
The typical winter beach offers lots of photo opportunities – here are a few to look out for…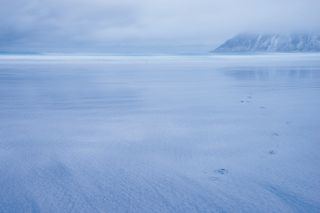 01 FOOTPRINTS IN THE SAND
One of the benefits of shooting at the beach in winter is the lack of people, which means the sand will be flat and clear. A single line of footprints on an otherwise pristine beach makes a simple, strong composition.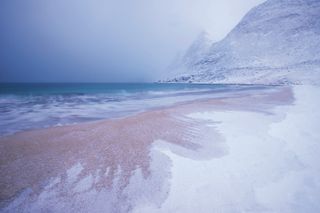 02 WHERE SNOW MEETS WATER
One of the best times to head to the beach is after snowfall, as you get this interesting shoreline where the water laps away at the snow. Shot at twilight, a shutter speed of 2.5 secs is enough to blur the water.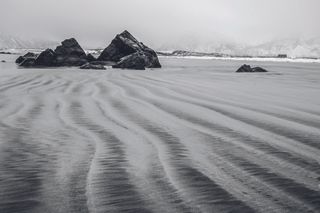 03 LOOK FOR SANDY PATTERNS
You can usually find lots of interesting patterns, textures and leading lines in the sand. Here, a mixture of black and normal sand creates an unusual pattern that leads the eye towards the distant rocks.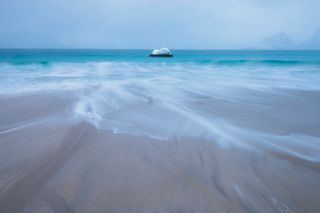 04 MINIMALIST SEA SCENES
Beaches can be rather featureless – but that's not a bad thing. It all lends itself quite nicely to a minimalist approach. Pick out a single rock and frame it against the sea and sky for a simple, clean composition.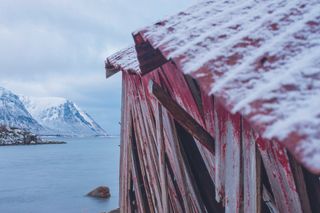 05 USE BEACH BUILDINGS
Beach huts can be put to use in your compositions. Here the snow-covered corrugated roof of a shed creates a leading line towards the sea, the rise and fall of the roof echoing the peaks in the distance.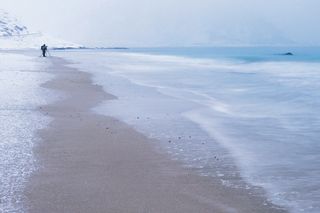 06 FRAME A LONE FIGURE
With such a featureless expanse of sky and water, a lone figure, like a dog walker, fisherman or our fellow photographer, can make for a good focal point. Here, the lines from the snow and water lead towards him.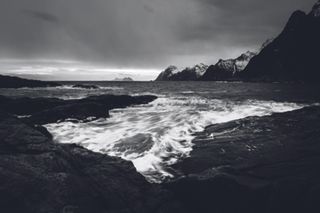 CONVERT TO MONO
Moody skies, swirling seas, craggy rocks - these features are all crying out for a punchy monochrome conversion. Black and white helps to emphasize strong shapes, textures and patterns (like the sand patterns in Tip 3), so it's the ideal look for many sea scenes. Out-of-season colours can often be muted and subtle, so ask yourself whether they're really necessary at all to the success of the image. Most photographers have their own preferred method of mono conversion. We favour Nik's Silver Efex Pro Photoshop plug-in (which is part of the Nik Collection 2 by DxO).