Wildlife photography is a genre that offers unique perspectives into animals and their behaviour, but it's also one where situations change unexpectedly. British photographer Michael Eastwell knows this only too well as he travels to all corners of the world, capturing the planet's animals and wildlife in all their natural wonder and beauty.
"I travelled to this location for three sunrises in a row intending to capture some stereotypically Australian shots of kangaroos or wallabies on the beach. What
I didn't expect was this ferocious exchange between two males on the final morning I was there.
"The species pictured are agile wallabies, or sandy wallabies, which are often mistaken for kangaroos. Whilst they appear similar and are part of the same family, the greatest difference is that they are considerably smaller than fully-grown kangaroos," Michael says.
Shooting directly against the sun at Cape Hillsborough, Queensland, Michael managed to capture the two main characters perfectly. The right camera settings were crucial for achieving this specific aesthetic result.
He works with a Sony A7R IV and uses the Sony FE 24-105 f/4 G OSS lens. Michael says: "Using a low ISO and an aperture of f/9, I managed to keep the shutter speed high enough (1/1600sec) to capture all the action in crisp detail,".
Michael always shoots in RAW as he wants to be able to extract as much detail and information from the photo in the editing process. "Using Capture One Pro, the main adjustments I made to this photo were the tone and selective area refinements to emphasize the sun hitting the back of the wallabies and to separate them from the surrounding environment. To accentuate the wallabies, I added a vignette to try and pull the viewer further into the centre of the frame," Michael explains.
Michael Eastwell is an internationally published and awarded wildlife and nature photographer. From a young age, he traveled the world which opened his eyes to the spectacular natural world that surrounds us. Whilst still in the early stages of his photography career his work has been featured in CNN, Forbes, BBC, Australian Geographic, The Times, Digital Photographer and more.
---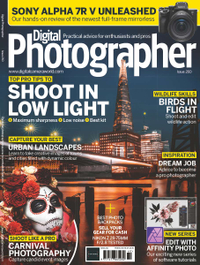 This article originally appeared in Digital Photographer, a monthly magazine, and the kitbag essential for pros, enthusiasts and amateurs alike!
Inside, you'll find practical guides, shooting tips and techniques from working photographers, plus all the latest industry news.