I have been road-testing the Fujifilm X-S20 recently, which is another reminder that Fujifilm has never been a camera-maker that paid much heed to convention. That it's the more mainstream of the current Fujifilm offerings tells you something…the X100V, X-Pro3 and X-T5 are all the current iterations of a fair amount of free thinking that originally gave us the X100, X-Pro1 and X-T1. All are highly individualistic in one way or another…and then there's the GFX series of mirrorless medium format cameras which were essentially born out of Fujifilm's desire not to just follow the full frame pack. A bit confusingly, it calls its 33x44mm sensor "large format", but you certainly get the message with tag line "more than full frame".
Frankly, I was a bit surprised that the RF-style GFX 50R didn't sell better than it did – so it's now discontinued – but here, arguably, was the most daring of the G mount cameras; unmatched in its combination of portability, performance and price. If anybody at Fujifilm is listening, I'm thinking that a GFX 100R might work better now…100 megapixels res in a camera not all that much bigger than the X-Pro3. Well, OK, it'd be bigger, but not massively so. And now that we have the Phase One XC fixed-lens "travel camera" at a price getting close to $100,000, but minus many everyday conveniences such as an EVF.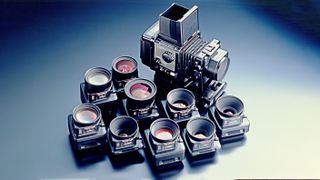 But I digress. Fujifilm has form in thinking outside the square – literally – with medium format cameras. The GX680 6x8cm SLR system and the panoramic 6x17cm G617 are great examples, but there are many even more… shall we say eccentric designs… among Fujifilm's long line of medium format rangefinder film cameras. Fujifilm's key objective was to combine "carrying ease" with "handling speed" hence the decision to package the 6x9cm film format in a 35mm-style rangefinder body. This was the Fujica G690 which was launched in early 1968 and had interchangeable lenses. It had a coupled rangefinder and the viewfinder also incorporated frame lines which not only adjusted for parallax as the lens was focused, but also the field-of-view. Even Leica didn't offer this facility on its contemporary 35mm RF cameras. An updated version, the GL690 Professional, was launched in 1974 along with a 6x7cm camera called the GM670 Professional.
However, in 1978, Fujifilm decided to adopt a fixed-lens configuration which, along with a switch to GRP bodyshells, resulted in significant weight savings. The original GW690 and GW670 both had a 90mm f3.5 lens which was equivalent – in 35mm format terms – in focal length to a 35mm on the 6x9cm format and a 42mm on 6x7cm. These models subsequently evolved through series II (1985) and III (1992) and an ultra-wide GSW version of the 6x9cm model was introduced in 1980. It had a 65mm f5.6 lens which was equivalent to a 25mm.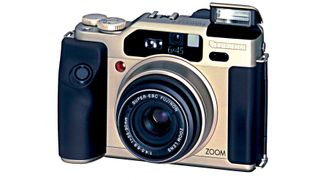 A line of 6x4.5cm format RF cameras was introduced in 1983 to enable even more compact and lightweight designs. While the early models were fully manual (but with built-in light metering), in 1995, Fujifilm launched the next-generation GA645 Professional which caused almost as big a stir as the original X100 digital camera did in 2010. It pretty much went 'all the way' with automation – autofocus, program exposure control, motorized film transport and a built-in, pop-up flash. It was a medium format point-and-shoot camera which is quite a novel concept at the time. The GA645 had a 60mm f4.0 lens, but a wider-angle version, called the GA645W was fitted with a 45mm f4.0 lens.
In 1998, Fujifilm introduced the last-of-the-line GA645Zi model which had a 55-90mm f/4.5-6.9 zoom lens (equivalent to 35-55mm) and a modernized body with a more pronounced handgrip. As it happens, none of these cameras sold particularly well, but all have a cult following now and are pretty hard to find on the secondhand market.
It's a reward – albeit almost certainly unintentional at the start – of daring to be different in camera design and specs sheets. It won't make you fat profits, but it will earn you an enduring reputation, a lot of respect and the assurance – very much the case with many of Fujifilm's current cameras – that they will also become classics in due course.
---
Check out our guides to the best Fujifilm cameras right now, and the best film cameras you can still buy