I have long been fond of a low colour palette in landscapes, but do not always have the chance to create such work. So a two-week trip to Morocco was designed to craft images that fitted with my own personal brief.
On inspection, I feel that these four work well together and, in supporting one another, perhaps they make a good quartet.
(opens in new tab)
This archway in Morocco was one of the best I've ever seen [1]. Not just because I love the aesthetic, but because of what lay beyond… a white wall and an explosive cumulus cloud with blue sky. It was so elegant, beautiful and I fell in love with it in the first few seconds of seeing it.
Then the battle comes of how to convey my human emotional response. I hope that I managed to convey what a sense of wonder I experienced when I saw it all. I love the splash of yellow either side of the bottom of the archway and in the distance a matching horizontal line. It's a lush mix of horizontals and rectangles and arcs, and of course, the one thing that runs counter to all those lines and arcs is the fluffy white cloud.
(opens in new tab)
On arrival in this spot [2] there was no sun, and little prospect of any. As I stood in shadow, the gateway along with its gate was flat and without charm for me. I turned to leave, but decided to look through the gate to see if there was a break in the sky; there was the smallest of holes in an otherwise overcast sky and it was heading toward me and my camera. Immediately, I swept back through the gate, set up, and waited.
In the 10-second period of backlit sunshine, I was gifted the most glorious combination, where the pink arch, the top of the gate, and its accompanying shadow, all interlocked sweetly.
(opens in new tab)
Staircases have appealed to me for many years and the association may have come from the staircase in my family home. It was a straight staircase of about 20 steps and periodically I would have a childhood dream of flying downward over the staircase and landing safely.
I felt drawn to this staircase [3], but just as much to the rest of the image too, and to the fact that the staircase itself occupied only a quarter of the area. I found the balance between the collective shapes of the steps and the swollen accompanying quadrant up to the left satisfying; in addition, the austere bright central pillar and the vertical wall face to the left fitted neatly in between the sweeps on either side.
I enjoy the very mild glow of light below where the stairs continue off to an unknown place. Often the smallest element within a shot can play the most important role.
(opens in new tab)
If the building and cumulus clouds had not been evident, then I would have felt disinclined to make a photograph here [4]. It is the rapid expansive and explosive feel that characterizes these cloud formations that I always find so thrilling.
So much contemporary urban office and residential architecture has hundreds of windows and here I found a series of squares and rectangles with just one. Each wall had a different angle and I found the aesthetic surprisingly refreshing.
Charlie Waite is a judge for The Arts Society's Digital Isolation Artwork Exhibition and Competition.
The Arts Society's Isolation Artwork Competition
Eight young artists between the ages of 18 and 22 from across the country have been shortlisted for The Arts Society's Isolation Artwork Competition (opens in new tab) in support of young artists and students during lockdown. The shortlisted artists were asked to respond to the theme of isolation and have produced works that reflect their experience of lockdown. Many of the works explore feelings of uncertainty, isolation, loneliness as well as nature, connection, and love, using subject matter ranging from self-portrait to shielding loved ones, and materials ranging from acrylic to biro and pencil.
Read more:
Best Nikon cameras (opens in new tab)
Best travel cameras (opens in new tab) in 2021
Best travel tripod (opens in new tab)
Charlie Waite's 25 top locations for landscape photography (opens in new tab)
Charlie Waite shares stories behind five of his photos (opens in new tab)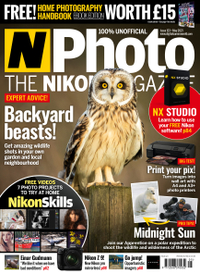 (opens in new tab)
N-Photo: The Nikon Magazine (opens in new tab) is a monthly publication that's entirely dedicated to Nikon users. For the best news, reviews, projects and more, subscribe to N-Photo today!
Subscribe today! (opens in new tab)