Charlie Waite is one of Britain's most collected landscape photographers, whose images hark back to a romantic era when beauty in the landscape was a refuge from the continuous busyness of modern life.
Waite's latest exhibition, Hidden Works, showcases images taken from all over the world – images that, until now, have never been shared. "I have immersed myself once again [in the darkroom]," Charlie says.
"The whole process of interpreting the negative has always been truly sacred to me; I revisited works created 40 years ago and joyfully looked back at the decades that were spent making silver gelatin prints in the darkroom."
Hidden Works comprises 52 images (30 color and 22 black and white) that trace his career from 1970 to the present day. Despite the coronavirus pandemic, the exhibition successfully went ahead virtually at Bosham Gallery.
"Challenging times call for a change in mindset", says Luke Whitaker (pictured, on the right), the gallery's director. Instead, the private view was held online, with Charlie introducing the collection from his own home in Dorset, UK.
Here, discover his five favourites from the new collection, along with insightful commentary on each image, plus a Q&A.
• Landscape photography tips and techniques
Charlie's 5 favorite works
Cienfuegos Study 1, Cuba, 2003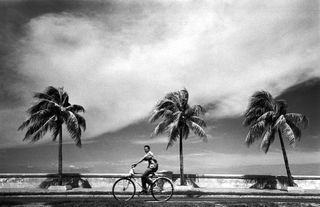 When I look at this, I remember vividly what took place. I was in Cienfuegos, I guess it was probably no more than about 50 or so kilometres, perhaps a bit more, from Havana. And the very first thing I think about is how affectionate the Cuban people were and how free I was to feel that I could photograph there.
And you think of how much they've withstood; an enormous amount of instability over the years. When you are arriving, you're given a wonderful, gracious welcome. I took myself to Cienfuegos, and I saw these lovely palm trees blowing in the wind and thought that they're a bit sterile, a bit soulless, and that the sky was good at making a diagonal, which sort of created a nice triangle between the top of the wall, the bottom of the sky, and the clouds.
I looked at the various people coming along; other cyclists, motor cars, the 50s and 40s American cars that Cuba's famous for. But none of them were candidates for me. And all of a sudden I saw to my right a cyclist, and I realised that he was the cyclist to have. He was in the right sort of clothing, he wasn't in dark clothes, but then the key was to make sure that he was mid-pedal.
This might seem like nothing, but if you make these slight adjustments you can save the day. All of a sudden I put the camera on the tripod, and as a consequence he turned to see what I was doing. And that face was crucial because it engages the viewer with the image.
Venice Study 4, Italy, 1997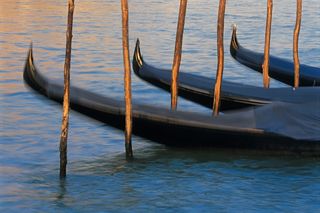 Back then, it was [common to have] a very strict way of appreciating images, so it was quite daring to have something intentionally unsharp, conveying movement. The key was to make sure the prows of the gondolas, which are antique gondolas, maintained that glimmer of evening sunlight, that reflection.
You can see the second gondola in from the left is by a whisker about to touch that vertical yellow pole. I did about three or four frames, and this was the only one where the gondolas luckily just rocked away from that pole. And the frisson between cold and warm colours – the blue and a very, very lively yellow – I think works really well. I get great pleasure from this.
Sydney Opera House, Australia 2002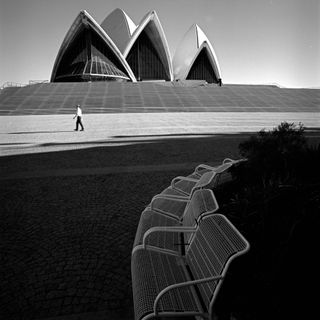 I'd never seen the Sydney Opera House, and everyone I know who has been to it says, "Standby, you're going to be in a state of complete amazement because it will look as if it was built yesterday."
It was a beautiful building, but I needed some foreground interest. You usually want the foreground and background elements to shake hands with one another, and there has to be some sort of relationship found within the photograph that the eye – while it might not even notice what they are –will find coherent, cohesive and generally aesthetically pleasing.
I felt that the white arc made by these metal benches seemed to just about shake hands with the Sydney Opera House beyond. The shadows were quite strong, and the arms of the bench seemed to work quite well.
Rather like the Cienfuegos image, though, suddenly there was nobody there and it just looked lonely, the whole thing. I needed a reference point to indicate the size of the building and give a bit of depth and dimension. And out of the blue here came my candidate, and he walked along and walked along, and I waited just for that moment when his arm was in that position and his legs were in that position, so it looks like he was actually mobile and not stuck like a model.
All of these tiny things… a lot of people may not think that they matter, but it does to the photographer who wants it to be a complete story. The still image has to work really hard. It's got no music, it's got no dialogue, it doesn't move. It's really got to work hard to convey the story that it wants to convey. I'm really into this shot, and being in the darkroom producing it was a very enjoyable experience.
Mere Study 3, Wiltshire, England, 2018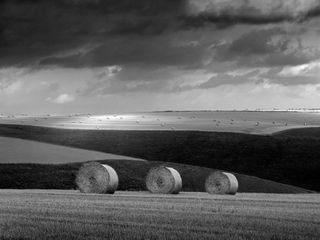 I remember as a small boy once helping a farmer to heave rectangular straw bales onto the back of a trailer. And then, much later, I guess in the early 1960s, I remember them in a very different way, as they had turned into giant cylindrical straw bales. From the perspective of a landscape photographer, they became almost wonderful art installations.
I love the way the farmer left them randomly, almost for me to try and make sense of them and get them to relate to the landscape beyond. They are incredibly heavy – you can't move them at all – but you just have to try and engineer relationships. And I managed to, here in Mere in 2018; the geometric shapes beyond were hugely appealing.
But the thing that mattered to me a lot was the lighting on the right-hand side of each of the three bales, the distance between all three, and then the light on the bales in the far-distant hill – like tiny maggot-type things, seemingly almost alive and spot-lit so beautifully to my mind on that distant hill.
And then climbing further up to the top of the photograph, the cloud, which was very dark above because it had been raining and still carried rain within those clouds, seemed to be appropriate. Blue sky would not have worked for this shot. I saw this image from the outset in black and white.
In this case – a wonderful moment it really was – I was blessed, it was a gift of light coming down through the clouds and sort of stabbing, for want of a better word, a patch of that field beyond. If you took that light away from me, I would've walked away with nothing.
West of Child Okeford, Cranborne Chase, Wiltshire, England, 2017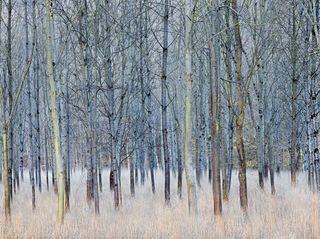 One of the most wonderful things about landscape photography, and in fact all photography I suspect, is the extraordinary element of surprise. I am sure other photographers would agree with me. You can be travelling along, walking along, bicycling along, and suddenly you will notice something that is a piece of absolute magic, and it is hard to describe the elation that one feels at such an event. It's almost, as I once called it, a quasi-religious experience. And oh my, when I got to east of Child Okeford at Cranborne Chase in Dorset in 2017, and found these trees in this extraordinary state of part blue and part pale orange-yellow colour, it was just the most marvellous experience.
I set myself up, and within a very short time I made the image, probably only a matter of 20 minutes. What was intriguing – and which was very strange for me – I was suddenly aware of the middle distance being slightly soft, and yet the far distance being sharp, and of course the front of the image being sharp.
And then I found out what was responsible for the unsharp area in the middle of the image, and it was a breeze that had just blown through a tunnel as it were, and only affected that middle area, hence the front of the image being sharp and the rear being sharp.
And the blue trees were blue to my eye, and sometimes it's a consequence of the material, the media you are using, be it digital or film, but it was just the most wonderful phenomenon. It was particularly beautiful the way there was this misty sea of grasses that were very indistinct.
The whole thing just gave me immense joy. Looking at it now, it still evokes precisely what I saw and what I felt. And that's so, so crucial I think. For me, that's the mark of a rewarding photograph, and hopefully that's transmitted to others.
Q & A interview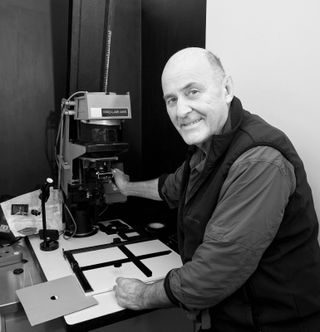 How do you decide whether you will work in colour or black and white?

That's the question I really wanted to be asked. What would we have done before digital? We would have taken our camera and loaded it with a roll of black and white film. We then would have thought very deeply about how the tones that we're looking at in front of us would have resulted if they were given a black and white treatment.
My feeling is that you should look at an image... let's say deep black shadows in an architectural image or bright, burnt-out highlights – conditions that can be tolerated in black and white. Monochrome distils the image to essential qualities. I think really the key is to say, "Right, I'm going to do this in black and white. I envisage it as a black and white image, and I'm not going to go back and wish that it could have been colour from the outset." Black and white hat on or colour hat on, that's how I see it.
Many people will be inspired by this exhibition to go and look at their previous work and try and bring some of it to light. What advice would you give someone who is first starting out on this journey?

I think I would produce a portfolio of your absolute best images that have your own signature on it. Be memorable for a particular thing you did. I remember somebody saying to me, "If landscapes are what you do, do landscapes 100 per cent, and when you can afford to, justify a bit."
And I think we really must print. Because when you're asking photographers to print and then put them on the wall, the images become a tangible thing. At the moment we're seeing our images imprisoned in external hard drives. The relationship between the audience and your image is far more profound than it is on a monitor. I would stand by that statement until the end of my days. I've seen people stand in front of a photograph – not mine necessarily – and you can see them drinking it in, connecting with it.
Would you say the images in hidden works are a continuation of previous projects? How has your work evolved and culminated in this set?

I think I've developed a way of treasuring the landscape and seeing it as more sacred than perhaps I used to. I might've been a bit more of a vulture, just finding a thing and rocking up. A photograph is a production that contains so many different elements, all of which have to come together. Now, there's no more trial and error.
If you had to describe the style and theme of Hidden Works in just one sentence, what would this be?
I was going to say a sort of potpourri of images. I think a better way of describing it is that I had quite a lot of choice, I suppose. I wanted to challenge myself. I wanted to reveal other images that I had great confidence in, but there was also some apprehension, which I think is always terribly important. I often say that a little bit of insecurity should always be attached to any creative endeavour. I am tentative when it comes to showing these prints because you're putting yourself on the line.
And I know a lot of people care deeply with social networking that they get sufficient likes. That's an interesting state of affairs that I'm happy to say I'm not involved in. However, I would be lying if I were to say that it didn't matter how people respond to my images. My traditional landscape photography is still as strong as it ever was, I'm just stepping out a little bit.
Find out more
Charlie Waite is firmly established as one of the world's leading landscape photographers. He has appeared on British television discussing the finer aspects of landscape photography, and is the founder of Light and Land, Europe's leading photographic workshop and tour company.
In 2007 Charlie launched UK Landscape Photographer of the Year (Take A View), an annual international photography competition that's become one of the biggest of its kind. For more of Charlie's work, visit www.charliewaite.com
Charlie's exhibition Hidden Works is at Bosham Gallery online until 31 July 2020;
Read more
Charlie Waite 25 top locations for landscape photography