Graham Rivers joined us at Bristol Dojo for a series of challenges, capturing portraits and action shots. He was loaned a Sony Alpha 9 camera and a lens by London Camera Exchange. But did he deliver knockout shots?
The reader: Graham River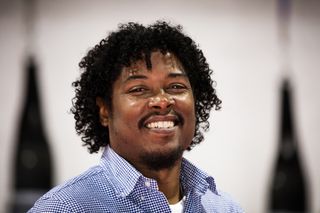 A music producer/creative by trade, Graham is relatively new to the world of photography, but has well and truly thrown himself into it. He primarily shoots with a Sony A7 II and finds the electronic viewfinder essential. Both Graham and Craig are customers of Bristol's Baldwin Street branch of London Camera Exchange, and the team from the store was on hand with additional Sony cameras – so Graham took advantage of the opportunity to try out a blisteringly fast Sony A9. You can see more of his work at his Instagram page.
Challenge 1 – Shoot a portrait of Carys O'Brien using the available light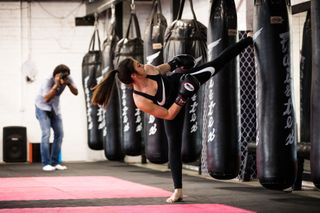 He might be relatively new to photography, but Graham had a natural eye for framing shots. He was constantly trying new angles and moving around the venue to introduce new elements and to give Carys something to work with.
Controlling the light
Although the gym was well-lit for its intended purpose, the mix of colour temperatures and brightnesses meant that getting a consistent look to pictures was much harder. Using our own lights gave us back control. For instance, a pair of battery-powered Rotolight Neos made it easy to achieve balanced back- and side-lighting effects.
"The main floor of the dojo was taken up by a large area of mats, and pretty much everything else was positioned around the edge near the walls," Graham explains. "In the end I decided to use a Carl Zeiss HFT Planar 50mm f/1.4 lens to frame this setup, as I wanted to get a tighter shot but still retain some degree of depth.
"I use available light for 99% of my pictures, and I was using a new camera for this shoot, so I wanted to keep things as straightforward as possible. I only got to spend about 10 minutes with the Sony A9 before photographing Carys, so I didn't get a chance to set up the magnification focusing mode, and for the first couple of challenges I pretty much used no focus peaking either. But even though focusing was more challenging as a result, and I was using legacy glass designed for film cameras, I was very impressed by the camera."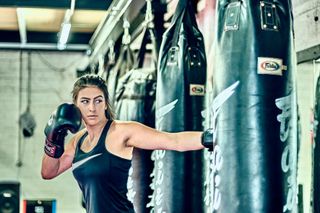 Expert opinion: We like the framing here, with the leading line created by the bags and the vertical lines behind Carys framing her beautifully. It's a successful environmental portrait, giving a sense of place – although perhaps seeing more of Carys's left glove would have been the icing on the cake.
Challenge 2 – Bring a touch of drama to a portrait of Dylan O'Brien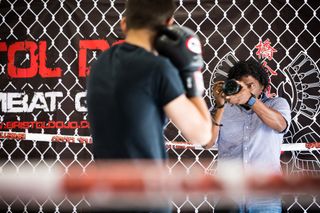 For his session with Dylan, Graham again tried a raft of different locations , but settled on the kickboxing ring for this intimate shot. "I wanted to create the feeling of being one-on-one in the ring with a fighter, and at the same time frame a shot that could almost be a still taken from a movie – I like things to feel cinematic.
Legacy lenses
Graham opted to use older manual-focus lenses. This may seem an odd choice for action photography, but the live feedback provided by the electronic viewfinder of his mirrorless camera allowed him to make quick, accurate adjustments to the focus on the fly. It's much harder to do this with an optical viewfinder, unless you use the rear Live View display.
"To achieve a cinematic feel, I again opted for the Zeiss 50mm, as the ring was against the end wall of the gym and there wasn't enough space to stand farther back and use a longer focal length. Fortunately, the size of the venue meant that I was able to give the shot a sense of space, while a large aperture of f/2 meant that I was able to blur distracting details in the background and make it look a bit more interesting.
"In general I prefer the imperfections of older lenses: they have a unique character that I think makes images more interesting and artistic.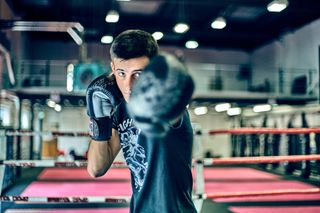 Expert opinion: Graham shot a sequence of images of this setup, with some pictures showing Dylan smaller in the frame, and others with the glove obscuring more or less of his face; but this version definitely has the best balance of all the elements. Graham's right about the effect the large aperture has on the background, too – it really does give it a cinematic feel. The mood has been enhanced by the colour treatment, which also helps to unify all the different light sources in the frame.
Challenge 3 – Photograph Carys and Dylan in action mode!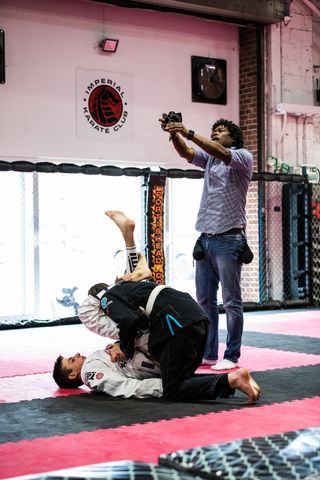 After trying a few shots of Carys and Dylan in the ring and the cage, Graham switched to some grappling on the mats. This required a change of tack, with the option to shoot close-up from down low and above the fighters requiring a wider lens.
"I switched to the Carl Zeiss Distagon 35mm f/2.8, as I wanted to get in close to the fighters to create a involved feel," confirms Graham. "Having the mats in the middle of the dojo meant that I had much more room to move around Carys and Dylan as they ran through a routine, although being farther from the windows meant that the light was tricky to deal with. Fortunately, the A9 has incredible high ISO performance.
"I shoot in Manual mode and I forgot to increase my shutter speed here, so there was a little more blur than I wanted. But considering it was taken at 1/100 second, I'm impressed with the camera's stabilisation and the overall sharpness."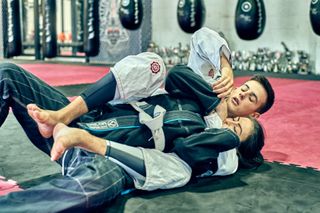 Expert opinion: Graham's found an enticing angle here – low down and close to the action. The diagonal line formed by the grapplers pulls the eye from left to right, straight to Dylan's face, and his clear head position and eyes-down concentration add to the shot. Graham took a lot of images on the day, which gave him plenty of options when it came to picking out images where all the elements came together. It is a shame that it's not pin-sharp, but being an action shot it's not as critical as for a portrait.
Thanks Bristol Dojo!
Huge thanks to Simon O'Brien, the owner of Bristol Dojo, for allowing us to take over his venue for the day – and for providing our fantastic models too.
About London Camera Exchange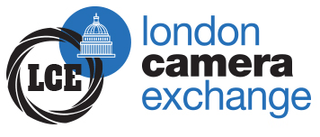 London Camera Exchange has 30 branches across the country, from Plymouth in the South West to Newcastle in the North East, and has been in existence since 1956. Each store is staffed by knowledgeable and enthusiastic people. As well as selling all the latest photographic and optical equipment, LCE specialises in part-exchange; its extensive second-hand stock is available from its website. Services like sensor cleaning video transfers and printing are available in-store, and the branches hold various events and shows throughout the year, with all information available at London Camera Exchange.