One lucky reader joined us at Bristol Dojo for a series of challenges, photographing punchy portraits and gripping action shots. He was loaned a Sony Alpha 7 III camera and a lens by London Camera Exchange. But did he deliver knockout shots?
The reader: Craig Pitts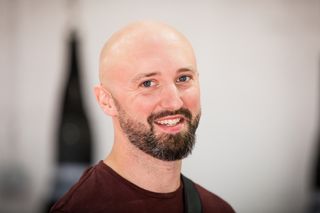 Craig quit his career in finance in July 2014 to move halfway across the world to Australia. He says that it was while he was living there that his passion for creating images really developed. He started out as a landscape and travel photographer, and says that people and places continue to be the two things he loves to photograph the most. He is now turning his passion into profit, however, and works as a portrait and commercial photographer based out of Bristol. You can see more of his work on his website.
Challenge 1 – Shoot a portrait of Carys O'Brien using the available light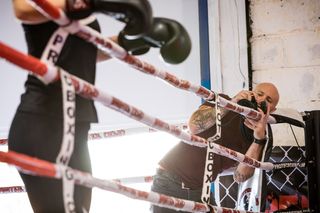 We had the run of the Bristol Dojo martial arts academy to ourselves for the day. It's a 6,000-square-foot facility that offers a sprawling matted training area, a kickboxing ring, an MMA cage and more, so there were plenty of setups to play with.
Boost the sensitivity
For the purpose it's designed for, the gym is well-lit, but it was a different story for action shots. To get usable shutter speeds, there was nothing for it but to use fast lenses with wide-open apertures and bump up the ISOs. Fortunately, full-frame sensors hold up well to high-sensitivity photography.
The day divided naturally into three stages, with Craig photographing portraits of our models – brother and sister martial arts specialists, Dylan and Carys O'Brien – before shooting the siblings in action later in the afternoon.
"I wanted to try and capture a candid image of Carys, rather than a formal portrait," explains Craig. "I opted to use the daylight spilling in from the large window behind the kickboxing ring, which produced a soft, flattering light on Carys. I decided to shoot with the aperture wide open, mainly because I wasn't a fan of the background: I wanted it to be out of focus but still provide some context.
"We experimented with some shots of Carys wearing her gi [a traditional jacket and trousers worn in Brazilian jiujitsu], but I felt that the image looked more candid with her wearing training gear."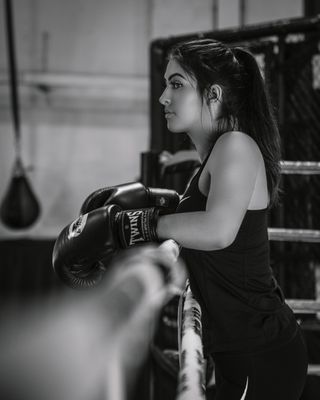 Expert opinion: Shooting along the ropes brings a nice sense of depth to the image, and the black-and-white treatment really suits the tone of the shot.
Challenge 2 – Bring a touch of drama to a portrait of Dylan O'Brien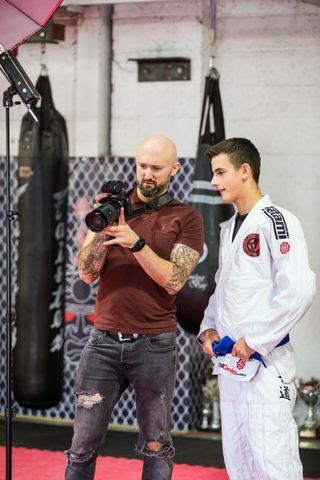 Although we had a selection of Rotolight continuous LED lights at our disposal to get creative with, Craig also came armed with his own strobe and umbrella, which he put to good use for this moody shot. "I wanted to capture a strong image of Dylan and decided on shooting a posed shot of him dressed in his gi, with the MMA cage out of focus in the background," he says.
Short bursts
To improve your chances of taking sharp shots in low light, shoot in short bursts. You may find that the images in the middle of the sequence are the sharpest, with the ones at each end slightly blurred by the action of pressing and releasing the shutter button.
"To make the portrait look dramatic, I first cut out most of the ambient light, using a fast shutter speed of 1/1,000 second, and paired that with the high-speed capability of the flash unit I was using to light him. Once I'd got the lighting how I wanted it, I had Dylan turn slightly towards the light and shot from a low angle in order to make him appear strong and powerful – not that he needed any help in this department!
"In post, I used dodging and burning to make him pop out of the image, and colour-toned the shot to add a bit of style."
Craig used a wireless trigger attached to his camera's hotshoe to fire his flash remotely. Not only did this give him more freedom for positioning the light, it also ensured there were no trailing cables to act as trip hazards – not a good idea when a fight is kicking off…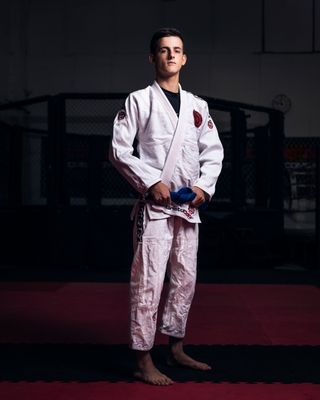 Expert opinion: A bold portrait that shows what can be achieved using just a single light source. Craig was meticulous and considered when taking his shots, and it shows here in his best shot of the day.
Challenge 3 – Photograph Carys and Dylan in action mode!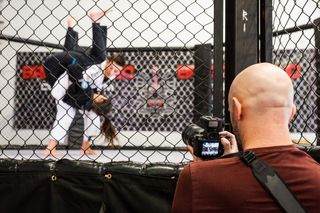 Craig got around half an hour to run through his shots. Craig admits he felt less at home when it came to photographing Carys and Dylan in full flow.
"For me, the action shot provided the hardest challenge, due to the fact that I'm usually shooting posed portraits or landscape shots," he acknowledges.
"I wanted to get an image of a judo throw, and experimented with a few different angles and locations around the gym. I struggled to find a background that I liked, so I opted to shoot the image of Dylan and Carys inside the cage.
"I used two Rotolight Neo 2s placed inside the cage to add some fill light, as there wasn't a great deal of ambient light in this corner of the gym. I also needed a fairly short shutter speed to freeze the action, which meant that I had to shoot with the aperture wide open as well as pushing the ISO higher. Fortunately, images from the A7 III hold up really well at higher sensitivities.
"After trying a few different angles and compositions, I decided to shoot from outside the cage so that the mesh would provide a bit of foreground interest. Finally, I made some Clarity and split-toning adjustments when I edited the image, in order to give it a different feel."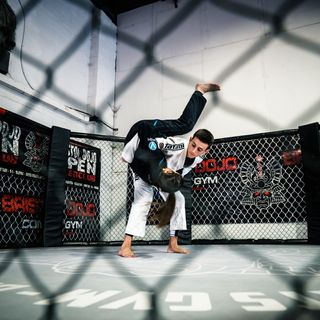 Expert opinion: Shooting through the cage was a good move, as it helps to make the shot more edgy. There's just the right definition to the mesh, and the focusing on Dylan's face beyond it is spot-on. In a perfect world, both of Carys's legs would be visible, but that's the nature of action photography – it's rare that you have control over all the elements, and you just have to grab what you can when the opportunity presents itself. Craig's done well, despite not being entirely comfortable about taking it!
Thanks Bristol Dojo!
We'd like to express our gratitude to Simon O'Brien, owner of Bristol Dojo, for allowing us to take over his venue for the day – and for providing our accommodating models too!
About London Camera Exchange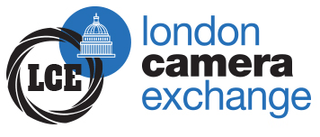 London Camera Exchange has 30 branches across the country, from Plymouth in the South West to Newcastle in the North East, and has been in existence since 1956. Each store is staffed by knowledgeable and enthusiastic people. As well as selling all the latest photographic and optical equipment, LCE specialises in part-exchange; its extensive second-hand stock is available from its website. Services like sensor cleaning video transfers and printing are available in-store, and the branches hold various events and shows throughout the year, with all information available at London Camera Exchange.