Landscape photography is a brilliant genre that enables you to get out and explore the great outdoors with your camera and hone your skills. You can often go at your own pace and take your time to compose on a tripod while waiting for the perfect light to appear.
We recently caught up with award-winning photographer Justin Minns, who is best known for atmospheric landscapes and is regularly commissioned by the National Trust and English Heritage.
• Elevate your scenic shots with the best cameras for landscape photography
He also runs photo workshops everywhere from Norfolk to Namibia, and is the author of Photographing East Anglia. Justin's next book, Photographing Essex, a photography and location guidebook to the region, is due to be published soon.
Justin tells us his story, his top tips for landscape photography, as well as the camera set-up he uses, including his favorite lenses. To see more of his fantastic landscapes and check out his workshops, be sure to visit his website.
"I have always been creative but I only recently discovered photography. I got my first camera, a Canon Powershot compact, back in 2006, which was a present from my wife. It was for taking holiday snaps but my interest in photography quickly outgrew the camera.
"A passion for the outdoors led me to shooting landscapes, and as I developed my craft, I chose to stay local and explore East Anglia rather than spend my time traveling the country to shoot the 'classic' locations. There is, of course, nothing wrong with photographing well-known spots; they are, after all, popular for a reason. But by staying local I could return to locations time and again, responding to weather conditions and getting to know the landscape better.
"This specialization eventually helped with my career, leading me to work with the National Trust in the region and sharing my accumulated local knowledge on my photography workshops as well as in my first book, Photographing East Anglia.
"I've run workshops locally for about ten years, but recently started to concentrate on expanding these around the UK and overseas to countries such as Iceland, Madeira, Canada and Namibia, giving me and my workshop clients a change of scenery.
"As you can imagine, my kit has changed a lot over the years, but while having quality equipment is important for a pro, I believe capturing mood and atmosphere in my images is of far more importance."
Justin's pro landscape kit
"I switched to mirrorless in 2021, rather reluctantly at first after my beloved Canon EOS 5D Mark IV consumed more seawater than was good for it. The EOS R5 became an instant favorite, though. It is packed full of features, from clever things like Eye Detection AF to simple things like ISO being on a separate dial, that make the EOS R5 an absolute joy to use."
"The 24-105mm is my workhorse lens but I love the dramatic effect of getting up close to the foreground with an ultra-wide-angle lens, so my Canon RF 14-35mm f/4L IS USM gets a lot of use too. At 14mm it is super-wide, but doesn't seem to suffer from any distortion and is sharp across the frame. It has a maximum aperture of f/4 throughout the zoom range, and is also light and compact."
"A drone opens up so many more possibilities for composition. For me, it is not just about being able to get up high and see further; it is a camera that I can put almost anywhere – I'm no longer limited to where I can stand. The height is also an advantage here in East Anglia, though, as there aren't many hills from which you can get an elevated view of the landscape!"
4. Arca Swiss P0+ hybrid tripod head
"I love this tripod head. The combination of a ball head along with two self-locking geared adjustments makes it both quick and precise. It's brilliant for panoramas, too, because with the panoramic adjustment at the top of the head, rather than the bottom, the tripod doesn't have to be leveled – just the camera. All this in a very light package, but it's an expensive tripod so you get what you pay for!"
"Filters are an integral part of my kit and I have used Lee Filters for over ten years. I use a range of them from graduated ND filters, to control the high dynamic range in the scenes I shoot, to ND filters in various strengths – such as the Little, Big and Super Stoppers, which block out 6, 10 and 15 stops of light respectively and enable me to control the shutter speed for creative effects. A circular polarizer helps boost blues in skies and tame reflections in water and glass, so is never far from my lens."
6. F-stop Tilopa backpack
"These are proper backpacks with an internal frame and decent harness, taking much of the effort out of carrying my equipment over long walks. The build quality is superb (and this bag has been put through its paces around the world) but the best part is the camera inserts are changeable, and come in a range of sizes, so you can tailor the bag to the amount of camera equipment and other non-camera gear you need to carry."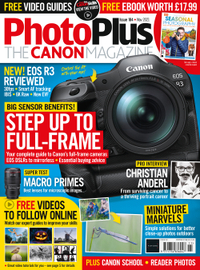 PhotoPlus: The Canon Magazine is the world's only monthly newsstand title that's 100% devoted to Canon, so you can be sure the magazine is completely relevant to your system. Every issue comes with downloadable video tutorials too.