Introduction
Superzoom lenses are nothing new - they've been around longer than digital photography itself. It's not uncommon to see optics with focal length ranges of between, say, 24mm and 350mm, in 35mm equivalent terms. Bridge cameras often quoted zoom ranges of 10x, 20x or even 30x, allowing the photographer to capture both semi-wideangle images and greatly magnified, super-telephoto frames. Meanwhile the likes of Tamron, Sigma and Nikon's 18-200mm lenses quickly became firm favorites for travel photographers, due to their versatility and portability.
That being said, traditionally whenever you'd see a lens with a vast focal range, it was usually a given that the optic would be designed for a camera with a small sensor. The aforementioned bridge camera often featured a 1" type CCD or CMOS chip, while the common 18-200mm is often supposed to be paired with an APS-C format camera body. The relatively diminutive image circle of these lenses allows the dimensions to be kept to a minimum, while production costs are not prohibitive.
Conversely the lenses featured here represent an entirely new breed of lens - the mirrorless full frame superzoom.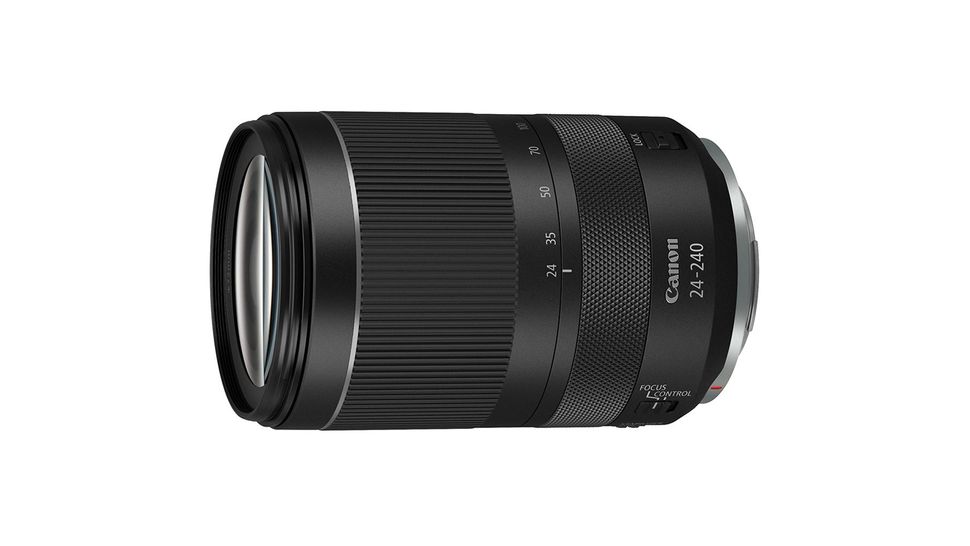 Usually, as soon as you tried to pair superzoom specifications with a full frame sensor you'd run into problems. The bigger image circle meant a lot of glass was needed to make the focal range physically achievable. This drove up weight, size and in turn, cost in equal measure. Furthermore the technical requirements for a 24mm lens and a 200mm optic are essentially opposite, creating severe design difficulties and limitations.
With the dawn of the mirrorless camera, things are different. The new lens mounts from Canon and Nikon have allowed these manufacturers to reduce the distance from the lens to the sensor plane, enabling reductions in optic size and weight, compared to their DSLR counterparts. This opens up new possibilities for lens design. Enter the equivalent lenses in each of their respective mirrorless systems, the Canon RF 24-240mm F4-6.3 IS USM and Nikon Z 24-200mm f/4-6.3 VR.
But which one does a better job of balancing composition flexibility, portability and image quality. We took them for a spin to find out.
Build and handling
It's not the first time we've seen a Full Frame lens with similar focal lengths, but the likes of the Canon EF 28-300 f/3.5-5.6L IS USM and Nikkor AF-S 28-300mm F/3.5-5.6 DLSR lenses are positively monstrous by comparison. The latter weighed in at 800g (not too bad I guess) while the Canon EF lens added 1.67kg to your kit bag!
Both of the mirrorless lenses are far kinder on your back and weigh 750g (Canon) and 570g (Nikkor). This feels like feather when compared with a wider aperture zoom, such as a 70-200mm f/2.8, and is impressive when you consider the range of focal lengths covered. The Canon's extra weight is offset by the slightly longer maximum setting of 240mm, which does make a difference when shooting in-the-field. You might not think the extra 40mm would be much of an advantage, but for cityscape and street photography we found we could fill the frame quite a bit easier with the Canon.
More: The best Canon camera
More: The best Nikon camera
Both lenses feature similar controls. Present are a wide and easy to grip zoom ring, and a manual focus ring which doubles as a customizable control ring. These rings are now commonplace on lenses, and can be useful for rapidly changing aperture or a desired camera setting, such as ISO. We found the control/focus ring a little narrow on the Nikkor. The Canon's was easier to find without taking an eye from the viewfinder and was a tad easier to grip. The same can be said for the zoom lock switch. It's minor, but contributes to the overall handling experience.
Both lenses feel well constructed. They aren't up there with the pro-grade optics, but you wouldn't expect this from any sub $1000 lens of this type. There's no give when the barrel is pressed, suggesting both models can take a knock or two. Metal lens mounts are featured on both too.
The Nikon has a smaller filter diameter (67mm compared with the RF 24-240mm's 72mm), which can offer a cost advantage when purchasing high-end polarizing filters, for example. Overall there really isn't much in it between the lenses in this category.
Features
The Canon RF 24-240mm F4-6.3 IS USM and Nikon Z 24-200mm f/4-6.3 VR share very similar specifications, internally and externally. The Canon inches ahead with its image stabilisation, at least on paper. It is rated at 5 stops, compared to the Nikon's 4.5 stops, although this is unlikely to make a huge difference in most circumstances. However it is of benefit when considering the extra reach of the RF optic.
Unsurprisingly these lenses do not feature a fixed maximum aperture, with both sharing f/4 at 24mm and f/6.3 at their maximum zoom setting. This can make low light work tricky, although they are meant to be paired with the latest cameras from their parent manufacturer, which are excellent high ISO performers. Despite the Canon's extra 40mm, the low light versatility of the lenses is largely equal, since the RF 24-240mm hits that f/6.3 maximum midway through the zoom range.
Minimum focus distance, aperture blade count and minimum f/stop are all the same while the optical construction is very similar too.
The AF speed of both lenses is also fairly evenly matched. The silent AF motors in each do a great job of quickly snapping from foreground to background subjects with minimal noise. Again it is difficult to find a clear winner in this category as both models do what we expected of them, with minimal fuss.
Image quality
This is where things get a little complicated. With any superzoom lens you can expect the image quality be good, but not outstanding, when compared to pro-grade 24-70mm or 70-200mm lenses, or fast primes. There is always going to be a trade-off for the extreme focal range. This is certainly the case for both lenses, but finding a winner is not easy.
The reason for this is that some work is done on images behind the scenes. If you were to look at images from the Canon RF lens, without any lens corrections applied, you'd be fairly underwhelmed. Edge vignetting is extreme, as it chromatic aberration. At first glance we'd go as far as saying that it's one of the poorest performers we've seen in recent times. However, all of that goes away with a single click in Adobe Lightroom. By applying the lens profile distortion is all but removed, as is fringing and vignetting. What remains is a fairly crisp image which is good for print with minimal adjustment.
We didn't notice this same extreme with the Nikkor lens, but this is because a profile is automatically embedded within the RAW file and, in camera Raw at least, when working on a DNG file, this can't be removed for comparison.
In terms of sharpness we felt the Canon had the edge at f/5.6 and at f/16, while any gap closes at mid range apertures, around f/8. With corrections applied meanwhile, the Nikkor may have a slight advantage in edge distortion, with moderately less bending of straight lines at the very periphery of the frame. It's clear a lot of the final results possible from both lenses is only possible with some software intervention, but ultimately this doesn't really matter - a good result is a good result, and both optics deliver.
Bokeh is not a match for an f/1.4 prime, as expected, but both the RF 24-240mm and Nikkor Z 24-200mm provided a surprisingly attractive background blur. While not a go-to portrait lens, you could get away just fine with these optics, due to the shallow depth-of-field afforded by Full Frame sensors.
Conclusion
In the end images from both lenses are more than adequate for most purposes, which is ultimately the whole reason for buying a superzoom lens. However it's harder to separate these two models than anticipated - they are very similar in many respects. We think the image quality from the Nikkor Z 24-200mm f/4-6.3 VR has a slight advantage in some ways, although under the circumstances we tested the optics it was harder to see images shot with the Nikon without automatic corrections applied.
Meanwhile the Canon RF 24-240mm F4-6.3 IS USM edges ahead in both handling characteristics and overall versatility - that extra 40mm of reach does make difference. Furthermore, the image stabilization yielded a few sharper images from the Canon, when both lenses were used at their max focal length. This does all come with a price premium however.
So, while they are relatively evenly matched, we'd say the Canon RF 24-240mm F4-6.3 IS USM represents the more wholesome example of the superzoom type, but if you already own a Nikon Z series camera you'd certainly be happy with the results provided by the Nikkor Z 24-200mm f/4-6.3 VR.
Read more:
The cheapest full frame camera in 2021
Adobe Photoshop CC 2021 review
Best Nikon Z lenses in 2021