If you're shopping for a new DSLR, Cyber Monday is the time to do it. Retailers offer discounts and deals all year round, but Black Friday and Cyber Monday are when they roll out their best deals and biggest surprises.
Need a mirrorless camera, compact or something else? Make sure to also check out every great Cyber Monday deal right here
You might find the exact camera you're looking for suddenly become a whole lot cheaper, or a camera you didn't think you could afford now drops into your price range. You may even see a stunning offer on a camera you hadn't really considered that makes you change your mind completely.
Quick links:
Best DSLR deals in the UK for Cyber Monday 2017
Best DSLR deals in the US for Black Friday 2017
Here's a list of our favourite DSLRs, what we think of them and what we think you should look out for on Black Friday. We'll also quote pre-Black Friday prices at the top with the best Black Friday deals below – that way, you can see at a glance just how much you stand to save.
What to look for in a DSLR
For anyone serious about photography, a DSLR is widely seen as the most obvious choice. Mirrorless cameras offer an intriguing alternative, with some notable advantages too, but for many photographers the DSLR is still best.
DSLRs offer big sensors and great image quality, together with the convenience of interchangeable lenses; we're talking about a vast choice of telephotos, primes, wide-angles, macros and other specialised optics for practically any kind of photography.
They also have optical viewfinders, which many people prefer to the electronic counterparts in mirrorless cameras. To offer the optical viewfinder, DSLRs use a mirror inside the body which flips up out of the way at the moment of exposure. This makes the cameras larger and more mechanically complicated than mirrorless cameras.
On the upside, you don't just get a clear optical viewfinder, you get much better battery life, too. A typical mirrorless camera might get 300-400 shots on a single charge, whereas DSLRs can get 600-1000 – and often more.
Entry-level DSLRs also give you just a little bit more for your money. Remember, all DSLRs have viewfinders, even the cheapest, but you have to pay a premium to get a mirrorless camera with an electronic viewfinder built in.
You can buy DSLRs with or without lenses (the latter known as a 'body-only' option) and sometimes the lens bundles will vary from one dealer to another. In our list below we've picked what we think are the most likely combinations, but there may be others – and if you think you've found a better camera/lens deal than ours, go for it!
Best DSLRs for beginners
If you're upgrading from a smartphone or a compact camera, this is a great place to start.
DSLRs designed for beginners are easy to get started with, thanks to fully automatic modes and handy on-screen help. And, when you're ready to take your photography to the next stage, they have all the manual controls you need to start making your own decisions.
Canon EOS 1300D / EOS Rebel T6 with EF-S 18-55mm f/3.5-5.6 IS II
• Pre-Black Friday price: £339 after £20 cashback/$449
Canon's cheapest entry-level DSLR is pretty basic, but it's simple to operate and has all the manual controls that beginners will need if they want to progress and learn more about photography. You can get it even cheaper with an 18-55mm 'DC' lens, but this lacks an Image Stabilizer; we'd always recommend the better EF-S 18-55mm f/3.5-5.6 IS II image-stabilised kit lens.
Read more: Canon EOS 1300D review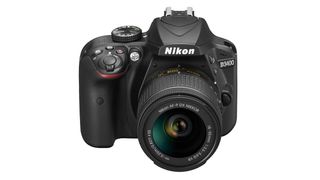 Nikon D3400 with AF-P DX NIKKOR 18-55mm f/3.5-5.6G VR
• Pre-Black Friday price: £449/$497
The Nikon D3400 is aimed squarely at novices with few external controls but, like the EOS 1300D, you can take over with manual controls when you're ready. The D3400 is more expensive than the 1300D, but it comes with a top-class 24MP sensor and a great retracting AF-P DX NIKKOR 18-55mm f/3.5-5.6G VR kit lens that keeps the overall size down for packing away and travelling.
Read more: Nikon D3400 review
Canon EOS 200D / EOS Rebel SL2 with EF-S 18-55mm f/4-5.6 IS STM
• Pre-Black Friday price: £489 after £50 cashback/$699
Canon's downsized EOS 200D is smaller than a regular DSLR, and yet it still supports the same lenses and comes with lots of great features, including Canon's latest 24MP Dual Pixel CMOS AF sensor, and a fully articulating touchscreen display. It's more expensive than the EOS 1300D but it's a much better camera.
Read more: Canon EOS 200D review
Sony A68 with DT 18-55mm f/3.5-5.6 SAM II
• Pre-Black Friday price: £499/$698
The Sony A68 is something of an outsider but it could be tempting at the right price. It looks like a DSLR, but it actually uses Sony's fixed-mirror SLT design and an electronic viewfinder, the combination of which allows for faster autofocus in live view than most regular DSLRs. It's a well specified camera, but Sony's SLT range has not seen much love in recent years, so it may be nearing the end of the line.
Read more: The 10 best cameras under £500/$600
Nikon D5600 with AF-P DX NIKKOR 18-55mm f/3.5-5.6G VR
• Pre-Black Friday price: £609 after £90 cashback/$747
Nikon's D5600 is a useful step up from the entry-level D3400, with a fully articulating rear screen, better controls and more advanced photographic features. Both the camera and Nikon's AF-P lenses are so small and light it's the next best thing to a mirrorless camera for size. Even the pre-Black Friday prices are tempting, so this is definitely one to watch.
Read more: Nikon D5600 review
Canon EOS 800D / EOS Rebel T7i with EF-S 18-55mm f/4-5.6 IS STM
• Pre-Black Friday price: £769 after £50 cashback/$899
The main differences between the EOS 800D and the cheaper EOS 200D are its slightly larger body, slightly faster continuous shooting speed and much more advanced autofocus system. Both cameras use Canon's Dual Pixel CMOS AF system for fast live view autofocus, but for regular viewfinder shooting the EOS 800D has a better autofocus system.
Read more: Canon EOS 800D review
DSLRs for enthusiasts
These cameras are the perfect upgrade when you've outgrown your first DSLR and you're ready for something a with a bit more power and versatility. Our top tip? Work out what our current camera doesn't have that you wish it did, like more external controls and dials, faster continuous shooting or 4K video, and keep that firmly in mind when you buy.
Canon EOS 77D with EF-S 18-55 mm f/4-5.6 IS STM
• Pre-Black Friday price: £834 after £85 cashback / $999
The EOS 77D is like the EOS 800D's older brother. Technically, the two cameras are almost identical, but with two control dials instead of one and a status panel added to the top plate, the EOS 77D has much more appeal to enthusiasts. In fact, with much the same technology as the next camera up in the range, the EOS 80D, the fact that it's priced as keenly as is it makes it a great value choice.
Nikon D7200 with 18-105mm f/3.5-5.6G ED AF-S DX NIKKOR VR
• Pre-Black Friday price: £997/$1297 (US price with AF-S DX NIKKOR 18-140mm f/3.5-5.6G ED VR lens)
The Nikon D7200 has held its value well and remains a powerful, solid and versatile camera for enthusiasts. Nikon has a newer 20MP sensor in the D7500 and D500, but these cameras' advantages are mainly in speed and high-ISO performance, as well as 4K video. As newer models they are less likely to be discounted too.
Canon EOS 80D with EF-S 18-55mm f/3.5-5.6 IS STM
• Pre-Black Friday price: £1011/$1249
This is Canon's do-it-all enthusiast-level workhorse, with a great 24MP Dual Pixel CMOS AF sensor, a vari-angle LCD screen and 7fps continuous shooting. It's still a great buy but it's somewhat under siege by the newer, smaller and cheaper EOS 77D, as well as the EOS 7D Mark II, which is a real powerhouse and beats the EOS 80D for any kind of serious sports/action photography.
Read more: Canon EOS 80D review
Canon EOS 7D Mark II (body only)
• Pre-Black Friday price: £1349/$1349
What you're paying for with the EOS 7D Mark II is speed and power for action photography. It uses a slightly lower resolution 20MP sensor than Canon's other APS-C DSLRs, but it delivers a stunning 10fps continuous shooting speed and has a sophisticated 65-point wide-area autofocus system too. It's Canon's equivalent of Nikon's powerful D500.
Read more: Canon EOS 6D Mark II vs EOS 7D Mark II
Nikon D7500 with 18-105mm f/3.5-5.6G ED AF-S DX NIKKOR VR
• Pre-Black Friday price: £1499/$1547 (US price with AF-S DX NIKKOR 18-140mm f/3.5-5.6G ED VR lens)
In a canny bit of range-filling, Nikon has introduced the D7500 halfway between the affordable D7200 and the powerful D500. You get 8fps continuous shooting, 4K video, a maximum ISO of 164,000 and a tilting touch-screen display. If your budget stretches to this then opt for it instead of the D7200, but if you need all the speed and durability you can get, the D500 is the one to go for.
Nikon D500 (body only)
• Pre-Black Friday price: £1729/$1897
We've lumped the D500 in with the enthusiast section because it has an APS-C-sized sensor, but really this is a professional camera that could easily be used alongside a full-frame DSLR. It offers a rugged build, 10fps continuous shooting, 4K video and a 153-point AF system, and the smaller sensor is an advantage for wildlife and sports photographers as it gives their telephoto lenses extra reach.
Full-frame DSLRs
This is the ultimate choice for advanced amateurs and professionals. A full-frame camera gives you a step up in quality from a regular APS-C model, and opens up a whole new world of professional and speciality lenses.
Nikon D750 (body only)
• Pre-Black Friday price: £1599/$1797
It's not quite Nikon's cheapest full frame DSLR because the older D610 is still on sale, but the D750 is a more modern, more versatile camera, not least because it has a tilting rear screen. Its 24.3MP resolution isn't going to grab any headlines by today's standards, but it does allow the D750 to deliver great all-round image quality for the price, especially at higher ISOs. Resolution isn't everything, after all.
Canon EOS 6D Mark II (body only)
• Pre-Black Friday price: £1849/$1999
The EOS 6D Mark II is the replacement for the original EOS 6D. It's designed as a low-cost entry into full-frame Canon DSLR photography, but while the Mark II is a much better camera than the original, it's also much more expensive. The original EOS 6D is pretty basic but it's a fine camera with a good chance of being discounted on Black Friday – our advice is to look out for both of these cameras on the big day.
Read more: Canon EOS 6D Mark II review
Pentax K-1 (body only)
• Pre-Black Friday price: £1999/$1897
The DSLR market is largely a two-horse race between Canon and Nikon, but Pentax has also always been in the running as an outsider. The K-1 is a very interesting camera, with a 36.3MP full-frame sensor, a tough and cleverly articulating rear screen and a sensor-shift mechanism used for image stabilisation. You also get a Pixel Shift Resolution mode for high-resolution still, together with an Astrotracer mode, anti-aliasing filter simulation and plenty more.
Nikon D810 (body only)
• Pre-Black Friday price: £2399/$2797
Inevitably, the announcement of the D850 has put the D810 in the shade. Nevertheless, the D810 is still on sale, and if the newer model drives prices down that's great news for bargain-hunters. The D810's all-round image quality has become legendary, and it's backed up by one of the two best lens systems in the world.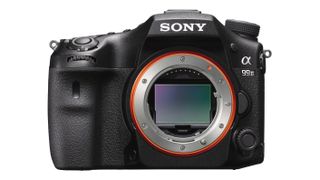 Sony A99 II (body only)
• Pre-Black Friday price: £2999/$3198
Sony keeps saying it hasn't given up on its DSLR-style translucent mirror cameras, and the A99 II is proof. Its killer feature is its ability to capture 42.4MP images at an astonishing 12 frames per second, backed up by an advanced hybrid phase- and contrast-detect autofocus system. Sony does seem to be putting most of its effort into its E-mount cameras these days, so the A99 II and Alpha lens system may no longer be a priority – but this is the perfect upgrade for existing A-mount users.
Read more: Sony A99 II review
Canon EOS 5D Mark IV (body only)
• Pre-Black Friday price: £3229/$3399
Canon's professional workhorse can do a bit of everything very effectively. Its 30.4MP sensor has enough resolution for all but the most demanding commercial work; it can shoot action at 7fps with the help of its 61-point autofocus system; and it shoots 4K video too (albeit with a big crop factor). For Canon users, it's the obvious do-it-all camera, but for those who are undecided, the newer Nikon D850 trumps it in just about every respect.