Black Friday and Cyber Monday are when camera retailers go mad and offer deals that would be crazy at any other time. The fact is that retailers have got wise to this time, and the frenzy that surrounds it, so most of the deals will be well-thought-out in advance. That's not to say you won't be able to snap up some surprise bargains, though. In any case, this is the place to come to find out which mirrorless cameras – and which camera deals – are hot.
Please note that we are constantly checking the latest deals but these are changing hour by hour, so apologies for any items which are sold out, or for price changes made since our last check.
Read more: How to get the best camera deals on Black Friday and Cyber Monday 2017
The best Cyber Monday 2017 mirrorless camera deals
Why choose a mirrorless camera?
When people think 'proper' camera they think of a DSLR, because these have traditionally been the next and only step up from a regular snapshot camera. Even now, a lot of people that should know better talk about DSLRs as if they were the only serious cameras out there. The fact is that mirrorless cameras have caught up, often being just as good and sometimes better than their DSLR equivalents. But why?
The clue is in the name. DSLRs need a mirror in the body to reflect the image seen through the lens up into the viewfinder. This mirror has to flip up and out of the way when you take the picture so that the image can pass through to the sensor at the back of the camera. The advantage is that you get a nice bright optical viewfinder image, but the disadvantage is the extra mechanical complication and operational noise of the mirror, together with the extra depth in the camera body needed to accommodate it.
Read more: The 10 best mirrorless cameras in 2017
With a mirrorless camera, the sensor captures the scene through the lens in a constant live view, which is displayed either on the back of the camera or in an electronic viewfinder. The advantage is that mirrorless cameras are smaller and mechanically simpler. The disadvantage is that you can get a slightly grittier-looking feed with an electronic viewfinder that with an optical one, one that can be subject to lagging (particularly in darker conditions). On many cheaper mirrorless cameras you don't get a viewfinder at all, which means that images can only be composed using the screen on the back of the camera.
Mirrorless cameras aren't just smaller and simpler; they offer a wider choice of designs and layouts. Like DSLRs they cover all sectors of the market, from novice to professional. Beginner and enthusiast models are usually sold as camera/lens kits, and we've listed the most popular ones below, but more advanced models are typically sold without a lens (ie body only).
Here's a list of our favourite mirrorless cameras and the ones to really look out for on Cyber Monday.
Panasonic GX80/GX85 with Lumix G Vario 12-32mm f/3.5-5.6 MEGA OIS ASPH
• Pre-Cyber Monday price: £449 after £50 cashback/$598
The Panasonic GX80 could easily slip under the bargain-hunter's radar. Panasonic is not the most glamorous camera brand out there, and it has a number of cameras with similar-sounding model names that could make you just switch off. Nevertheless, the Lumix GX80 deserves another look because it offers a lot for the money. It's a rangefinder-style mirrorless camera, but it comes with an electronic viewfinder and also has a compact Lumix G Vario 12-32mm f/3.5-5.6 MEGA OIS ASPH kit lens to keep the size and weight down. It's not Panasonic's latest and best sensor, but you do get dual image stabilisation and access to a great range of Micro Four Thirds lenses.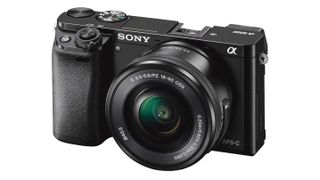 Sony A6000 with E PZ 16–50mm f/3.5-5.6 OSS
• Pre-Cyber Monday price: £65 after £50 cashback/$548
Sony's A6000 might look long in the tooth because it's been superseded twice, once by the A6300 and then by the A6500. The newer models bring better autofocus and in-body image-stabilisation respectively, plus 4K video and sundry other improvements, but the 24MP A6000 and its compact E PZ 16–50mm f/3.5-5.6 OSS lens have stayed on sale at ever-decreasing prices – and for such a technically advanced camera it's now an absolute steal. If you can live without the latest tech, the A6000 will leave you with a big smile on your face and cash in your pocket.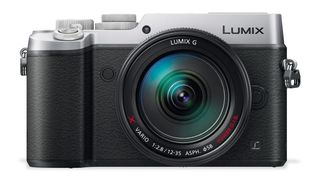 Panasonic GX8 with Lumix G Vario 12-60mm f/3.5-5.6 ASPH. POWER O.I.S.
• Pre-Cyber Monday price: £649 after £100 cashback/$1198 (US price for body only)
Up until the recent announcement of the G9, this was Panasonic's most advanced model aimed at a stills-focused audience. With Panasonic's best 20MP sensor, a well-made rangefinder-style body and a kit lens that gives you a 24-120mm-equivalent focal range, it's a real bargain at current prices, and the arrival of the high-end G9 will hopefully drive prices lower still. You get an awful lot for your money here, including 4K video and Panasonic's clever 4K Photo mode.
Read more: Panasonic Leica DG Vario-Elmarit 8-18mm f/2.8-4.0 ASPH sample images
Olympus OM-D E-M10 III with M.ZUIKO Digital 14-42mm f/3.5-5.6 EZ
• Pre-Cyber Monday price: £699/799
This is the latest version of Olympus's entry-level OM-D camera. It looks like a compact 35mm SLR like they used to make them, but being a mirrorless camera the viewfinder is electronic rather than optical. With twin control dials, Art Filters and other advanced features, this is far from a beginner's camera and even packs in 4K video and five-axis, in-body image stabilisation. Best of all, its size, design and controls make it an absolute joy to use. Make sure you get it with Olympus's super-compact M.ZUIKO Digital 14-42mm f/3.5-5.6 EZ 'pancake' kit zoom. Of course, as its only just been released, it's quite possible the previous OM-D E-M10 Mark II may instead be subject to a deep discount this year.
Read more: Olympus OM-D E-M10 Mark III review
Canon EOS M5 with EF-M 15-45mm f/3.5-6.3 IS STM
• Pre-Cyber Monday price: £969/$1099
This is Canon's only mirrorless camera with a built-in electronic viewfinder. It's well made, nicely designed and so compact that it's hard to believe there's an APS-C sensor in there. In fact, it's Canon's latest and best 24.2MP Dual Pixel CMOS AF sensor, which gives snappy autofocus and great all-round image quality. It uses Canon's EF-M lenses, which are fairly restricted in number, but you can use regular DSLR lenses via an adaptor. The EOS M5 still feels a little pricey for what it delivers, so we're hoping Cyber Monday will change that with some real bargains.
Read more: 10 tips on getting the best out of your Canon camera
Fujifilm X-T20 with XF18-55mm f/2.8-4 R LM OIS
• Pre-Cyber Monday price: £1054/1099
Fujifilm makes two DSLR-style mirrorless cameras – this, and the upmarket X-T2. There's a big difference in the price, but not that much difference in the features when you consider that the X-T20 has the same superb 24MP Fujifilm X-Trans CMOS III sensor and the same speedy hybrid autofocus system. We like the X-T20 for its small size, its (relatively) low cost and as a route into Fujifilm's rather good X-mount lens range. You can get it with the low-cost Fujifilm 16-50mm XC lens, but this Cyber Monday we recommend seeking out the more expensive XF 18-55mm f/2.8-4 R LM OIS option.
Read more: Fujifilm X-T20 review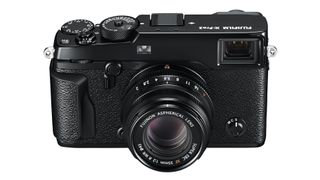 Fujifilm X-Pro2 with XF23mm f/2 R WR
• Pre-Cyber Monday price: £1932/$1948
It's bad enough buying it body only, but buying the X-Pro2 with a lens will really make your eyes water, so Cyber Monday can't come soon enough. Our price sees it paired up with the Fujifilm 23mm f/2 prime lens (35mm f/2 equivalent), since the X-Pro2's rangefinder feel makes it a perfect match for prime lenses and a more classical style of photography. X-Pro2 highlights include its durable design, a unique optical/electronic hybrid viewfinder, its traditional external camera controls and, of course, Fujifilm's excellent 24.3MP X-Trans CMOS III sensor.
Read more: 10 tips on getting the best out of your Fujifilm camera
Olympus OM-D E-M1 II (body only)
• Pre-Cyber Monday price: £1649 after £200 cashback/$1799
We were blown away by the E-M1 II when we tried it. It's Olympus's second iteration of its top pro camera and boasts some mind-blowing features, including 60fps silent shooting at full resolution – admittedly with focus and exposure locked at the first frame, but still perfect for capturing fast action. For regular continuous shooting with focus working throughout it still hits 18fps, and boast a tough, weather-sealed body, 4K video, dual in-body and lens-based image stabilisation and access to Olympus's extremely good and compact lenses. It's quite possible Olympus may use Cyber Monday to clear stock of the previous original OM-D E-M1, itself a very capable camera.
Read more: Olympus OM-D E-M1 Mark II review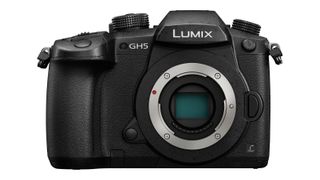 Panasonic GH5 (body only)
• Pre-Cyber Monday price: £1699/$1998
It's common to buy higher-end camera bodies on their own rather than as camera-lens combinations, since most buyers at this end of the market have already invested in the system and are simply looking for a newer and better body. The GH5 is, however, also on sale with various body-lens combinations, so check those out too if this is your first Lumix camera. We're hoping prices for the GH5 might wobble with the announcement of the G9, which will be good news on Cyber Monday. The GH5 isn't just a high-speed stills camera, it's also a highly-regarded 4K video camera and a key player in the new but important pro stills/video camera market.
Read more: Panasonic G9 - Hands-on review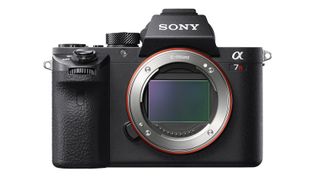 Sony A7R II (body only)
• Pre-Cyber Monday price: £2199/$2898
With all the hoo-hah surrounding the launch of the Sony A7R III, this is bound (we hope) to put a dent in prices for the A7R II, which will still carry on being a terrific high-end full-frame mirrorless camera long after the A7R III's arrival. You still get Sony's amazingly sharp 42MP full-frame sensor, you just don't get the A7R III's continuous shooting frame rate. And, of course, you still get access to Sony's lens range, which now includes some truly stunning G Master lenses (at, admittedly, some truly stunning prices).
Read more: Sony A7R III joins full-frame Alpha stable