The Nikon Coolpix B500 attracts a lot of interest because it has a huge 40x zoom range and a lot of advanced controls – and it's really affordable! Obviously you get what you pay for, though, and there are bound to be things you miss out on at this price.
So we'll try to answer all your questions as you make your mind up,, including the big one: 'Should I buy a Nikon Coolpix B500?'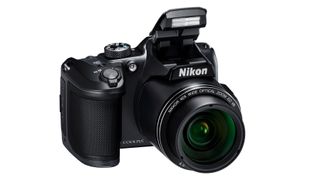 1. I've heard the B500 called a 'bridge camera'. What is a bridge camera?
A 'bridge camera' is a kind of bridge between a regular point and shoot compact camera you can put in your pocket and professional camera with interchangeable lenses. Bridge cameras have some of the pro features of professional cameras and a lens with a huge zoom range. You can't change the lenses, like you can with a pro camera, but the big zoom range is designed to counteract that. If you want to know more, we have a separate guide to the best bridge cameras.
2. The Nikon B500 is pretty cheap. Is it any good?
The B500 is cheap because it uses inexpensive materials, a small image sensor and has fairly basic technology and features. It's how camera makers can produce cameras at these prices. The picture quality won't match a DSLR or a mirrorless camera's, and you probably won't find it as nice to use, or as responsive. But if your expectations are modest, you might not notice.
3. It has 16 megapixels – is that enough?
It's easily enough. If you're mostly sharing pictures on social media, you don't need anything like 16 megapixels, and if you want to make big photo enlargements, the limit is really the small 1/2.3-inch sensor in this camera and others like it. With small sensors, it's often better not to have a big megapixel count.
4. So why does the sensor size matter?
It's just like the days of film, when the bigger the negative, the better the quality. With small sensors like those used in smartphones, point and shoot cameras and bridge cameras, pictures can only be 'blown up' so far before the quality starts to suffer, regardless of megapixels. Cameras like these are fine for snaps, social sharing and small to medium sized prints, but not professional use or large scale exhibition or wall prints.
5. What about the 40x zoom – is that enough?
It is and it isn't! Like all bridge cameras, the B500 offers huge telephoto reach but only modest wide-angle capability. It's great for far off details, sports and wildlife, but if you like to travel, you may find that its 22.5mm equivalent focal length isn't quite wide enough for some subjects – such as for city architecture – but it's still a little bit wider than most bridge cameras.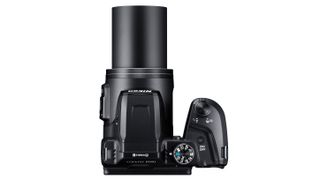 6. Is the B500 too big?
Now that is a very good question. Bridge cameras are also big cameras. The B500 isn't the biggest, but it still measures 113.5 x 78.3 x 94.9mm, and weighs 542g. That's quite a lump, and like carrying around a full-scale DSLR or mirrorless camera. It's the huge zoom range that's the reason, so you should weigh up how important this actually is. The fact is, if you want the zoom, you have to accept the size and weight.
7. It doesn't shoot 4K video – does that matter?
Almost certainly not. If video is your thing and you definitely want 4K, you're looking at the wrong kind of camera. See the best cameras for vlogging, for example. The B500 does shoot full HD, however, which is easily enough for YouTube and general social sharing
8. What about raw files? Do I need a camera that shoots raw?
If we were talking about serious photography we would say yes, but the B500 is not really aimed at pros or enthusiasts. If you're considering a camera like the B500, we'd guess you just want an affordable all-round camera that can shoot lots of different subjects, without the fuss of any raw processing and editing later, so in this case we don't think it's an issue.
9. If I get the B500, what else will I need to go with it?
You'll get a battery included, but you won't get a memory card unless the reseller decides to bundle one in (there is 20MB internal storage with this camera, but that won't get you very far). An inexpensive 16MB SDHC card should be fine, and we have a guide to the best memory cards if you want to know more. You might want to think about a carry case or pouch too – see our guide to the best camera holsters and pouches.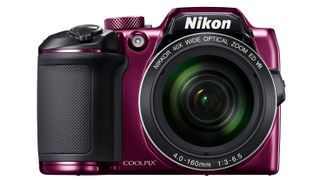 10. Should I get it in black, red or (some territories) purple?
My, that's a tough one! Black is boring, but we have used red Nikons for a while in the past, and while they are certainly eye-catching at first, we're not sure how we'd feel about them in the long term. It's a bit like that wild Hawaiian shirt that looks great in the changing room at the store but hurts your eyes the next morning.
11. So that's a 'yes', then?
If you've read through all the points above and you are satisfied, then go for it! You won't get the image quality or features of a DSLR or mirrorless camera, but you won't get the price tag either. The B500's results will be more 'snapshot' than 'exhibition' quality, but you do get a lot of camera for your money, and we've put today's best deals below.
12. Are there any other cameras I should consider?
The Nikon Coolpix B600 is the next model up and has a bigger 60x zoom for extra telephoto reach, but if you want to go really mad, there's the Nikon CoolPix P950, a much more advanced (and bigger) bridge camera with a huge 83x zoom. If you'd prefer more quality over zoom range, the Panasonic FZ100 has a bigger 1-inch sensor, and if you can accept a slightly reduced zoom range, you might want to consider a long-zoom 'travel camera' like the Panasonic ZS80 (TZ95 in the UK) – it has a slightly smaller 30x zoom, but it's a camera small enough to fit in your pocket. We've put some prices for these below.