The Panasonic Lumix GH6 was launched in February 2022 and immediately impressed the video community with its high-end features and how much it delivered for the money. But in September 2023, just 19 months later, Panasonic released the G9 II, almost matching the GH6 for video capabilities but adding phase-detect AF and powerful stills photography features. So which one should you buy?
It's not quite as simple as saying one is best for videographers and one is best for stills photographers. The Lumix GH6 is certainly one of the best cameras for filmmaking, and quite close to the capabilities of the best cinema cameras, but the Lumix G9 II is now right up there with it, the addition of phase-detect autofocus surely makes it one of the best hybrid cameras right now and one of the best cameras for vlogging.
Interestingly, the GH6 has fallen considerably in price since it was first launched, and it's now cheaper to buy than the pre-order prices of the G9 II. Is this because Panasonic accepts it's been trumped by the newer model?
So let's drill down into the details to discover the key differences between the Lumix G9 II and Lumix GH6.
Panasonic Lumix G9 II vs Lumix GH6 in 2023
Why you can trust Digital Camera World Our expert reviewers spend hours testing and comparing products and services so you can choose the best for you. Find out how we test.
1. Sensor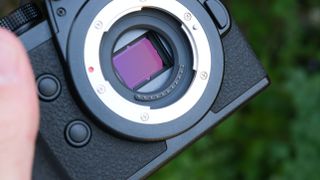 • Panasonic Lumix G9 II: 25.2MP MFT Live MOS
• Panasonic Lumix GH6: 25.2MP MFT Live MOS
The sensors in the Lumix G9 II and GH6 look pretty much identical. Both have Panasonic's latest 25.2 MFT Live MOS sensor with no low pass filter and a 100MP high-res mode. This is paired up with an updated Venus processing engine which Panasonic says is twice as fast as the previous generation. The 25MP resolution is not a huge gain over the 20MP of previous generation Panasonic MFT cameras, but it's enough to encourage fans of the format that development is still taking place, and it pushes these cameras over the psychological 24MP threshold to put them on a similar footing to rival cameras.
2. ISO range
• Panasonic Lumix G9 II: ISO 100-25600 stills, 100-12800 video
• Panasonic Lumix GH6: ISO 100-25600 stills, 100-12800 video
The quoted ISO range for these cameras is the same, which should be no surprise given that the sensor appears to be the same too. They both have dual native ISOs, too, though there are differences in the native ISO values – the GH6's 'high gain' ISO is a little higher – but that looks a pretty small difference.
3. Autofocus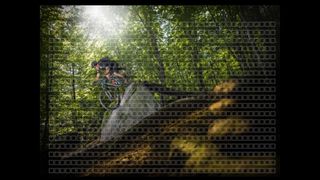 • Panasonic Lumix G9 II: 779-point phase hybrid AF, human body, animal eye, car/motorcycle recognition
• Panasonic Lumix GH6: 315-area DFD contrast AF, human body/face/eye, animals including birds, canines, and felines
The big news with the Lumix G9 II, of course, is that Panasonic has at last incorporated hybrid phase detection AF into a Lumix G model. This immediately puts the G9 II and GH6 on a different footing. The GH6 uses Panasonic's older DFD contrast-based AF system which, while now in a very advanced state of development and much improved, still tends to 'pulse' during continuous AF, an effect which can sometimes be seen in video.
This won't be an issue if you are a filmmaker using manual focus or pull focus techniques, but for vloggers who need the camera to film and track their subjects without the chance to reshoot a sequence, then the G9 II has an immediate advantage. This does somewhat undermine the GH6's filmmaking credentials.
4. Stabilization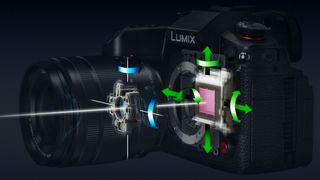 • Panasonic Lumix G9 II: 5-axis, 8-stop IBIS, 7.5 stop Dual IS 2, Active IS, advanced EIS
• Panasonic Lumix GH6: 5-axis, 7.5-stop Dual I.S. 2
Panasonic quotes stabilization figures for its Dual I.S 2 system rather than for the body alone, and these can vary according to which lens is used and whether it has its own IS or not. The quoted value for the G9 II is 8 stops or 7.5 stops with Dual I.S. 2 (the reason for the two figures is not clear), and for the GH6 it's 7.5 stops. This looks like a near-identical performance, though the G9 II does boast Active IS and advanced EIS digital stabiization modes.
5. Video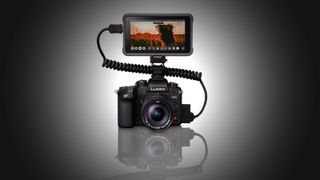 • Panasonic Lumix G9 II: 5.8K 30fps, C4K/4K 4:2:2 10-bit 60p, HFR 120fps, V-Log, Real Time LUT, Apple ProRes, Long GOP or All-Intra
• Panasonic Lumix GH6: 5.7K 60p/50p, C4K/4K 60p/50p, HFR 120fps, V-Log, Real Time LUT, 4:2:2 10-bit, Apple ProRes, Long GOP or All-Intra, unlimited recording time,
This is where the comparisons get extremely complicated, with both cameras offering a bewildering array of resolution, aspect ratio, codec, frame rate and file format permutations. The bottom line is that the G9 II offers a truly impressive 5.8K at 30p and C4K/4K at up to 60p, with a 120fps HFR (high frame rate) mode. You get V-Log and Real-time LUT capability thrown in, internal ProRes recording (yes, even with SD cards) and the ability to use USB SSD drives for storage.
That doesn't leave the video-centric GH6 much room for manoeuver. However, it does offer unlimited C4K/4K recording thanks to its active cooling fan, and it does offer ProRes RAW and Blackmagic RAW recording to Atomos Ninja V/V+ and Blackmagic Video Assist 12G HD recorders respectively. Its CFexpress Type B card slots also offers a few more capture options at the very top end of the quality scale.
The GH6 might still have a fraction more appeal to serious filmmakers, then, though you could argue that the G9 II is also an extremely powerful video tool in its own right, and that its phase-detect hybrid AF easily offsets the GH6's advanced codec and capture options.
6. Stills
• Panasonic Lumix G9 II: 25.2MP MFT format
• Panasonic Lumix GH6: 25.2MP MFT format
These two cameras have the potential to capture still images of the same quality, though not necessarily in the same way. Despite its formidable video capabilities, Panasonic stills sees the G9 II as essentially a stills camera, and it is particularly good in this respect – though it no longer has the top plate status panel of the previous G9. The GH6 is also a very effective stills camera, both in capabilities and its design, which is perhaps surprising given its video-first billing. However, the GH6 does lag behind the G9 II for burst shooting.
7. Continuous shooting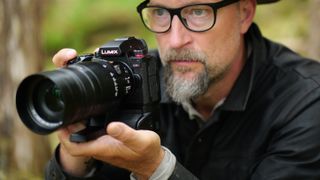 • Panasonic Lumix G9 II: 14fps mechanical, 60fps with AF-C electronic shutter, 75fps with AF-S, 200+ JPEG, 170+ raw, pre-burst shooting
• Panasonic Lumix GH6: 14fps mechanical, 75fps with AF-S electronic shutter, 95+ JPEG, 65+ raw
The Lumix G9 II has three key advantages over the Lumix GH6 for burst shooting. First, it has phase detect AF rather than contrast-based DFD AF, so we would expect its tracking performance to be significantly better. Second, while cameras appear to have similar mechanical shutter and electronic shutter burst rates, the difference is that the G9 II can achieve 14fps mechanical and 60fps electronic shutter speeds with continuous autofocus, while the GH6 can only achieve these speeds with single AF – in other words, the focus is locked from the start of the burst. The third advantage of the G9 II is its larger buffer capacity of 200+ JPEGs or 170+ raw files – that's a good deal better than the GH6 can manage.
8. Viewfinder and LCD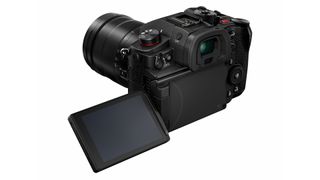 • Panasonic Lumix G9 II: 3.68m dot OLED, 0.8x equiv magnification, 100% coverage, 3-inch vari-angle touchscreen, 1.84m dots
• Panasonic Lumix GH6: 3.68m dot OLED, 0.76x magnification, 100% coverage, 3-inch vari-angle touchscreen, 1.84m dots
There are no key differences here, as both cameras have 3.68m dot electronic viewfinders and 1.84m dot vari-angle touchscreens. The G9 II's EVF has a slightly higher magnification of 0.8x vs 0.76x on the GH6, but it's a small difference you're unlikely to notice in practice.
9. Storage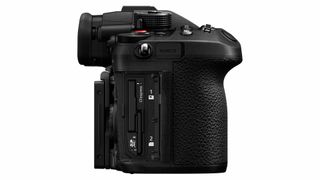 • Panasonic Lumix G9 II: 2x SD UHS II
• Panasonic Lumix GH6: 1x SD UHS II, 1x CFexpress Type B
The Lumix G9 II has twin SD card slots, both UHS II compatible, while the GH6 has one SD UHS II slot and one CFexpress Type B slot. The CFexpress slot does give it an advantage for high-end video capture options, but the G9 II makes excellent use of UHS II card speeds to get very close – and easily covers most regular capture formats and frame rates.
For some, the different media types used in the GH6 could be a disadvantage. Quite apart from the extra cost of CFexpress type B cards, it means you can no longer shoot with paired memory cards, and if you want to capture a simultaneous backup to the second slot, you'll be restricted to UHS-II speeds.
10. Connectivity
• Panasonic Lumix G9 II: USB Type-C, HDMI Type A, Remote, mic, headphone, Wi-Fi, Bluetooth
• Panasonic Lumix GH6: USB Type-C, HDMI Type A, Remote, Mic, Headphone, Wi-Fi, Bluetooth
Any idea that the stills focussed G9 II might not offer the same connectivity as the GH6 can be quickly forgotten. Like the GH6, the G9 II has a USB Type C interface, headphone and mic sockets and a full size HDMI Type A port for connecting external recorders.
11. Battery
• Panasonic Lumix G9 II: 370 shots, USB power supply, charging, delivery
• Panasonic Lumix GH6: 320-380 shots depending on storage type, USB power supply, charging, delivery
There's no real difference in the battery life, either. At roughly 300-400 shots for both cameras, it's about average for mirrorless models, and most videographers would want to take a couple of spares on a shoot. Both cameras can also charge or be powered by USB too.
12. Size and design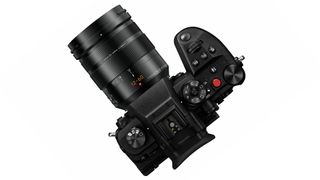 • Panasonic Lumix G9 II: 134.4 x 102.3 x 90.1mm, 658g
• Panasonic Lumix GH6: 138.4 x 100.3 x 99.6mm, 823g
Neither of these cameras is small! The Micro Four Thirds format might be around one-quarter the size of full frame, but the Lumix G9 II and especially the GH6 weigh as much as or more than many full-frame rivals. This has led to some disappointment and many think that the smaller MFT format ought to mean smaller and lighter bodies.
That's not quite the end of the story, though. These cameras might be no smaller than larger format rivals, but the best MFT lenses definitely are, so there are still clear advantages in overall kit size and portability. Also, while most photographers aren't keen on extra weight, there are plenty of handheld video shooters who feel that extra mass adds stability and inertia and produces smoother footage.
Panasonic Lumix G9 II vs Lumix GH6: conclusions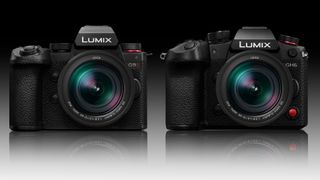 • Panasonic Lumix G9 II: $1,897 / £1,699
• Panasonic Lumix GH6: $1,697 / £1,599
It's hard to make a case for the Lumix GH6 even for video capture, since the G9 II runs it very close indeed in almost every respect – and improves on it for solo shooting and vlogging thanks to its new hybrid phase detect autofocus system. The GH6 might still appeal to serious filmmakers with its high-end capture capabilities and its unlimited recording times, but its advantages are pretty slim. About the only thing in its favor in this comparison is that prices have fallen considerably since its launch, and it's currently cheaper to buy than the G9 II.
The fact is, though, that the G9 II is clearly the better camera for stills photographers and hybrid shooters, and its video capabilities are well up there with the best of its rivals and well ahead of most of them.
If you currently use a GH-series camera and you're happy with the AF features and handling, then the GH6 is a powerful and logical upgrade. Otherwise, the G9 II seems to have this sewn up.