The best label maker makes it so much easier to organise your life and work. They allow you to create labels for everything from boxes of photos to food in your kitchen. This means you'll spend less time hunting for the things you can't find, and more time doing the things you really enjoy. Label makers can also be used for printing address labels, folder labels, product labels, and price tags for your business, helping you become super-organised and efficient.
But how do you choose the best label maker for your needs? Firstly, consider the type of labels you want to create, such as paper, fabric, iron-on, or metallic labels. Also think about how you want to design your labels, whether it be on a computer, smartphone, or using the label maker itself. Finally, figure out whether you want a label maker that runs on mains electricity, batteries, or hand-power.
To help you make the right choice, we've compiled a list of the best label makers available today. Read on to learn about each one's unique features.
The best label maker in 2023
Why you can trust Digital Camera World Our expert reviewers spend hours testing and comparing products and services so you can choose the best for you. Find out how we test.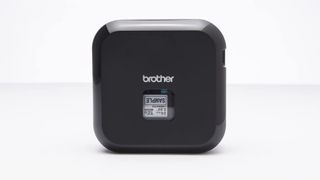 The Brother P-Touch Cube PT-P710BT is our picks as the best label maker overall, as it's very flexible, easy to use, and very affordable.
It connects to your PC, Mac, smartphone or tablet via Bluetooth, allowing you to create and print labels via the free app. That app gives you a lot of font choices, and you can spellcheck your text before you print it. It's compact and lightweight, so it won't take up too much space and is nicely portable.
The included battery is rechargeable via USB. Tapes are available in up to 60 different color and size combinations, and you can choose between tape widths of 6, 9,12,18 and 24mm. Like all the label makers on this list, it uses thermal printing, so you won't need to add ink. It comes with four metres of 24mm-wide, black on white TZe tape.
The only negative we can see with the Brother P-Touch Cube PT-P710BT is the lack of wired connection, which some people may prefer to messing about with Bluetooth.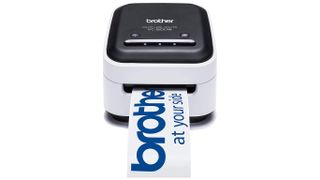 Want to move beyond monochrome? Then get Brother's VC-500W, which allows you to print both photos and labels in full color. Prints are good quality, and labels are available in 9mm, 12mm, 19mm, 25mm and 50mm widths. The device's continuous roll technology lets you create labels up to 50cm long.
Connect the VC-500W to your Wi-Fi router and you can print from your PC, Mac, smartphone or tablet using the included app. Alternatively, you can connect it via the included USB cable. If you like, the app allows you to add personal touches such as text, borders, filters and emojis to your labels and photos.
This printer comes with one five-metre label roll and one cleaning roll. The labels are self-adhesive, so you don't need to worry about applying glue.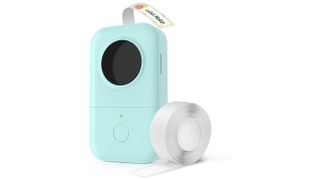 Short on funds, and only need to print small labels? Then the Phomemo D30 Mini Label Printer is a great choice. Perfect for printing things like price tags and package labels at widths from 6-15mm, this device can print continuously for four hours, and be used for three months on a single charge. And yet it's smaller than some smartphones, making it supremely portable and storable.
The supplied app provides you with a range of templates, more than 60 borders, over 1,000 icons and more than 20 fonts. It connects your smartphone to the printer via Bluetooth. To get you started, you get one 12x40mm thermal paper roll, which has self-adhesive backing.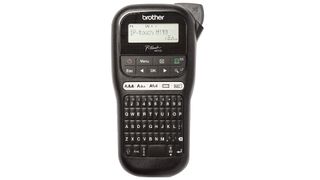 A label maker with integrated keys saves you faffing around with apps. And our top choice is the Brother PT-H110, which comes with a very nice QWERTY keyboard.
This simple handheld label printer is perfect for creating durable labels around the home and office. Its 16 character graphic display lets you view and select from the hundreds of symbols, and view several fonts, font styles and frames in detail. This printer takes 3.5mm, 6mm, 9mm, and 12mm tape widths and it's fast too, with print speeds of up to 20mm per second.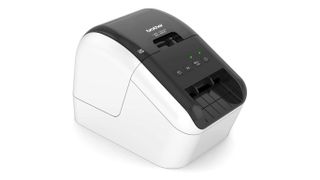 If address labels are the main thing you want to print, check out the Brother QL-800 Label Maker. The bundled software for PC and Mac allows you to import content from both Microsoft Word and Microsoft Excel, so you can create a file that allows you to print a list of address labels in one batch. You also get the option of printing in red and/or black.
Connect your computer to the printer via the supplied USB cable, and you can print from a variety of pre-sized labels. These include Brother's continuous rolls, which allow you to print at 62mm wide, and up to 1m in length. A five-metre long roll is included in the package, along with 100 standard address labels.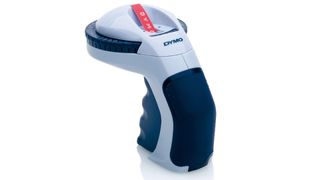 Embossing is the processes of creating raised relief text and designs in paper and other materials. Back in the 1970s, pretty much all label makers used this technique. And as it normally goes with design, this style has come full circle from looking outdated and cheesy to now becoming hip and cool again. The other good thing about embossing label makers is they don't require batteries.
If you want to try out this labelling style for your modern craft projects, or treat it as a fun project for the kids, the Dymo Embossing Label Maker is our top pick. Just by turning and clicking, you can print sharp, white tab-cut characters, 3.7 mm high, on 9mm-wide tape. If you've never tried making embossed labels before, give it a go: it's a lot of fun!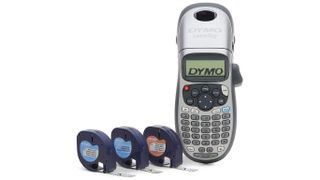 Resembling an ageing cellphone, the Dymo LetraTag LT-100H Plus is a handheld device for printing paper, plastic and iron-on labels. Use the on-board keyboard to type, and the 13-character LCD display shows you what you're about to print. It's a little fiddlier than the full QWERTY keyboard of the Brother PT-D600, but manageable for anyone who's used to typing on a phone.
You can choose from five font sizes, seven print styles and eight box styles. There's a maximum label width of 12mm, and you also have the option of printing two-line labels. Everything is self-contained, so there's no need to connect it to a computer or phone, or download an app.
This device runs on four AA batteries, which are not supplied. You also have the choice of buying an AC adapter, which is again not included. Note also that the supplied Dymo plastic tapes supplied are not adhesive.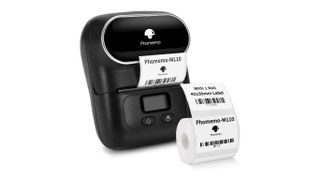 Here's another great mini label printer. The Phomemo M110 connects your mobile phone easily, via Bluetooth 4.0 or Wi-Fi. Its included app features a range of templates for things like clothing labels, price labels, cable labels, jewellery labels, address labels and folder labels. You can set up your own templates, too, and there's support for Excel batch printing.
The Phomemo M110 supports tapes up to 57mm in width, and comes with a 1500 mAh rechargeable battery, which should keep you going for about four or five days on one charge.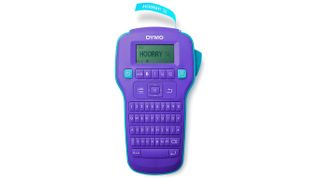 Another all-in-one label maker that doesn't need connecting to a phone or computer, the Dymo Colorpop Color Label Maker allows you to design and print custom, colorful labels in three easy steps. It's our pick, therefore, as the best label maker for classroom use.
This small and lightweight device comes with a computer-style keyboard that lets you customize your messages with more than 20 text styles and over 150 emojis and symbols. It works with Dymo authentic D1 tapes in a variety of colors, designs and sizes, up to 12mm wide, and you get 10-feet of 'White Print on Blue Glitter' label tape included in the package. The Dymo Colorpop Color Label Maker is powered by 6 AAA batteries (not included) or an optional AC adapter. The biggest limitation is that the LCD screen is quite small in size, so depending on your eyesight you may have to squint a little.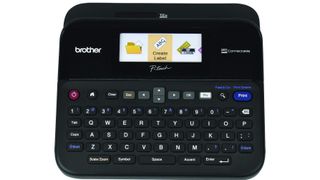 A label maker with an integrated keyboard saves you faffing around with apps. And our top choice is the Brother PT-D600. That's because its keyboard features large keys and angled design for easy typing, and there's a nice-sized, color backlit display to give you a clear view of your work.
That said, if you prefer you can connect to this label maker to your PC or Mac via the supplied USB cable, and use Brother's free software instead.
You can create personalized labels up to 24mm (.94 inches) wide, and choose between 14 fonts and 11 font styles, 99 frames, and over 600 symbols. You can also save up to 99 of your most-commonly used labels for reprinting at a later date. The device is powered by either six AA batteries (not included) or the included AC power adapter.
Tthe PT-D600 also lets you use a range of specialist tapes for specific purposes. You can use it, for instance, to create clothing labels, using fabric, iron-on tape; labels with acid-free adhesive that are safer for scrapbooking and other photo-sensitive materials; and labels for identifying cables and wires.
Read more:
• Best portable printer
• Best photo printers
• Best all-in-one printers
• Best compact printers
• Best digital instant hybrid cameras
• Best scrapbooks
• Best scrapbooking glue