The Canon MAXIFY GX4020/GX4050/GX4060 solves a problem. Notoriously expensive ink cartridges that often need replacing are the scourge of cost-effective printing. Pitching its place in Canon's MegaTank range of inkjet printers, this one does away with cartridges altogether, in favor of relatively large ink tanks that are replenished by high-capacity ink bottles, at a fraction of the price. Sure, it's more expensive to buy initially but drives down the total cost of ownership by around 85 percent for voluminous printing habits.

The printer isn't as fast as the more business-focused Canon MAXIFY GX5020/GX5050/GX5060 and GX7020/GX7050/GX7060 models but boasts a good range of features to suit the home office, families with kids that have endless homework assignments, clubs and just about anyone who needs printing, copying, scanning and fax functions, all in one place.

Specifications
Inks/type: 4x pigment, CMYK
Max print size: 8.5x14-inch/A4, letter, legal
Max print speed: 18 ipm mono, 13 ipm color
Max print resolution: 600x1200dpi
Input trays: 1 front, 1 rear
Scanner: 1200x2400dpi, ADF
Display screen: 2.7-inch color touchscreen
Interfaces: USB, Wi-Fi, Ethernet, Fax
Dimensions (WxDxH): 399x417x251mm
Weight: 9.5kg

Key features
There's a good range of features packed into this printer. At its heart lies a 600x1200dpi print engine fed by no less than three paper input trays. The main one is a 250-sheet cassette that slots into the front of the printer, just below the extending output tray. There's also an upright tray at the rear which can accommodate up to 100 sheets of paper, plus a flat rear tray for single sheets of specialist media. All popular sizes are accommodated up to A4, letter and legal, as well as custom sizes from 89mm to 216mm in width, and pretty much any length you fancy up to 1.2m, ideal for printing banners.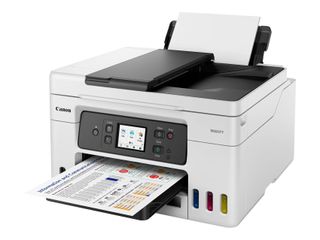 Although ostensibly a document printer, Canon also offers a range of fun media that's compatible, including sticky-back photo paper, magnetic photo paper and iron-on transfers for fabrics.

Getting back to the 'business' at hand, there's a built-in, high-res CIS (Contact Image Sensor) scanner topping out at 1200x2400dpi resolution, complete with a 35-sheet auto document feeder. Unlike the scanner in the GX7020/GX7050/GX7060, it can't scan both sides of double-sided documents simultaneously, but still has a nippy color scanning speed of around 7ipm (impressions per minute). It can also take on Super G3/Color fax duties, with capacity for 100 coded speed dialing entries and group dialing for up to 99 locations.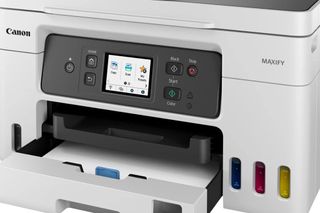 Build and handling
Build quality feels typically solid for a Canon printer. It's not exactly a lightweight at 9.5kg but feels reassuringly robust. The size is fairly chunky for an inkjet printer at 399 x 417 x 251mm, rising to as much as 399 x 719 x 304mm with the various trays extended, but it's still rather smaller and lighter than competing multi-function laser printers.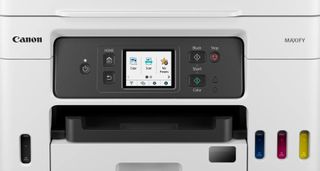 Copying, scanning and printing tasks are simplified by a 2.7-inch color touchscreen, for a literally hands-on approach. Canon is very good at this sort of thing and the interface is typically intuitive. Connectivity with the wider world is good too, featuring USB, Ethernet and Wi-Fi, plus compatibility with Canon's mobile printing apps for Apple and Android, along with cloud-based services. It can also hook up to Amazon Alexa and Google Assistant.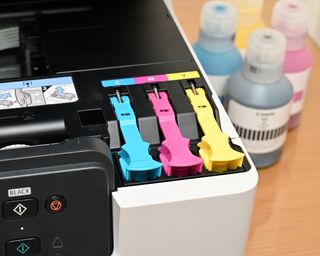 It's easy to think that pouring ink out of bottles into a printer might be a messy process. There's no such worry here, as the gravity-fed ink bottles require no squeezing and have automatic valves to prevent spillage or over-filling. They're also individually keyed for cyan, magenta, yellow and black, so there's no danger of pouring ink into the wrong tank.
Performance
The Canon MAXIFY GX5020/GX5050/GX5060 and GX7020/GX7050/GX7060 printers are quite the speed demons, outputting pages at up to 24ipm for mono and 15.5ipm in full color, as well as delivering the first page of a printout in just 7 seconds. This printer isn't as fast, topping out at around 18ipm for mono and 13ipm for color, but that's still pretty rapid. The first page printout speed is almost as quick at 8 seconds for mono and 9 seconds for color.

Performance in terms of cost per print is identical to the faster models, based on the same set of ink bottles. These are good for up to 6,000 mono pages and 14,000 color pages, rising to 9,000 mono and 21,000 color in 'economy' print mode.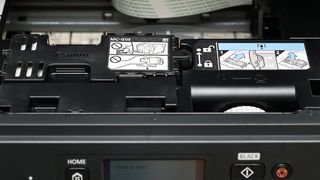 Mono and color text are crisp and well detailed, paying full attention to the fine print. The inks are all pigment-based and, as such, resistant to smudging from the soggy bottoms of coffee cups and from highlighter pens. The flipside is that photo print quality is relatively poor, especially on glossy photo paper, as the comparatively large molecules of pigment-based ink aren't fully absorbed beneath the protective layer of the paper, unlike those of dye-based ink. That's no real criticism as you can't have it both ways, and the printer is very much primarily intended for document printing.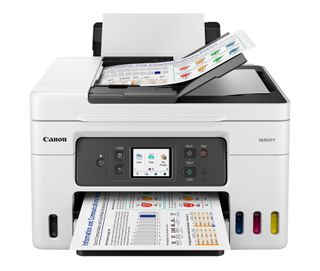 Verdict
Ideally suited to the busy home office, family or club with lots of printing on the agenda, this printer slots into Canon's MegaTank range, favoring ink reservoirs with relatively cheap replenishment bottles over pricey ink cartridges to keep running costs to a minimum. It's pretty chunky but comes complete with USB, Wi-Fi, Ethernet and direct fax connectivity, along with auto duplex printing and an ADF scanner, all tied together by a handy touchscreen. It's not massively fast but great for mono and color document printing, scanning, copying and faxing.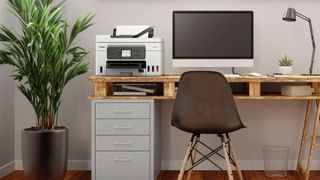 Read more: Find your next printer in our guides to the best all-in-one printer for home working, or the best photo printer. If you are interested in restocking your ink you can follow our guide for the best printer inks explained.