The best dry cabinet is a great investment for any photographer to make. Yes, we're all feeling the pinch right now, with rising prices and interest rates squeezing our living standards. But sometimes, you've got to spend a little to save a lot. Because a good dry cabinet will protect your cameras, lenses and other equipment from the damaging effects of humidity, moisture, and other environmental factors. And so not doing so could potentially cost you thousands in repairs or replacements.
So how do they work? Quite simply a dry cabinet, or dry box, uses a dehumidifying system to maintain a controlled level of humidity inside the cabinet. This is important because high levels of humidity can cause mold, rust, and corrosion to form on parts of your gear, which can lead to malfunction and breakdown.
In addition, moisture can cause fungus to grow inside the optical elements of cameras and lenses, which can damage its functionality – and substantially reduce their value. These climatically-controlled cupboards are also good for protecting your kit from other environmental factors such as dust and dirt.
Dry cabinets are most commonly used in areas with high humidity, such as tropical regions. But in truth, anywhere you are in the world, they can protect your valuable and delicate equipment from harm. And considering how unpredictable global weather is becoming as a result of climate change, there are few places that are guaranteed safe from humidity.
This electronically-controlled method of storage allows you to regulate the relative humidity level and the temperature inside. The optimum humidity level is usually considered to be around 40-50% (and too low, as well as too high, can be harmful, so ensure it is above 30%).
To help you find the right model, we list the best dry cabinets for cameras on the market today.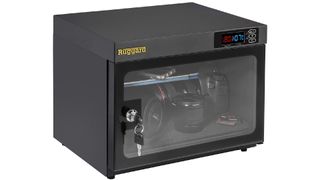 Our first entry is the smallest on the list, with a capacity of just 18 litres. But for many people with just a camera and a standard lens to protect, that will be plenty. And it means you won't have to spend too much money, or take up too much space in your home or studio.
This dry cabinet protects your gear from fungus and corrosion by regulating the interior's relative humidity from 35-60%. It has a lockable, rubber-sealed glass door, with two keys, and a front plastic handle.
A large, dimmable LCD displays the ambient temperature (in a choice of Fahrenheit or Celsius), relative humidity, and other stats, while interior LED lights make it easy to find and grab your kit when you need it. Both the base and shelf are padded to help guard against scratches. It runs near-silent, and is dripless, so there's no need for a water tray.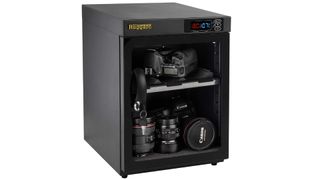 If you have more than just one camera and lens – let's say one DSLR and two or three telephoto lenses – you'll want something a little bigger than the first entry on our list. Another dry cabinet from Ruggard, this has a larger capacity of 30 litres, and there's a padded shelf to help you organise things. Otherwise, you're getting the same controlled humidity range of 35%-60%, LCD displays, interior lights and near-silent running as the 18L version.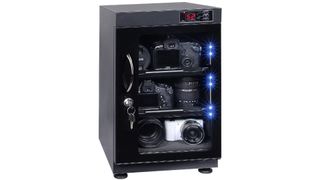 If you have three or more cameras and lenses, you may find that (as the above photo suggests), the T.A.P 38L Dry Cabinet is large enough to store all of them. While you do so, the condensation drying system will keep it safe from humidity and degradation, and you can set a humidity range between 25% and 70%. The toughened glass door can be locked with a key. As you'd expect, there's an interior light and LED display. And it all comes in a quite a reasonable price.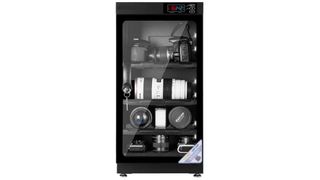 Taking a step up in size, this 50-litre capacity dry cabinet features four adjustable shelves for easy storage and retrieval. You can control the relative humidity level inside between 25% and 60%, in five per cent increments. If you don't have enough photography kit to completely fill it, the makers suggest you might also use it to store electrical components, precious metals, jewelry, stamps, old books, leather, antiques, and other valuables.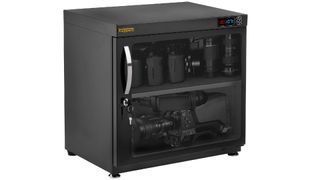 If you have a larger-than-average camera or video camera, you may need something like this 80-litre dry cabinet to keep it safe. Its dimensions are plenty spacious, and the bottom of the cabinet has four rubber feet; two of which are leveling feet for installing on uneven surfaces.
As with its smaller Ruggard cousins, this cabinet has a lockable, rubber-sealed glass door, with two keys, and a front metal handle. There's a large, dimmable LCD display, interior LED lights make viewing and finding gear easier, and both the base and the adjustable steel shelf are padded to guard against scratches. Humidity control ranges from 35% to 60%.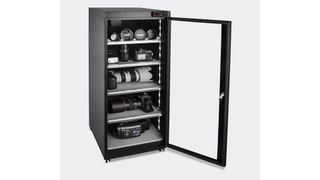 With a 100-litre capacity, this dry cabinet has five adjustable and removable shelves, making it a great choice for storing a large variety of equipment. As one example, its makers say it can hold a Canon 1D Mk IV, a Canon 7D 24-60mm lens, a Canon 5D Mk III 70-200mm lens, a Canon 60D 18-135mm lens, and a Canon 40D 70-200mm lens.
It has height-adjustable feet, and a touch-sensitive LED display. It's well-built, constructed from cold-roll steel sheets and a tempered glass door. You can control the relative humidity level in the range of 25% to 60%. And even if you have a continuous power outage for 24 hours, it still can continue to absorb moisture using the chemical moisture absorption replenishment function.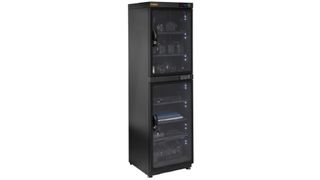 Need even more space? This 180-litre dry cabinet by Ruggard is staggeringly big, which means it'll take up lots of room in your home or studio, but you'll have loads of capacity to store all your stuff on its five adjustable shelves. Boasting dual humidity zones, the cabinet's fast-acting TE Cooling Wafer regulates the interior's relative humidity from 60 to 35%.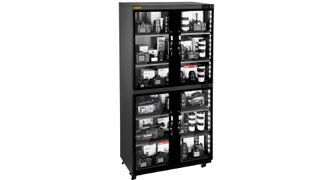 This cabinet's 600 litres would be overkill for even the most kit-laden individual photographer, but it's well worth considering if you're running a studio or are a camera collector.
Solidly constructed from steel and toughened glass, this is going to take up a lot of space, and you'll need two or three people to move it upstairs; although it's on casters so moving it within a room is not so tricky. In return, you get enough space to house a considerable collection of cameras, lenses, and other kit, at a humidity level between 35 and 60%, controlled by a touchscreen display.