Trouble streaming the above video? View/download it here
It's tempting to stay at home in the warm when it's a rainy day, but if you're willing to regularly brave the elements you'll be rewarded with some truly breathtaking landscapes thanks to moody skies, concentrated rays of sunlight and even rainbows. And if you're shooting somewhere such as the Lake District, ever-changing weather patterns mean that – even on a good day – you can quickly find yourself caught in a storm.
It's therefore essential for outdoors photographers to understand the limits of their equipment and how best to protect it. Unless you happen to own a Nikonos camera – developed exclusively for underwater use – your Nikon camera is definitely not waterproof. If you want to protect your equipment further, we'd recommend investing in one of the best rain covers or improvising your own. We never leave home without one!
It's easy to assume that cameras and lenses that are weather sealed, weather resistant or dust and drip resistant (not all are) are impervious to the elements, but we can assure you, they're not. It's actually incredibly difficult to make a device waterproof and cameras and lenses are full of potential weak points, such as focus rings, buttons and mounts.
As such, weather-resistant cameras and lenses are designed to provide protection from a little sea spray or as you pack your kit away during the beginning of a downpour. If you want to stay out for longer, you need extra protection. Watch the video (above) to find out how to DIY a rain cover using a freezer bag.
This project doesn't include any project files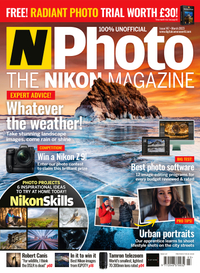 N-Photo: The Nikon Magazine is a monthly magazine that's written by Nikon enthusiasts for Nikon enthusiasts, you can be sure that all the content is 100% relevant to you! So for the best Nikon-focused news, reviews, projects and a whole lot more, subscribe to N-Photo today – with our unmissable sub deal!