Every time camera technology moves forward, there are more automated options to help you get a great photo automatically. With so much auto, is there a need to move away from auto at all?
Looking through the AF settings for the Canon EOS R8 and Canon EOS R6 Mark II demonstrates that auto settings are the defaults for so many aspects of what the camera focuses on and how it tracks your chosen subjects. While these auto settings simplify taking a better photo, they also take creative control from you. When the subject to be photographed is challenging or comprises many possible subjects in the frame, it's time to control to make your own creative choices.
About Canon Pro: Brian Worley
Brian is a freelance photographer and photo tutor, based in Oxfordshire. He has unrivaled EOS knowledge, after working for Canon for over 15 years, and is on hand to answer all the photographic queries in Canon-centric magazine PhotoPlus.
Visit Brian's website
Switch from AI focus, if you know your subject is moving or static, use Servo for moving and or One Shot AF for static subjects. The EOS R8 and R6 Mark II cameras also have auto subject detection and this means the camera decides what kind of subject to track; people, animals, vehicles or something else. The one thing that photographers bring to a photo is their vision of what is to be pictured.
A day at the zoo is likely to mean animals not the visitors in front of them, so you would be best advised to choose the appropriate subject. For challenging photography such as birds in flight, select animals as the subject will make the focus react faster as it know what to look for, rather than identifying everything in the frame and choosing a subject to track.
How the camera reacts to different kinds of subject motion with Servo AF is down to the AF case. Again there's an auto case which intelligently switches between the four defined cases depending on how the subject moves. It works well, but more predictable tracking happens when the photographer takes control, uses their knowledge of how the subject moves and chooses the appropriate case directly. For birds in flight, AF Case 3 is still a great choice.
All this automation is great if it gets better results in situations where you haven't predetermined what to capture. When you have gone out to photograph a specific subject, it's best to set your Canon camera up to get the shot.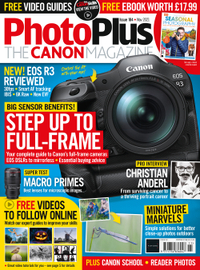 PhotoPlus: The Canon Magazine is the world's only monthly newsstand title that's 100% devoted to Canon, so you can be sure the magazine is completely relevant to your system. Every issue comes with downloadable video tutorials too.
If this article was of interest, you might also like to find out more about the best Canon RF lenses, or see our list of the highest-resolution cameras available