They say don't work with children, or animals. I can't comment on the latter, but I'm here to argue a case for the kids! As photographers, it's our job to capture raw emotion and connection – and there's no one on Earth more uninhibited than a five-year-old who has been given free reign to play.
I love shooting with families; I started photography as a "mum tog" wanting to capture the little details and intricacies of my baby's new life. I haven't put the camera down since and, while my work has strayed in other directions, it is the families that really have my heart.
There are few connections more intimate, or more interesting, than those within a family unit. Creatively capturing the quirks and characteristics of these special bonds is, I believe, one of the greatest gifts you can give to the people in front of the lens.
5 tips for children and family photoshoots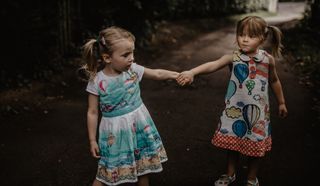 01 Let children be children
Children are best captured in their own environment; let them play naturally and the images will be easy to capture.
02 Get down with them
Try shooting on your knees or crouched down. A little like wildlife photography, it's best to be on their level – and this will also open up the background.
03 Don't stop shooting
You may have set up a formal shot, but sometimes just after taking 'the shot' there will be natural moments of laughter and engagement. Snap those, too.
04 Experiment with lenses
Shooting with a long lens allows for more candid shots, but medium-length primes can capture some intimate portraits.
05 Don't overthink
You'll likely have a plan of what shots you want to create, but try not stick too rigidly to a plan if it means missing other perfect moments.
A simple guide to shooting with families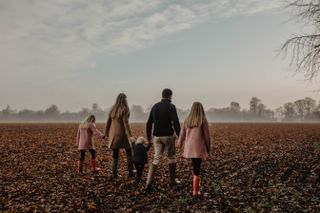 01 Get the kids involved
The kids are the undoubted stars of this show, and their comfort in front of the camera is key to a beautiful shoot. Help a shy child feel better by making the process collaborative; show them your camera, let them see pictures of themselves. This will help them to trust you, and not feel so afraid of the strange clicking machine you're aiming at their face.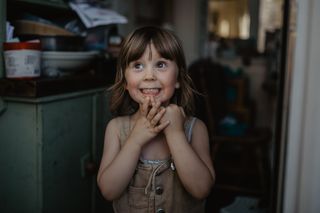 02 Embrace your inner child
Fun and movement create magic on family shoots. Get the kids running and playing alongside you, and take the shots when they're totally engrossed in whatever game you're playing. Slightly older kids love to hunt for The Grufallo, and bubbles don't go amiss at any age. Come prepared to be a bit silly, and you won't go far wrong.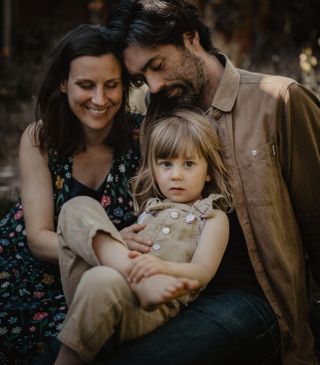 03 Save the best for last
The posed group family shot – most people want at least one, so it's a good idea to get it done and dusted first. While they're there, ask them about something funny that's happened this week to capture the more natural version of this crowd favorite. Instigate some walking-and-talking shots, before letting the real fun – the unposed, unscripted chaos – commence.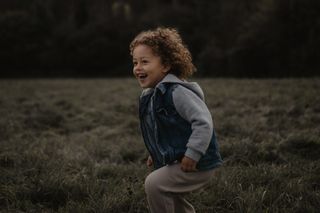 04 Make use of aperture priority
It's sometimes frowned up to shoot in a semiautomatic mode, but photographing children can be very unpredictable at times – so why not use some of the camera's options to your own benefit. Aperture priority enables you to manually control the aperture while the camera largely determines the rest, leaving you free to play and create. Set the ISO to auto (fine for most outdoor photography), then you can determine minimum shutter speed – I recommend 1/500 sec for those high-speed kids you're shooting.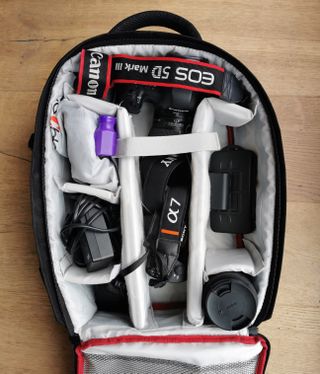 05 My shooting skit
I shoot mainly with my Canon EOS 5D Mark III with the Sigma 35mm f/1.4 DG Art lens, which is a fantastic set-up for most family shoots (I love the easy back-button focus on this camera, enabling me to lock in continuous autofocus on my fast-moving subjects).
I have also just recently started using a Sony A7 III, a more lightweight mirrorless camera with amazing touchscreen focus and excellent low-light abilities (for in-the-forest type shoots). I use my Canon EF 85mm f/1.8 lens for the close-up detailed shots, with a Sigma MC-11 adaptor for the Sony. Throw in some bubbles for the kids, and I'm good to go!
You can check out more of my work and tips via my Instagram.
Read more:
Photography tips
Portrait photography how to: essential tips for great portraits
Sony A7 III review