Moving light sources have always been a popular subject for after-dark photography. We recently spotted this incredible illuminated figure from light painter Jason D Page and wanted to find out how it was created (a long exposure of 215 seconds and some clever torch movements).
The key to successful light painting is understanding how different-coloured lights interact with each other in a dark frame, and balancing your exposure for both the light art and the environment.
Planning is also required to get the composition correct, and to avoid burning out detail in highlight areas, while blocking shadows in another.
For this project you'll need to pick a location without too many lights in the area, especially in the background. The darker the better!
You can create Illuminated Beings in your garden, but ambient light will make things difficult. Jason created this image on a lookout tower at his local park far from city lights. Let's find out how he created the effect...
Jason's tips for creating a light painted figure
"For this particular technique you will need a camera that enables you to leave the shutter open for about two or three minutes.
You'll also need an omnidirectional light source. I created this image using tools from Light Painting Brushes – the Orange Opaque Light Writer and the Yellow Color Hood.
Settings vary depending on ambient light, but ISO 100, f/7.1 and Bulb mode are good to start. Manual focus is critical. I like to shoot with Fluorescent white balance for a blue/purple sky hue. I needed about two minutes to trace my entire body with light."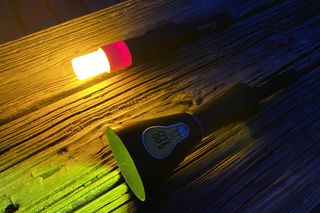 "This type of light painting is a matter of tracing your body in a back and forth motion. Avoid overlapping the light or switching hands, and wear dark clothing.
After tracing your body, illuminate the scene. Think about what you would see if actually witnessing this moment."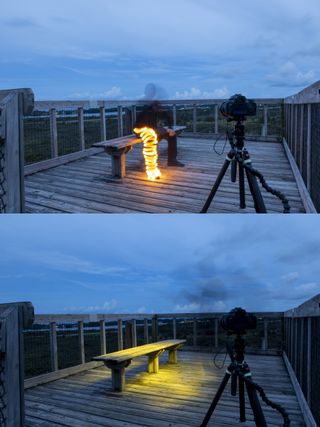 "The Light Painting Brushes Color Hoods work well because the hood blocks any unwanted light streaks from being recorded.
Once you are happy with the amount of light you have added into the scene, stop the exposure."
Read more
Best head torch
A-Z of night photography