It's one of the biggest frustrations a photographer can experience when shooting in a city. You've found a fantastic view of a great subject, you get your camera set up, you frame your composition and then a party of tourists stroll into your frame.
Equally aggravating is passing traffic - we often forget that the city we're shooting is a living, working urban environment, home to thousands of people going about their daily business. These elements all work together to make capturing an unobstructed shot a challenge, especially when making images close to famous landmarks.
• Read more: Best ultra wide-angle lenses
In these circumstances you might try to repair the image using the Clone Stamp Tool or similar feature in Photoshop, but this will almost undoubtedly be a lengthy process and the results will be variable. You will likely spend hours removing each obstacle and then patching the gaps created using background textures which, if done incorrectly, will look obvious and unsightly.
Luckily there are two methods of saving bags of time. Firstly we can use a long exposure to reduce moving objects to an indistinct blur or, where a tripod is not feasible, we can blend images for a tourist free final composition. Let's take a closer look at these quick and easy methods for distraction free cityscapes and travel images.
Find your composition
Since we will be shooting multiple frames it is important to find the ideal composition first. Explore the scene before choosing your spot to find the best angle. Find a view through which people are constantly moving.
Keep it still
The following process requires long exposures so use a tripod to keep the camera in one position. This will also help later image blending to be conducted more smoothly and with reliable results.
Attach ND filter
To lengthen the exposure add a neutral density filter to your lens. A 10 stop ND is a great tool for this but a variable ND or 3 or 4 stop strength is still beneficial, when combined with the next step.
Use aperture priority
Although we're controlling shutter speed we will still need to watch our depth-of-field so use A mode to stop down the aperture to lengthen the exposure. Aim for a shutter speed of 5 seconds or more.
Take multiple frames
With your camera locked in place, switch to manual to prevent settings from changing and shoot a series of identically framed images over several seconds. This will capture moving elements in multiple positions.
Blend the images
In Photoshop open all of your images as a Layer Stack, compress them all into a Smart Object. Then go Layer > Smart Objects > Stack Mode > Median. This will remove any moving objects between frames.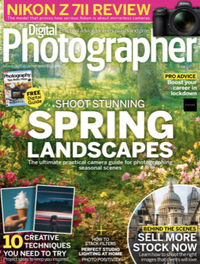 Get the kitbag essential for Enthusiasts and Professional photographers. Packed full of pro advice, tutorials, techniques, interviews and kit reviews, Digital Photographer Magazine will help you take your images to new heights.
Read more:
The 10 best camera drones in 2021
Best cameras for landscapes
Best lenses for landscapes