Trouble streaming the above video? View/download it here
If you know how to merge two photos together, you can create all kinds of amazing images. It's a useful skill to learn, whether you want to make imaginative, surreal composites or for more everyday image editing, like combining multiple exposures. The standard approach for making a composite would be to use selections to isolate the subject, then a layer mask to remove the background. But this can be time-consuming. Sometimes there's a quicker way.
The Blend Options dialog in Affinity Photo lets us blend layers based on luminosity. In a way it's a bit like a layer blend mode, but with far greater control. It's ideal when you want to combine images like ours here, where one has a very bright background. Rather than painstakingly cutting out the person from the white backdrop, all we have to do is open the Blend Options dialog box and knock out the highlight range, and that bright background can be removed in a couple of seconds.
There's a slight catch, however. If there are bright highlights in the person – like there are in the shoes of our subject here – then these can also get knocked out. But the fix is simple: we duplicate the layer and remove the blend effect, then paint a simple mask to add back in any missing details.
From this point, it's about making our images look as if they fit naturally together. To do so, we can paint shadows where they would naturally fall, and add a subtle reflection to the glass.
Download the project file(s) to your Downloads folder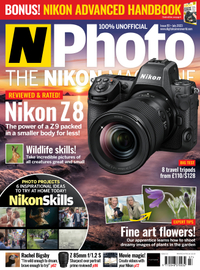 N-Photo: The Nikon Magazine is a monthly magazine that's written by Nikon enthusiasts for Nikon enthusiasts, you can be sure that all the content is 100% relevant to you! So for the best Nikon-focused news, reviews, projects and a whole lot more, subscribe to N-Photo today – with our unmissable sub deal!