Xiaomi has well and truly arrived, and while it might not have made as big a song or dance about it as Oppo, who sponsored both the Cricket World Cup and Wimbledon 2019, its smartphones have been doing the talking, with the Mi 9 breaking into our best camera phone list for the first half of 2019.
Now, it's introduced a mini-me budget camera phone version of its flagship, the unimaginatively named Xiaomi Mi 9 SE. It's a smaller phone that's easy to hold, packs a virtually identical camera array to that of its bigger brother and a stellar display, as well as the current jewel in any flagship's crown: the under-display fingerprint scanner.
However, at $399/ £325, is this killer spec sheet too good to be true?
• The best Xiaomi phone guide
Xiaomi Mi 9 SE: Price, specs and features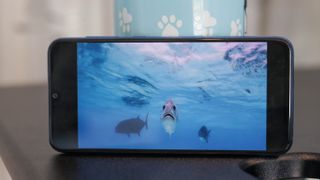 You can buy the Mi 9 SE in two capacities and two colors. The base model with 64GB storage costs £319 on Xiaomi's official site, while the 128GB version costs £369. Both variants have 6GB RAM and are available in black or blue right now. The Mi 9 SE also ships with a case in the box, as well as a fast charger.
The phone's screen clocks in at around 6-inches, and while that might not sound small, thanks to its almost all-screen display, the Mi 9 SE fits very comfortably in hand. It's only 7.5mm thin, sports a metal frame combined with glass on the front and the back and is very shiny. Unsurprisingly, the glass back clings onto fingerprints, so if you're not a fan of smudges, we'd suggest using the included case.
The display is a Full HD Samsung AMOLED panel with a water droplet notch and a screen-to-body ratio of 84%. Its blacks are inky, colors punchy and while saturation and contrast are set a bit high by default, you can jump into the settings and mellow them out. Viewing angles are also very good for an AMOLED screen, and with 600nit brightness, outdoor viewing isn't a problem, even in sunny conditions.
Powered along by a Qualcomm Snapdragon 712 processor and paired with 6GB RAM, it's also well specced from a power point of view, delivering upper midrange credentials. With its 3070 mAh battery, it might not be able to stack up to the likes of the Huawei P30 Pro or OnePlus 7 Pro with their 4000+ mAh cells, but given its sub-6-inch screen size, the Mi 9 SE battery capacity seems about right.
Arguably though, the highlight of this phone isn't its streamlined design or its punchy display, it's the capable, versatile triple camera system around the back.
Xiaomi Mi 9 SE camera specs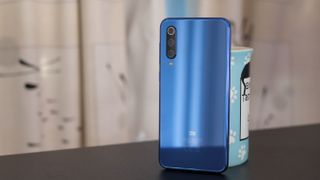 Camera specs: The Mi 9 SE sports a triple camera setup, consisting of a primary 48MP camera (f/1.9, 1/2", 0.8µm, PDAF), a 2x zoom 8MP telephoto camera (f/2.4, 1.12µm, PDAF) and an ultrawide 13MP camera (f/2.4, 1.12µm). None of these feature optical image stabilization (OIS), and the ultrawide camera is fixed-focus. As for the selfie camera, it's a 20 MP (f/2.0, 0.9µm) module.
Shooting modes: There are an abundance of shooting modes, including AI-enabled smart scene detection, a 48MP mode as well as Portrait, Night, Video, Slow motion, Panorama, and Pro options too. The Mi 9 SE's camera also features auto-HDR, and despite its 48MP sensor, captures images at a default resolution of 12MP.
Xiaomi Mi 9 SE camera performance
As for the camera results, there are wins and woes. The main areas the Mi 9 SE falls down could be attributed to aggressive metering and a lack of OIS. Even in good light, when photographing darker objects like black cats, touch the screen on a dark spot, and the exposure is catapulted up. The phone's touch-to-expose metering, therefore, produces overexposed results with a lot of noise in the blacks. Don't touch the screen, and the cat could end up being a blob of black with two sprite-like eyes floating within. It's situations like this in which AI mode comes in handy, along with the Auto HDR feature. As soon as the phone realizes it's a cat, it manages to balance brights and darks well.
Saturation is also a bit high, as too is contrast by default. Within the settings, there are options to dial back both of these, as well as sharpening so that you can tune things to your tastes. Most of the shots in this review have contrast dialled back slightly.
So while the out of the box experience may not always be excellent, a couple of tweaks and an understanding of the camera's nuances go a long way to ensure the Mi 9 SE punches well above its weight.
In good lighting, performance from all the cameras is very good for the price. Unlike some other phones like the LG V50 ThinQ 5G, white balance across all three cameras tends to be consistent, and the versatility of three focal lengths can't be overstated.
The core image quality of photos taken on the Mi 9 SE isn't better than its main competition, the Google Pixel 3A, which made it into our best camera phones list. That said, with just one camera, the 3A is more limited when you want to get more in the frame. Additionally, the Mi 9 SE engages the telephoto camera for portrait mode shots, and in good light, delivers more detail than the Pixel 3A.
Other points to note, include an option to correct for distortion when shooting ultrawide pictures. This won't work for landscapes, but if it detects a face near the edge of a frame, it claims to reduce some of the barrelling. We didn't find this to work for us, so only shot portraits with the primary camera or in portrait mode.
Additionally, the lack of OIS severely impacts the phone's ability to cope with low light scenes, whether in automatic or the dedicated night mode. This is another area the Mi 9 SE can't hold a candle to the Pixel 3A, though is about average for its pricepoint nonetheless.
The Mi 9 SE captures video at up to 4K resolution, but we'd recommend sticking with Full HD unless you have a tripod or a gimbal. The lack of OIS is compensated for by EIS - electronic image stabilisation in Full HD, and the results impress. Handheld 4K footage, however, looks very shaky, and we'd only recommend shooting at max resolution in well-lit conditions.
Meanwhile, the 20MP selfie camera is more than adequate. There's no dedicated selfie flash, but the screen beams at its full 600nits when the need arises to shine a light and flatten faces sufficiently. There are also selfie portrait options too, and a range of beauty filters when you need a bit of extra help.
Xiaomi Mi 9 SE: sample images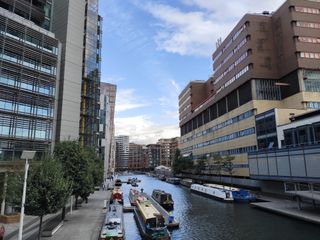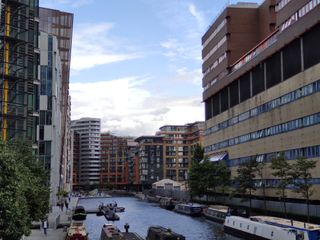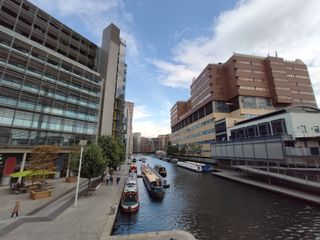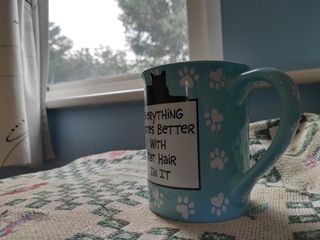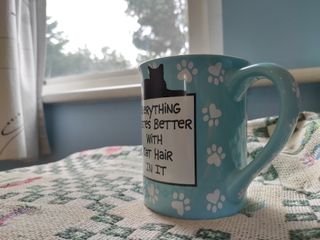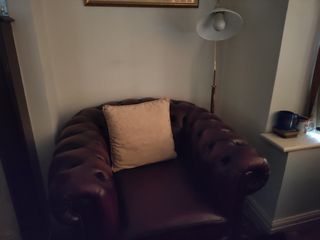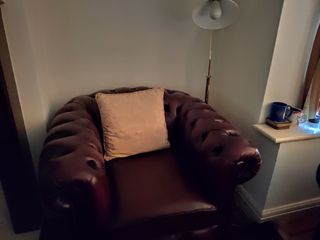 Xiaomi Mi 9 SE: OS, Battery, and Connections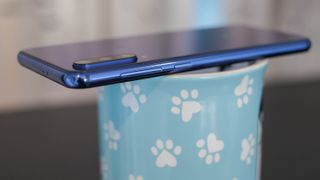 Running with Android 9 under the hood, and Xiaomi's MIUI 10 over the top, the Mi 9 SE is up to date from a software point of view, and this means that it offers excellent app support and recent security updates too.
MIUI 10 is a far cry from stock Android, and out of the box, it is overbearing. Every time you come to install a new app, for example, MIUI scans it for viruses, presenting you with third party ads in the process. This can be switched off if you dive deep within the settings, but is irritating nonetheless.
Additionally, the home screen layout doesn't feature an applications tray, instead opting for an iOS-style setup, with all the phone's apps displayed across home screens. You can install a third-party custom launcher, but once again, this isn't an ideal solution, especially for smartphone novices.
In turn, if you're happy to tinker with the Mi 9 SE's interface, then you can make it great with a few tweaks. If, however, you want an out of the box solution that is flawless, you might want to look to the Pixel 3A or the Motorola One Vision.
As for the phone's 3070mAh battery, despite its small size, it's still able to make it through a full day without breaking a sweat, and that includes a couple of episodes of your favourite show and some hotspotting too. The phone also charges quickly, shipping with an 18W fast charger, though unlike its bigger brother, there's no wireless charging on board.
While there's no microSD card slot, storage on the Mi 9 SE is ample at either 64GB or 128GB, and thanks to an upper midrange Snapdragon 712 processor and 6GB RAM, it's smooth too, with the only real waiting occasionally happening in the camera when switching modes. The mono speaker is easy to cover up, which isn't ideal for gaming, and the lack of headphone jack means you'll need Bluetooth headphones if you don't want to use a 3.5mm to USB-C converter.
Finally, the under-display fingerprint scanner is nice to have and works in tandem with face unlock to get you into the Mi 9 SE relatively quickly, though it can't stack up to flagships from like the OnePlus 7 and the Oppo Reno 10X Zoom from a speed point of view.
Xiaomi Mi 9 SE verdict
Ultimately, while the Mi 9 SE's camera can't trounce that of the pricier Google Pixel 3A in terms of pure image quality, it delivers greater versatility thanks to its multi-camera setup and still outperforms its sub $400/£400 competition. There are plenty of shooting modes to keep enthusiasts happy, and with some smart features like AI scene detection and auto-HDR, even in automatic mode, it delivers respectable results.
It also looks better than the Pixel 3A and has enough power under the hood and battery in the tank to impress on almost all fronts - if you can brave a few UI customizations, a mono-speaker, and no headphone jack.
The Xiaomi Mi 9 SE, therefore, is an incredibly easy phone to recommend for anyone who doesn't want to spend flagship money but still wants a premium feel and high-end features.
Read more:
• The best budget camera phone in 2019
• The best camera phones you can buy today
• Which is the best iPhone for photography?
• 10 iPhone XS and iPhone XS Max camera tips and tricks