As its name suggests, the Tokina SZ 300mmPRO Reflex F7.1 MF CF is a reflex lens, aka mirror lens, although we're not convinced about the 'PRO' monicker. Unlike regular camera lenses, reflex lenses adopt a catadioptric optical design, which basically means it does tricks with mirrors. Light enters the lens through a circular band at the front, is reflected back from a mirror at the rear to a second mirror positioned front center, which reflects it rearwards again to the image sensor. The light path is therefore effectively bounced back and forth twice as it passes through the lens, enabling a much shorter physical construction. Indeed, despite having an 'effective' focal length of 450mm on Fujifilm X and Sony E APS-C format cameras (480mm for Canon M), the lens is smaller than a regular can of drink and only about two thirds of the weight.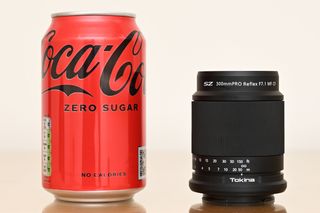 Specifications
Mount: Canon EF-M, Fujifilm X, Sony E
Full-frame: No
Autofocus: No
Stabilization: No
Lens construction: 8 elements in 8 groups
Angle of view: 5.4 degrees (5.1 degrees Canon)
Diaphragm blades: None
Minimum aperture: f/7.1
Minimum focusing distance: 0.92m
Maximum magnification ratio: 0.4x
Filter size: 46mm
Dimensions: 61x74.5mm
Weight: 235g
Key features
The big (or perhaps small) idea about reflex lenses is that they save size, weight and money. The Tokina SZ 300mmPRO certainly ticks all of those boxes. It's outrageously small compared with regular primes and zooms that give a similar telephoto reach. Measuring just 61x74.5mm and weighing a mere 235g, it's easy to pop the lens into a spare pocket or the corner of a bag if you're walking around town, trekking into the hills or jetting off to the ends of the earth.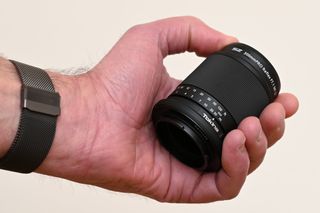 Aside from its mirror assembly, which puts an ironic twist on shooting with 'mirrorless' cameras, there's not much packed into the Tokina's diminutive build. It's a fully manual lens, so there's no CPU (Central Processing Unit) nor any electronic connection for communicating with the host camera. Typical of reflex lenses, there's no autofocus, no aperture diaphragm and no optical stabilization. You therefore need to focus manually, the aperture is fixed at f/7.1 and camera-shake is an ever-present danger.
Build and handling
Although lightweight, the lens has a metal barrel and mounting plate. It feels solid and sturdy, typical of Tokina lenses, although there aren't any weather-seals. The compactness is a bonus for handling, and the lens is certainly much smaller than its sibling 600mm and 900mm mirror lenses in Tokina's PRO Reflex range.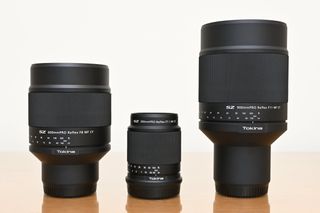 Handling is a mixed bag. Think telephoto shooting and you're probably thinking of action, sports and wildlife photography, which demand quick and accurate focusing. The Tokina's manual focus ring operates smoothly but it's still fiddly to focus accurately and is absolutely no substitute for a speedy autofocus system. Camera-shake is also problematic. In the absence of optical stabilization, you're looking at shutter speeds of 1/500th of a second or faster to beat the shakes in handheld shooting. With a modest aperture of f/7.1, you'll often need to bump up your camera's ISO setting to achieve this, even under bright lighting conditions. Even so, the Tokina is only a third of a stop slower than many recent telephoto zooms for DSLRs as well as mirrorless cameras, which have an aperture rating of f/6.3 at the long end.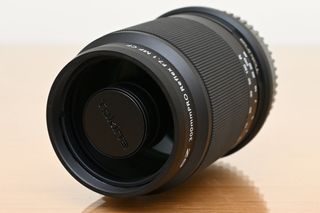 Tokina claims that the IBIS (In Body Image Stabilization) of mirrorless cameras can help out, but it's of limited effectiveness with telephoto lenses. That's why so many 'superzoom' and telephoto lenses feature optical stabilization, even if they're designed exclusively for cameras that have IBIS. It's a bit of a moot point anyway, as the Tokina targeted at APS-C format Canon M, Fujifilm X Sony E system cameras. Most crop-sensor Fujifilm and Sony cameras don't actually have IBIS, and it's not featured in any Canon M system cameras.
Performance
Manual focusing can be a real challenge. The focus ring has a long rotational travel, enabling focusing right down to 0.92m which gives a generous maximum magnification ratio of 0.4x. However, at more typical focus distances for telephoto shooting, very tiny adjustments of the focus ring are needed for accurate focusing, which can be fiddly and time-consuming. The focus-peaking display option of most mirrorless cameras can be of some help but a magnified preview is a safer option.

Outright sharpness is frankly disappointing, even with the pinpoint focusing. There's also a general lack of contrast, color saturation, and vibrancy in images, giving them a rather dull and flat look. Nearly all of our test shots were taken under bright, direct sunlight, but most looked like they were taken under a gray sky, with the life sucked out of them. Naturally, you can bump up the contrast and saturation when editing images, at least to some extent, but results straight off the camera tend to look very bland.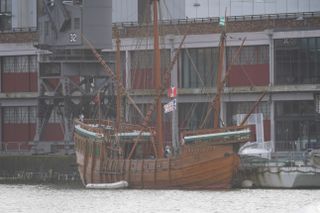 On the plus side, color fringing and distortion are minimal and the image circle is generously large for an APS-C format lens, so there's very little vignetting. Another bonus, if you're a fan, is that you get the trademark 'donut bokeh' of a reflex lens, where pinpricks of light and other bright spots take on halo-like appearance.

Overall, we were disappointed with the handling and image quality of this Tokina, even for a reflex lens and rather prefer the full-frame compatible Tokina SZX Super Tele 400mm F8 Reflex MF, which is still pretty compact and lightweight at 74x77mm and 355g.
Sample images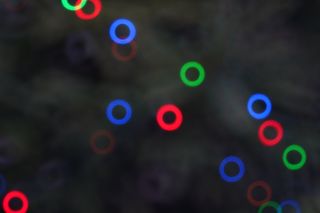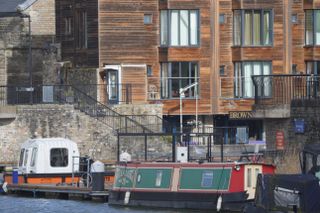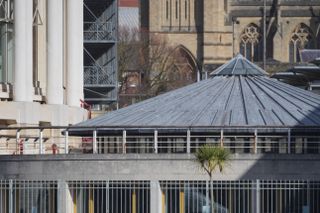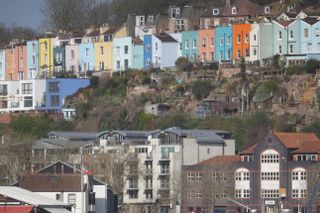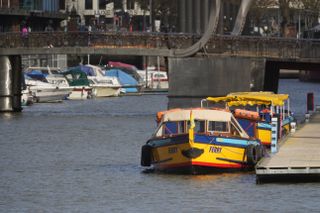 Lab results
We run a range of lab tests under controlled conditions, using the Imatest Master testing suite. Photos of test charts are taken across the range of apertures and zooms (where available), then analyzed for sharpness, distortion and chromatic aberrations.

We use Imatest SFR (spatial frequency response) charts and analysis software to plot lens resolution at the center of the image frame, corners and mid-point distances, across the range of aperture settings and, with zoom lenses, at four different focal lengths. The tests also measure distortion and color fringing (chromatic aberration).

Sharpness: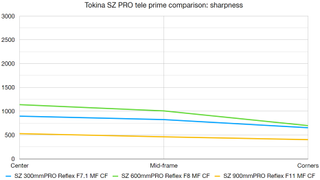 We've included all three SZ PRO tele prime lenses on a single graph so you can easily compare the trio.
Reflex lenses certainly aren't renowned for their sharpness and the Tokina 300mm is no exception. What you gain in the compact, lightweight build, you lose in sharp image quality. Even in the central region of the image frame, sharpness is worse than you'd expect at the extreme edges from most recent conventional lenses.
Fringing: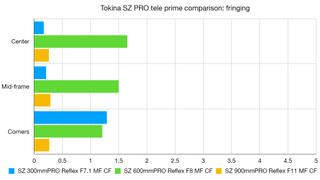 Color fringing is minimal, even out towards the extreme edges and corners of the image frame, so that's a plus point.
Distortion: -0.87
Our lab tests revealed a very small amount of barrel distortion but it's hard to spot in real-world shooting.
Verdict
When compactness is key and you want to travel light, telephoto lenses are normally off the menu. This tiny Tokina lens redresses the balance, so to speak. Designed for APS-C format Canon M, Fujifilm X and Sony E mirrorless cameras, it gives powerful telephoto reach in a tiny package that weighs in at just 235g. That's thanks to its reflex/mirror design. However, it's a fully manual lens with no electronics, no autofocus, no optical image stabilization and a fixed aperture. Manual focusing is fiddly and image quality is disappointingly dull.
Read more:
• Best camera lenses to get
• Best Canon lenses
• Best Nikon lenses
• Best Sony lenses