For the last 10 years I've been carrying my Canon DSLR around in a Lowepro bag when I go on a shoot. Inside it I can fit the camera body, a couple of lenses and a Speedlite flash (plus numerous batteries and memory cards). I mostly use my Canon to shoot 'talking heads' interviews due to the excellent bokeh produced by my Canon EF 24-70 mm f/2.8 L lens.
However, thanks to the advances in mobile phone photography I'm also likely to use an iPhone 13 Pro Max to shoot RAW/HDR stills and video. This requires lugging around a host of extra smartphone-centric gadgets such as a Crane M2S gimbal, a smartphone motion control device such as the JOBY Spin and a wireless Boya By-XM6-S2 microphone kit. I might also want to bring a laptop so that I can edit my clips and stills on the go.
Oh – I forgot to mention a couple of JOBY Beamo lights and their accompanying tripods!
All this extra kit means that I've outgrown my old Lowepro kit bag. Luckily the larger and more spacious Tenba DNA 16 DSLR backpack provides an effective solution to safely transporting my ever-growing collection of kit. It is a perfect hybrid between my old DSLR kit bag and a laptop backpack, with the added bonus of a generous storage area for miscellaneous equipment.
Specifications
External dimensions: 10 x 10.5 x 8 inches (46 x 27 x 20 cm)
Internal dimensions (Camera Insert): 8.5 x 9.5 x 4.6 inches. (22 x 24 x 12 cm)
Weight: 3lbs (1.4 kg)
Color: Black or Blue
Key features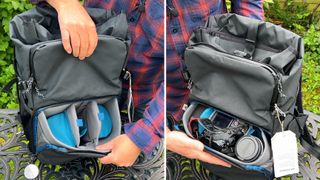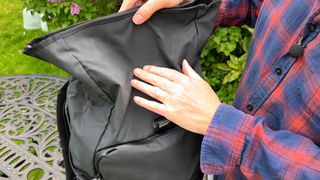 The Tenba DSLR 16 DSLR backpack has two main storage sections. At the base is a DSLR storage area. After unzipping this section the base hinges out to reveal a classic DSLR bag interior, with padded pockets for a camera body and up to four or five lenses depending on their size (including one mounted on the camera body.) We could fit a Canon EOS 650D with an attached 24-70mm f/2.8 L lens into the centre compartment of this section.
The camera and extra lenses are separated and protected by padding which you can remove or reposition thanks to velcro strips. You can even lift out the whole of the DSLR area's padded compartments if you want to use this section to store other things.
The lower DSLR storage area hinges back into the body of bag where it resumes the shape of a classic backpack. Indeed to the average eye no one will be aware that this is a dedicated DSLR carrying bag, which should help keep you kit safe while you're on your travels.
The top section of the Tenba is a general storage area for miscellaneous kit (such as a gimbal and the JOBY panning/tracking electric tripods in my case). There are no velcro separators here – just lots of space!
The top compartment does feature a couple of little pockets which are handy for storing smaller items such as JOBY Beamo LEDs. We popped the Beamos' mini JOBY GorrilaPods in the exterior side pockets of the Tenba for easy access.
The top section is accessed via a water-resistant rolltop. The velcro seals on this flexible rolltop enable you to extend the storage capacity of the top compartment if required. When you roll the top and seal it there's no danger of rain water invading the Tenba.
At the front of the upper top section of the Tenba is yet another storage compartment packed with pockets. We found this easy-to-access area was handy for storing the transmitters, receiver and lavalier clip mics of our wireless Boya By-XM6-S2 microphone kit (as they'd be easy to lose in the large open space of the Tenba's top compartment). Of course, the fun of a bag like this is in the organisation – working out where you want to store different bits of kit.
At the back of the Tenba is a zipped compartment that enables you to store a laptop up to 16 inches (such as the MacBook Pro 16). I found it a handy place to hide my iPad. It's a comfort to know that a valuable laptop is safely sandwiched between your back and the bulk of the backpack. You could also use this secure area to hide your passport and travel documents.
Build and handling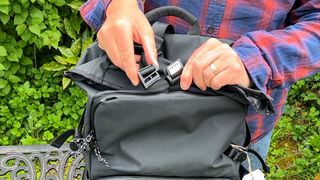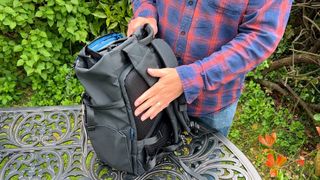 The Tenba's water repelling fabric is reassuring when it comes to carrying your valuable kit in the Great Outdoors. It also ships with a water-resistant weatherwrap cover that will enclose the whole backpack in extreme weather. This cover is reversible so you can use the silver side to reflect heat on hot days or the black side to help your covered bag look inconspicuous.
The outer compartments' zips have clever water resistant seals that also help keep your kit dry. The shoulder pads are re-assuringly padded and comfortable, and the upper and lower parts of your back are also cushioned by well-placed ventilated pads that reduce the chance of a sweaty back.
There's also a removable hip belt to help you carry the backpack more securely when it's heavy laden. As well as its solid build the Tenba comes with a manufacturer's 5 year guarantee for extra reassurance.
Performance
As a kit reviewer, I took the Tenba into London to transport and test a range of gadgets (including the Zhiyun Crane M2S gimbal). The Tenba's numerous pockets and compartments made it a breeze for me to access different devices as and when I needed them (such as the wireless Boya mic kit and an extra iPhone 13 Pro so a colleague could film me operating the gimbal).
When I unzipped the lower section of the Tenba and tilted it on a hinge to reveal the hidden DSLR storage area my photographer colleague was impressed and expressed his desire to buy one. He was also impressed with the magnetic clip that slides sideways with a snap to safely secure the contents of the rolltop section.
Initially I found this magnetic clip was a but 'nippy' on the fingers but I'm now familiar with its unusual and effective design (see this review's accompanying video).
Verdict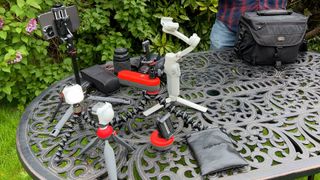 The Tenba DNA 16 DSLR Backpack does a great job of providing your kit with plenty of storage space, protecting it from extreme weather and making it comfortable to carry on a shoot. It's packed full of different compartments so that you can enjoy working out what you'll store and where.
The lower DSLR storage compartment lets you access your camera and lenses with ease. Because this section hinges back into the body of the backpack people won't know that you're carrying anything more valuable than your travel clothes, which should help protect your kit from unwanted attention.
You can carry it on your back, or via a handle at the top or even piggyback it on your airport suitcase's extendable handle via a strap dedicated to this purpose.
Read more:
• Best camera backpack
• Best camera bags
• Best messenger bags
• Best sling bags