Swann are a security brand with a reassuring heritage which hasn't stopped it competing with the arrival of smart home technology on their turf. Where they do seem to have drawn the line, however, is forcing subscription charges on their customers in exchange for some features, a principle sure to be welcomed by many.
The key feature is automatic recording and much of what new customers learn about indoor security cameras comes from Nest & Amazon descriptions of features which depend on paid subscriptions which kick in after a while. Instead what Swann call a "set-and-forget" system stores video to an on-camera card when motion or sound is detected and it can be played back via the app or on any other device.
The potential compromise is that customers aren't funding remotely supported artificial intelligence features, so the key question is "Is the Swann Tracker is smart enough?"
See also: Ring Indoor Cam review
Swann Tracker: specs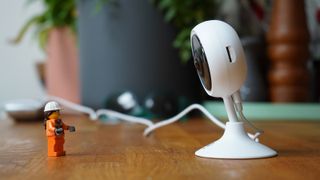 Frame rate: 12fps
Sensor: 5MP
Field of view: 180˚
Digital zoom: Yes
Night vision: Yes
Recording: Free 32GB MicroSD
Microphones: 1
Speakers: 1
Dimensions: 62 x 36 x 110mm / 2.44 x 1.42 x 4.33in
Weight: 108g / 0.24lb
Temperature range: 0-45˚C
Wi-Fi: 2.4 GHz
Swann Tracker: key features
This is an indoor security camera with low light mode which, placed carefully, can see pretty much an entire room using its 180˚ full room view. It'll use its on-board tech to detect action, track subjects, and record clips, which you can view from your phone via an App or by removing the MicroSD card (included) which serves as the storage.
The device doesn't stop at recording events, either. There is both a built-in microphone and speaker for the popular 2-way conversation function which lets you talk to the room as you monitor the live action from your phone, or you can opt for a motion-sensitive siren. The camera also has integrations with Alexa and Google Assistant and the app even makes sharing clips straightforward.
Build & handling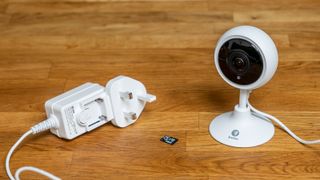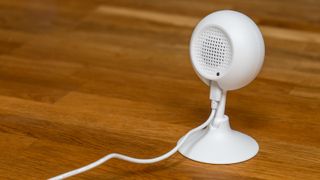 The Tracker isn't so much pleasing to the eye as plain; notably less attention-seeking than the Nest cameras, for example, as well as more discrete at just 62mm (under 2.5") diameter. The lens is surrounded by a glossy black plastic while the rest of the body is matt black plastic. The cable can draw the eye, of course, but if you're positioning in the corner of a room you should be able to find somewhere that takes advantage of the subtle appearance.
Remember, though if your concern is reviewing the video, you'll want to be able to get to the MicroSD card (and you won't want the subjects of your investigation taking it, or the camera). The included wall mounting bracket could help here (and the fact it is included is nice, though I'm less excited by the 'protected by' stickers).
Performance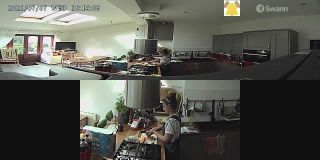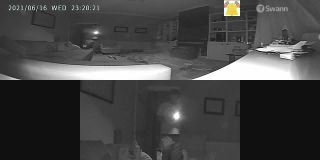 The picture from the Swann Tracker is impressively detailed, though the color balance response to mixed light conditions means that, at first glance, the image is not as rich as you might hope. The sharpening algorithm and 5MP sensor definitely work well together though so identifying subjects is unlikely to be an issue.
By default, the system shares the live view in two windows, one showing the full 180˚ view and another cropping in on the detected action. The result takes a moment to get used to (there are different lens corrections and different aspect ratios in effect), but you can see a lot. It's good that Swann have also included a tracking zoom or cropped wide (18:9) views too, and they might be useful on smaller screened phones; the only frustration is that the recorded clips are in the chosen mode – you can't go back and look further left or right if you choose the cropped view.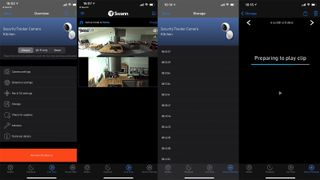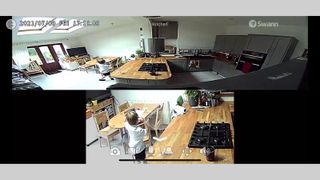 Using the key features went well, though as an IP device there was a little lag with the live conversation and especially accessing remote clips which (while a little frustrating) is not unique to the Swann. The stated 'audio range' is 5m which feels right for the microphone, but the speaker exceeded that, especially as a siren.
I can only speak to my iPhone 12
, but I did find the app crashed a couple of times on me and I also found the design confusing in places, not least that there is a 'Storage' option (with remote playback of every clip) in the camera's Settings page but only the clips manually recorded appeared via the 'Playback' page. To be fair, the app can take control of a wider range of Swann devices including full DVR-based security systems, so a few quirks are probably to be expected. Alexa or Hey Google users will have the option of setting up a 'Show me…' request to see the camera's view while iOS (and Android) users only get Motion alerts.
Swann Tracker: verdict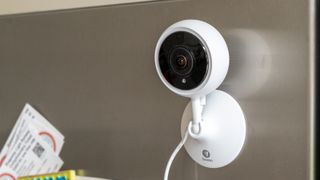 The Swann Tracker is a great product that offers a big bite of the smart home experience and a little taste of the security DVR (video recorder) one too. It lacks some of the polish associated with competitors Nest & Amazon, especially in the software, but the Tracker will tuck away nicely in nearly any room and serve well keeping an eye on things, acting as a baby monitor, or functioning as a security camera. Where the cloud cannot be relied upon, or subscription fees are unwelcome, the Swann's disadvantages (some which might well be fixed with a software update) are outweighed by its benefits.
Ultimately, if you're prepared to pay a monthly subscription, and immediate off-site remote recordings are essential to you, there are benefits to considering the other options, but Swann have brought the advantages of the security tradition to the smart home camera.
Other useful buying guides:
Best outdoor security cameras in 2021
The best body cameras for personal security