Every filmmaker and content creator needs external microphones for good audio quality, and these come in many types, including directional on-camera mics, clip-on lavalier microphones, desktop USB mics and more. For best results, the aim is to have the microphone right next to the source of the sound, and if you want to do this at range, without the clutter and trip hazard of cables, then you need a wireless mic setup like the RODE Wireless Pro.
Wireless mics work using paired transmitters and receivers, and the simplest system uses one of each. You attach the receiver to your camera or smart device and the transmitter to your subject, and the RODE Wireless Me is a prime example.
RODE also makes dual-channel wireless mic systems with two transmitters feeding a single receiver, and the Wireless GO and Wireless GO II will already be well known to filmmakers and content creators.
The new RODE Wireless Pro takes this to the next level, both with more powerful features and a more complete kit with charge case, accessory case, additional lavalier mics and in fact everything a pro filmmaker could want in a single package.
Compared to other wireless mic systems on the market, the RODE Wireless Pro is not exactly cheap, but you get a lot for your money. It's one of the best wireless microphone kits you can get right now, one of the best iPhone microphones and the best microphones all round.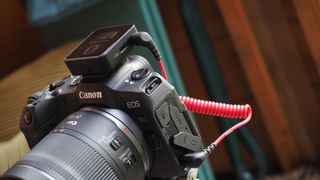 RODE Wireless Pro: Specifications
Swipe to scroll horizontally
| | |
| --- | --- |
| Acoustic Principle | Pre-polarised pressure transducer |
| Polar Pattern | Omnidirectional |
| Frequency Range | 20 Hz – 20 kHz |
| Maximum SPL | 123.5 dB SPL |
| Equivalent Noise (A-Weighted) | 22 dBA |
| Signal-to-noise Ratio | 72 dB |
| Analog Inputs | 3.5mm locking TRS (TX) |
| Analog Outputs | 3.5mm TRRS (RX) |
| Transmission Range | 260m (line of sight) |
| Digital Connectivity | USB-C |
| Operating Time | Up to 7 hours |
RODE Wireless Pro: Key features
For those wondering whether to upgrade, the Wireless Pro does bring some technical advances over the Wireless GO II, including a raised maximum frequency response up to 50Hz, an increased maximum SDL, and 32-bit 'float' recording to allow recovery of clipped or quiet audio, slightly increased transmission range and timecode compatibility so that audio syncing will be easier in the editing phase.
Those are the technical differences to the existing RODE Wireless GO II, but what does the RODE Wireless Pro offer to new users considering a wireless mic system, and how does it justify its pretty steep price point?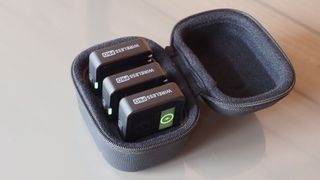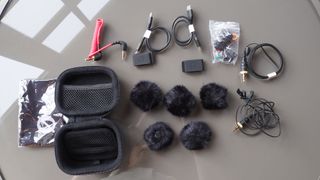 First, you are getting a very well thought out and very complete kit. You don't just get a pair of transmitters and a receiver. They come with a charge case which stores and protects them in transit, charges all three simultaneously via a single USB cable, and has its own power source to charge the two TX and one RX unit two times over.
There's more. RODE also supplies an accessory case that stores two good quality Lavalier II mics for use with the transmitter units if required, each with a small furry windshield, and cables to connect the receiver to cameras via its 3.5mm analog port, to an iOS device via a USB-C to Lightning cable and to other devices and computers via a USB-C to USB-C cable. The accessory case also holds three furry bayonet-fit wind shields for the transmitter units.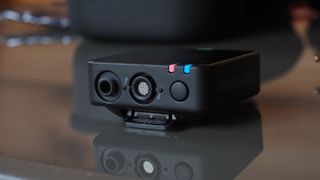 You can clip the transmitters directly to your subjects' clothing and use their in-built mics, or connect the lav mics to the transmitters for even closer speech pick-up.
RODE has included everything but the kitchen sink here but has also provided convenient charging and accessory cases to keep it all organized. Anyone who's used wireless mic systems will know just how many cables, windshields, and other bits and bobs are needed, so RODE's handy twin-case organizing is a major plus point.
RODE Wireless Pro: Build and handling
Everything in the Wireless Pro kit feels not only top quality but also really well thought out and designed. The receiver has a sprung clip that's also hotshoe-width so it can clip straight on to the camera. The transmitters have a twist-lock 3.5mm lav socket that won't pull out accidentally, and while the bayonet-fit wind shields can be a bit of a fiddle to line up with the mics on the transmitters, they're not going to fall off in use.
The Lavalier II mics feel premium quality with a simple push-twist fit into the clips provided and the furry wind shields are easy to attach.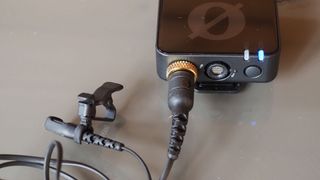 The receiver, meanwhile, shows the audio level and charge indicators for both mics, has an audio monitoring jack, and can even be set up with its own 'narrator' mic.
You can use one mic/transmitter for simple setups or, if you are using both mic/transmitter units, you can opt to have their output merged into a single stereo audio channel or recorded as two separate channels.
There are a lot of options, and many require the RODE Central software. This is a very sophisticated system and the options can become more daunting as you dig deeper. While experts will wonder what the fuss is about, negotiating the Intelligent GainAssist, flexible output gain control, and your recording device's own auto-gain controls can quickly become confusing for new users.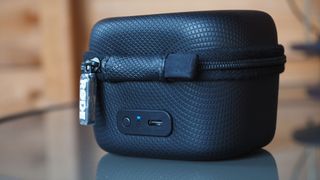 RODE Wireless Pro: Performance
The audio quality from the Wireless Pro is excellent. We tested it outdoors in a light breeze, where the furry wind shields for the transmitters worked perfectly. Conditions can vary, though, so it's important to monitor the audio as you film to make sure there's not too much wind buffeting or background noise.
The plug-in Lavalier II mics offer more targeted speech pickup, though the 'naked' mics on the TX (transmitter) units seemed to have a slightly nicer sound.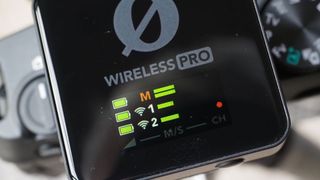 The key thing to note is that wireless mics need line-of-sight communication beyond a certain range. We've no doubt the RODE Wireless Pro can achieve its 250m maximum range, but that's facing the camera. If you turn your back or walk away from the camera while speaking, the audio can drop out even just a few meters from the camera outdoors. It's not a fault with the RODE Wireless Pro, it's just how radio waves work. If you want to record audio at range, make sure the receiver can always 'see' the transmitter.
If you're filming yourself for a vlog or a YouTube video it's very easy to forget this simple rule. But there is an answer. The RODE Wireless Pro TX units also offer internal recording via a single button-press (it can also be activated from the receiver unit), so you can have recorded audio even if the receiver loses its connection.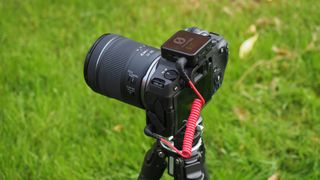 RODE Wireless Pro: Verdict
The RODE Wireless Pro kit is perfect for filmmakers or content creators who need a complete, practical and reliable wireless mic setup. There are cheaper alternatives, to be sure, but not everything is about cost. Filmmaking is a time-consuming, effortful enterprise, and if you scrimp on audio kit you're taking risks for the sake of economy.
The RODE Wireless Pro costs more than many similar-looking two-mic wireless kits like the Joby Wavo Air, for example, but it's still less than the cost of a very ordinary lens or a decent tripod. And with its charge case and accessory case, its 32-bit float recording, on-board recording, safety channel recording (yes, it has that too), bundled lav mics and wind shields and cables – well, it just has everything.
You can save money all you like, but when things are complicated enough already and you just need to get the job done, there's this.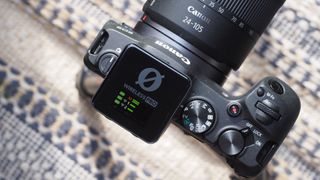 Read more: check out our top picks of the best wireless microphones and the best microphones for vlogging and filmmaking.