The RODE Wireless Me doesn't do anything that hasn't been done before, pretty much, but it does it in such a brilliantly simple way it might tempt even casual video shooters into taking their audio seriously.
These days content creators and filmmakers are not short of high-quality cameras for recording video, and the best camera phones can capture footage good enough for some professional productions. The difficult part of shooting video is not the video itself, but getting good-quality audio.
There's no end of choice for microphones, and the best microphones will deliver audio quality as good as or better than this one – but it's unlikely you'll find many as simple and as versatile as this.
An on-camera mic will give a more targeted pickup and better quality than your camera's in-built mic, but even the best shotgun mics are not a complete solution. What you really need is a microphone placed at the source of the audio, not way back at the camera position.
That's what a wireless setup like the RODE Wireless Me achieves. You attach a wireless microphone to your subject, a wireless receiver to your camera or phone, and record audio straight from the source – and at a range of up to 100m.
This has all been done before and you can take this kind of capability for granted with the best wireless microphones. With the RODE Wireless Me, however, two things are different. One is that the receiver attached to the camera has a mic of its own, so the camera operator can carry out interviews or record a commentary. The second is that this is a multi-device kit that can provide analog audio output for cameras that require it and digital output for digital devices.
Specifications
Polar Pattern: Omnidirectional
Frequency Range: 20 Hz – 20 kHz
Dynamic Range: 100dB
Analog Inputs: TRS (lavalier microphone Input)
Output Connection: 3.5mm TRS USB-C
Bit Depth: 24-bit
Sample Rate: 48 kHz
Power: In-built rechargeable lithium-ion battery charged via 5V USB
Operating Time: 7 hours
Transmission Range: 100m
Weight: TX 32g, RX 32g
Dimensions: TX 44 x 45.3 x 18.3mm, RX 44 x 45.3 x 18.3mm
Key features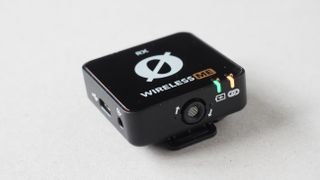 The RODE Wireless Me consists of two essentially identical black boxes. One is the transmitter (TX) unit – the mic you attach to your subject, and one is the receiver (RX) unit which you attach to your recording device with a cable.
Both have cold shoe clips that double as clothing clips to attach to a shirt front or a jacket lapel, for example. Both have in-built microphones, USB ports for charging (and in the case of the RX for connecting to digital devices) and 3.5mm TRS sockets for connecting a lavalier mic if required.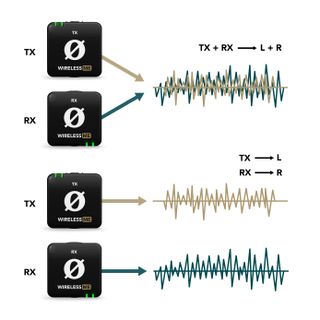 The key difference to the RODE Wireless Go II is that the receiver has its own mic, so the camera operator can record an interview or commentary at the same time. The two recordings can either be stored as separate channels for individual editing later or 'merged' into a single channel.
You don't get lav mics included in the box, unlike the Joby Wavo Air, for example, but since both units have their own mics anyway, you might not want them.
What you do get in the box is a set of four cables for connecting the receiver to a 3.5mm TRS camera mic socket, a 3.5mm TRRS cable for smartphones with a 3.5mm jack, a USB Type C cable for newer devices and computers and a Lightning cable for iPhones. You also get clip-on wind shields for outdoor filming in gusty conditions.
This a two-mic kit, but you can add a third, and the Wireless Me is compatible with RODE's Series IV wireless setup, so it can be used alongside other wireless products.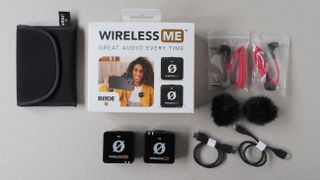 Build and handling
The build quality and finish are first-rate. The units weigh just 32g each, so they don't drag too much when attached to clothing, and the black finish is quite discreet with just a pair of LEDs to show the mic is powered up and connected. The TX and RX units are paired out of the box.
If you want a more discreet look, you can plug in a lav mic and clip the TX unit out of sight in the corner of a trouser pocket, for example.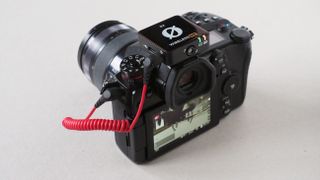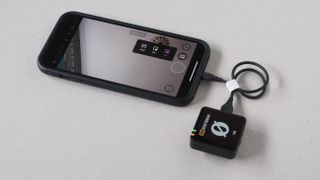 For camera and smartphone use, that's pretty much all there is to know. These devices will typically use their own gain controls, and RODE does recommend adjusting gain with the mic rather than the camera for best preamp quality, but it's not an essential first step.
All the mic controls are based in the RODE Central desktop app, however, which looks simple enough but features a couple of less than obvious settings. The output level is primarily designed for use with cameras where you want to increase levels with the mic, not the camera, while the GainAssist modes are designed for automatic level control without clipping, and the difference between the 'Auto' and 'Dynamic' settings isn't obvious until you do some digging.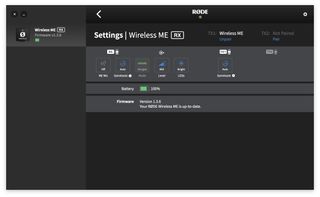 Performance
You can plug the Wireless Me into a camera or a phone and it just works. The audio levels look fine without any further adjustment, or you can do as RODE suggests and try modifying the device's audio settings to transfer more control to the mics for better results.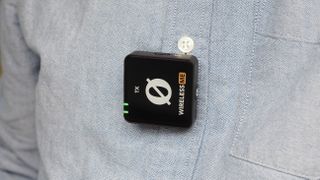 The experience proved slightly less satisfactory when the RX unit was plugged into a Mac. It was recognized straight away but, unlike with other mic inputs, there appears to be no native audio input control and it stayed stuck at a pretty low level. The Level control in RODE Central makes no difference here, but switching the GainAssist setting to Dynamic boosted the audio levels to allow speech at a normal volume. That took a lot more figuring out than it should have done.
Otherwise, the RODE Wireless Me works perfectly. The 100m range should be plenty, though if your subject turns their back or moves to a different room, the range will fall. We had no trouble with audio dropout indoors when moving from one room to another – and there won't be all that many occasions when it makes sense to capture audio from a subject you can't see.
Verdict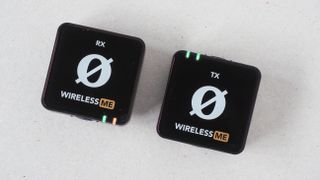 The RODE Wireless Me is a brilliant little dual-mic kit that's simple enough for first-timers but also very useful for serious filmmakers or content creators. Putting a mic into the receiver is such a clever move and could be a real boon to solo shooters and interviewers.
Having all the mic controls in the RODE Central app mostly works well, but not all the settings are clear and intuitive, though there is a mobile version for doing this on the move.
There are probably cheaper alternatives to the RODE Wireless Me out there, but this is a premium product from an audio specialist, and so simple and effective to use that it does feel like good value too.