Has it really been six years since Profoto released the original Profoto A1 on camera flash?! Since then, the Swedish company known for making high-end studio lights has been developing a more travel-friendly range of flash heads such as the impressive Profoto A2. It's no bigger than a standard 24-70mm lens and has a power output of 100W so don't let the size of this light put you off - it's still incredibly powerful and has the same distinct, high-end finish as all Profoto lights do.
The Profoto A2 is a small, 100 W light that is made for the traveling photographer. Packing the best of what Profoto has to offer currently, the A2 is a comfortable alternative for anyone who deems B10X or B10X Plus as too big. The biggest differences are the amount of power it delivers, size, and ability to adust modeling light temperature.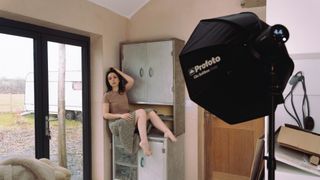 Specifications
Output: 100W
Energy range: 10 f-stops
Energy control increments: 0.1 f-stops
Recycling time: 0.1-1.6 s
Energy stability: <0.1 f-stop @10-2.0 <0.2 f-stop @ 1.9-0.1
Flash duration t0.1: 1/350 s (100 Ws) - 1/26,000 s (0.1 Ws)
Flash duration t0.5: 1/1200 s (100 Ws) - 1/ 56,000 s (0.1 Ws)
Color temperature: 5800 K +-100 K
Beam angle: 62°
Field angle: 105°
Key Features
The number one key feature of the Profoto A2 is surely its size. It's absolutely tiny for a 100W flash and comes with a folding stand adapter so it can be easily stored away. Included in the box is a carry case with a handle but most photographers would probably opt to ditch the case for shoots and keep it in a rucksack just like you would the lenses.
Super-fast recycle times regardless of what power setting you're using means you will never miss a shot and what's more, the color accuracy is remarkable. In total, I shot 3 different sets of photos to test the lights and out of over 300 photos there was one misfire where the photo was overexposed.
Adding to the versatility of this light, thanks to built-in AirX technology, you can also connect to your phone via Bluetooth. With the Profoto app, you can not only control the lights settings but also make it fire when taking a photo on your phone which is great news for content creators who often shoot with their phone.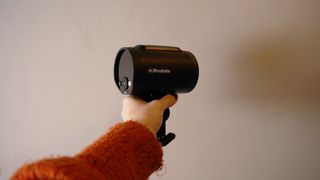 Build and handling
Like all Profoto lights, the finish of the Profoto A2 feels very high-end. It has a smooth, matte, LCD screen with a bright display, clickable nobs make it really easy to adjust settings and the button layout is incredibly simple. There is just a modeling lamp button, an on/off button and the center dial which can flick through the menu and control the power outage.
Unlike other Profoto lights, the A2 benefits from a grippy rubber coating that enables you (or your assistant) to hand-hold the light which might be the preferred way of shooting if you're out on location in a run-and-gun-style scenario. It also comes with an adapter so you can mount it on a stand, this attaches via a 1/4-inch screw into the base and allows you to adjust the angle of the light.
While the A series of Profoto lights in the past have generally been considered as an on-camera flash, the A2 doesn't have a hot shoe so it's definitely more of an off-camera flash.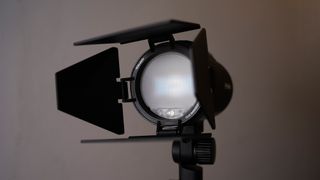 One of my favorite things about the A2 (other than everything) is that it's compatible with Profoto's new Clic system of light-shaping tools. It has a magnetic ring on the front of the light which makes changing light shapers incredibly fast. When shooting with the Clic softbox, you don't even have to collapse it properly, you can just fold it down and leave the Clic mount attached so when you need to use it you can pop it up in seconds - no battling with speed things is a massive massive plus.
There is a range of Clic accessories to go with it including a snoot, barn doors, an octabox plus a range of colored gels that are perfect for shooting more creative portraits.
It uses the same battery as the Profoto A1 and Profoto A1X which can be removed and charged via a charger supplied with the A2. You can't use the Profoto A2 while plugged into mains which means if you did decide to do a full days studio shoot, you would need multiple batteries. If you're looking for a hybrid light for location and studio, the B10X Plus sits more comfortably between the two but it's considerably more expensive and a lot bigger.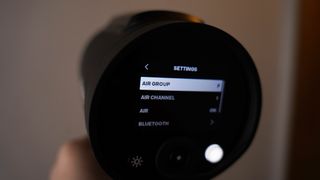 Performance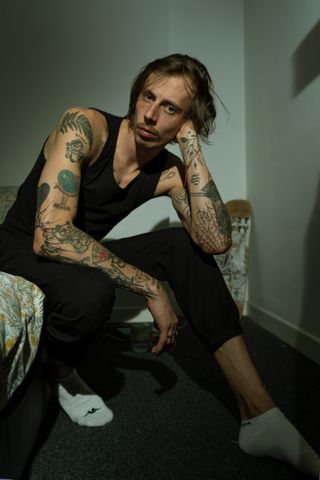 The first thing you'll notice about the Profoto A2 is its size - no bigger than a Coke can, this light seriously packs a punch with a maximum output of 100W and power settings ranging from 0.1 - 10. Designed with the traveling photographer in mind, Profoto has well and truly changed the game when it comes to off-camera flash creating a light that combines portability and power.
The A2 has delivered flash at 5,800K and unlike other Profoto lights, the modeling lamp is set to a constant 3500K. The flash recycle time in the A2 isn't as impressive as say the Profoto B10X Plus but at 0.1 - 1.6 seconds it's still very good - I was on a fashion shoot using the A2 and it managed to keep up with the speed I was shooting just fine. I was only shooting single shots and I was recomposing each time but it never missed a shot and the color rendition was identical in every single photo.
It might not be as powerful as other Profoto lights but if you're shooting sport and action photography, you can still free-frame even the fastest of motions due to the flash duration (how long the flash flashes for when fired). When the flash duration (t value) is set to t.01, you can shoot at 1/350s when shooting on full power or 1/26,000 when shooting on the lowest power. If you drop the t value down to t.05, the flash durations increase to 1/1200s on full power and 1/56,000s on low power.
Verdict
If you have the budget and you want to invest in a really good off-camera flash that's easy to travel with, the Profoto A2 is hard to beat. Its tiny form factor means you can easily fit it in a camera backpack and takes up no more space than a chunky lens. Its so light you can even use it handheld and the Clic Softbox Octa even comes with one making it easy to use even when you don't have an assistant. The magnets used in the Clic system are really strong so you don't need to worry about light shapers falling off mid-shoot and the light itself feels incredibly well-built.
I actually do think it's worth the $1000 price tag, it does everything I want a portable flash to do extremely well and can be used for anything from wedding photography to portraits or events. Yes, it's expensive but you really do get what you pay for.